London Performing Arts Academy Associated Studios expands to Australia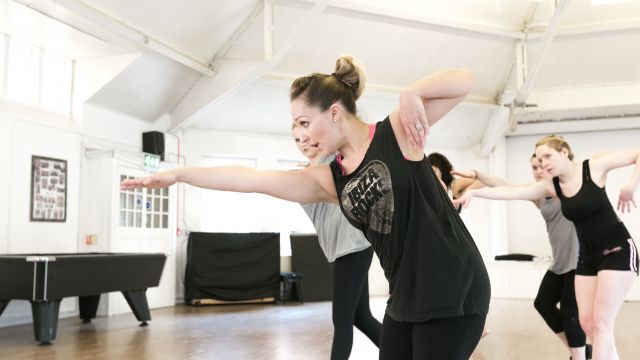 Leading London Performing Arts Academy Associated Studios is expanding to Melbourne following the internationally renowned success of its London courses.
On 20th August 2018 applications will open for the all-new one-year Foundation Course in Musical Theatre and one-year Intensive Course in Musical Theatre. Both courses will commence on 25th February 2019.
The courses offer an opportunity to study with one of London's top drama schools in the heart of Melbourne. Students will have the opportunity to work with renowned industry professionals leading to an agent showcase at the end of the advanced course. Further study options will be available at the London branch where a significant number of students leave with industry representation and many alumni currently feature as Leads and Swings in London's West End.
Founding Principal Leontine Hass, an internationally acclaimed vocal coach who has worked with many West End leads and contemporary pop performers, will be leading auditions in November this year in both Melbourne, Sydney and New Zealand, with the newly appointed General Manager Briar Franks.
"We're thrilled to bring this top end vocational training in an exciting and fast-growing industry to Melbourne and can't wait to meet some extremely talented performers on audition day." says Miss Hass.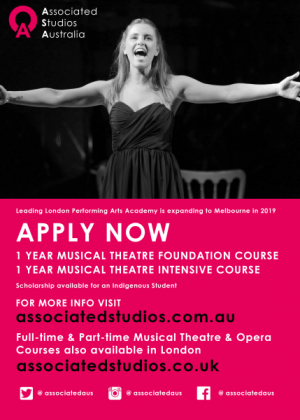 Patron Sir Tim Rice says: 'Associated Studios will prepare you for a competitive but thrilling business and inspire you as a performer. You will be working with brilliant practitioners who have an extraordinary wealth of knowledge.' Other Associated Studios patrons include actors Jeremy Irons and Timothy West, composer Scott Alan, comedian/impersonator Rory Bremner, the Opera singer Rosalind Plowright OBE and other luminaries of the UK Theatre scene.
Australian performers such as Erin Cornell (Cats & Wicked), Rachael Ward (Singin' in the Rain & The Wizard of Oz) and Ashleigh Fleming (Phantom of the Opera, West End) have studied with Associated Studios in London and have gone on to very successful careers.
"I studied with the Associated Studios London in their 4-month part-time professional program in 2014.
The wealth of knowledge gained, personal growth achieved, and lifelong relationships developed throughout the time was remarkable. I recommend the studio and it's teaching to anyone out there starting out in the field or looking to finesse their craft. As an Aussie who flew to London for this training, I am thrilled at the news of its opening in Melbourne and can't wait for the future generation of Australian Musical Theatre artists to have the opportunity to thrive like I did."
Rachael Ward (Currently performing in Evita at the Sydney Opera House)
Associated Studios has a long history of philanthropic contributions and are offering one full scholarship to an Indigenous applicant from either Australia or New Zealand. Eligible performers are encouraged to apply as soon as possible.