NASDA Students Shine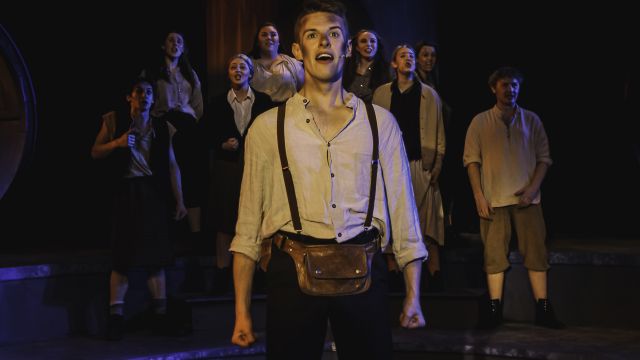 What does it take to be a successful performer in today's competitive industry?
"You've got to be versatile and dynamic," says Trevor Jones, programme leader at Ara Institute of Canterbury's National Academy of Singing and Dramatic Art (NASDA), "and we're proud to have a reputation for producing graduates who are exactly that."
NASDA is nationally recognised in New Zealand as one of the best places to prepare for a career in musical theatre, either on stage or behind the scenes. Its three-year Bachelor of Performing Arts is taught by an international faculty of the highest calibre in Christchurch who work collaboratively to maximise each student's potential.
"Our teaching staff are passionate about helping students make the most of their careers," Trevor says. "We nurture, encourage and inspire our students, and we equip them with the skills and tools they'll need to thrive in this exciting industry."
As well as the key skills of singing, acting and dancing, training is provided in screen acting, improvisation, music theory, movement, keyboard skills and devising work. Professional skills, audition techniques and theatre studies are also taught.
NASDA students benefit from gaining extensive live performance experience in a variety of productions.
"This ensures students make valuable connections with leading industry groups," Trevor says. Those groups include The Court Theatre, Whitebait Productions, Auckland Theatre Company and Playhouse New Zealand.
NASDA graduates can be found on stage and screen both in New Zealand and around the globe. They include Akina Edmonds (Angelica Schuyler in the current Australian production of Hamilton), Laura Bunting (the Australian tour of Muriel's Wedding, The Voice Australia), Nic Kyle (West End productions of Closer to Heaven and Savage), Erin Wells (What Now), Erin Simpson (What Now and The Erin Simpson Show) and Kim Garrett who's a familiar face from Shortland Street as well as musicals including Romeo and Juliet, Mary Poppins and Waiora.
Auditions to study at NASDA in 2022 will be held in Christchurch, Wellington and Auckland, commencing in October. For more details, see ara.ac.nz.
Images: Students of NASDA's Bachelor of Performing Arts participate in numerous productions during the three-year degree.
Click here to read about Performing Arts Courses across Australia and New Zealand in 2022 in our Performing Arts Course Guide.