REAL MEN SING!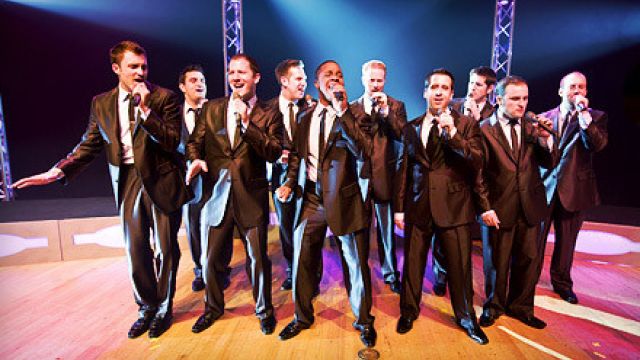 Free Weekly "A Capella" Singing Course From Feb 25, 2013.
Ever wanted to: Sing in a choir with a talented group? Sing a wide range of musical styles? Sing in quality public performances? Sing in four-part harmony? Now you can!
Sydney Harmony Men's Chorus - with its charismatic musical director Vicki Dwyer – will be offering an introductory course on singing in 'a cappella' (unaccompanied) harmony, with a special accent on the skill of 'ringing chords'. It's called "Real Men Sing"!
The six week course, held each Monday at 7.30pm from Feb 25 to April 8 (Easter Monday 1 April excepted) will be held at Souths on Chalmers (Souths Leagues) 265 Chalmers St, Redfern. Sponsored by the club and City of Sydney, the course is free to participants and includes an invitation to stay and join the rest of the chorus for the regular weekly rehearsal from 8.30 to 10pm.
Song arrangements for the course (also learned by the chorus members) will be selected to allow participants to practice the specific vocal skills that are learnt. There is room for up to 50 participants.
A capella singing has become incredibly popular recently, including in schools and universities. Groups of varying levels from recreational to fully professional pop up all the time, many inspired by TV shows like Glee or movies like Perfect Pitch. One local Australian group (then national seniors champion quartet) the "Benchmark" was a recent finalist on Australia's Got Talent.
Sydney Harmony established itself as Sydney's leading male voice chorus by winning the McDonald's Performing Arts Challenge community Choir Competition in 2004. They have since been repeat finalists and medal-winners at multiple national Men's Harmony choir competitions as well as being awarded a community commendation from the Music Council of Australia. Current Eastern Region Champion Chorus, they've appeared on radio and TV and their members come from all over Sydney and span all age groups.
You do not have to read music to sing with Sydney Harmony although it certainly does help to have some musical knowledge. You just need to be able to hold a note, listen often to the teaching MP3s recordings provided before rehearsals, and be prepared to listen and learn!
Sydney Harmony's singers are amateurs but with good voices and who enjoy singing in harmony.
"A Capella singing is genuine team sport," says vice-president Paul Meller. "And, like a team, when we sing together, we are greater than the sum of our parts!"
Sydney Harmony members enjoy practicing but also perform in public concerts, private and corporate functions and sometimes compete – both nationally and internationally.
"Our members are men, their friends, their brothers, fathers, son and grandsons!" says Paul. "It's fun, and proven to be good for your health too. Beyond the aerobic benefits that promote heart health and give you a longer life, singing gives you a better life because it boosts your brain. The endorphins and other neurochemicals that are stimulated when you take up singing open new pathways in the brain."
To express interest or for more information, interested singers should contact Sydney Harmony at Paul membership@sydneyharmony.com.au or call Paul Meller on 9894 1202 or 0419 635 537.
Visit www.sydneyharmony.com.au