Train with Current Musical Theatre Professionals at Showfit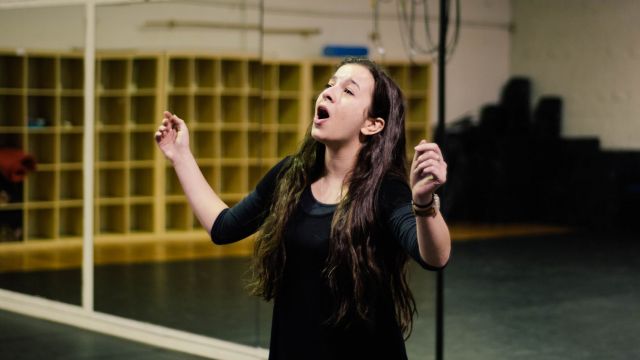 SHOWFIT in Melbourne has fast become one of Australia's most sought after Musical Theatre courses. Led by a team of industry professionals including Verity Hunt-Ballard (Mary Poppins, Sweet Charity) and Scott Johnson (Jersey Boys, Little Shop of Horrors),Showfit promises to provide graduates with a strong skill base across all disciplines of musical theatre.
"It's incredibly rewarding sharing the knowledge I have acquired along the way with a new generation of music theatre artists," says Verity Hunt-Ballard. "Leanne White has assembled the best of the best in terms of teachers at Showfit- headed by Matt Frank and Scott Johnson.
"It's such a joy to observe students progress over the course of the year and to know that my professional peers (whom I greatly respect), are frequently involved in the Showfit course.
It's a really wonderful hub of creativity right in the heart of Brunswick!"
The course has close connections to the industry, which allows students to be trained by a wide range of Australia's most successful musical theatre performers and teachers.
"I'm very passionate about sharing the combination of my training at NIDA and 20 years experience in the business with people wanting to have a career in the performing arts, says Scott Johnson. "The Showfit course focuses heavily on story telling, whether that be through singing, dancing or acting, the story always comes first.
"The vast number of current industry professionals teaching at Showfit is unparalleled by any musical theatre course in Australia.
"Our aim is to guide and support students in reaching their goals, whether that be moving straight into professional performing or furthering their training."
Showfit's musical theatre course offers intensive technical training in singing, dancing and acting.
Showfit is a one year full-time course with an optional 2nd year for students who wish to further their training. Students will experience Australia's elite musical theatre teachers as well as industry professionals from around the world.
The course consists of daily dance classes including: Broadway Jazz, Classical Ballet, Tap, Hip Hop and Partner Work.
Daily vocal classes include: group song repertoire, singing technique, harmony work and musicianship. Showfit provides a strong grounding in acting technique including Stanislavski fundamentals, voice, movement, scene work and improvisation.
Students are also trained in audition technique and study the history of musical theatre.
Some students have found Showfit to be the perfect bridging course to go on and further their studies at WAAPA, VCA and NIDA. Other Showfit students have started working within the profession straight away.
The first round of auditions for 2016 take place on Nov 5th and 6th 2015. If you cannot make these dates please contact Showfit on (03) 9380 8480 (ext.1).