SOMETHING'S COMING…to WAAPA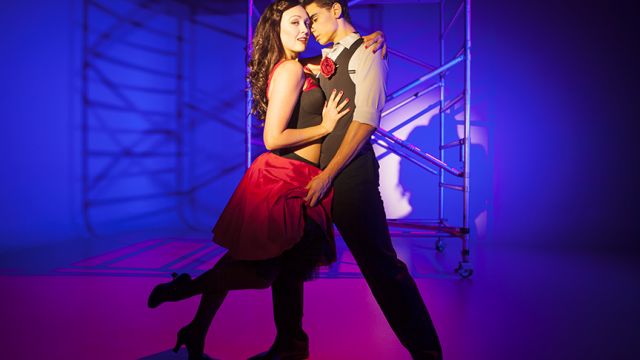 It's been a couple of weeks since the return of Hollywood A-Lister alumnus, Hugh Jackman to the Western Australian Academy of Performing Arts, but the buzz in the corridors is still palpable. However, WAAPA's dedicated staff and students have knuckled back down to work and preparations are under way for the Academy's biggest theatre production to date – West Side Story opening Saturday 14 June at The Regal Theatre in Subiaco.
West Side Story is a triumphant legend where love transcends language, time, and place. While Manhattan's west side rumbles with the clash of Jets and Sharks, Maria and Tony seek a "Somewhere" their romance can thrive. In their revolutionary work that changed the course of the American musical, Leonard Bernstein, Stephen Sondheim and Arthur Laurents brought their award-winning genius to the immortal story of star-crossed lovers caught in a turf war of rival ethnic gangs.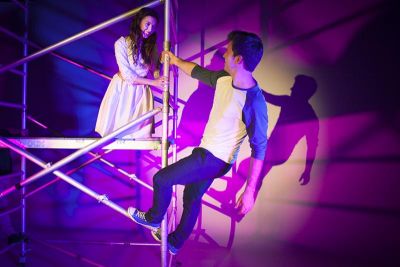 57 years since its debut rocked the theatre world, bravely addressing dark social issues, whilst introducing sophisticated music and extended dance scenes. It's now seen as a major turning point, giving the musical a new and broader definition. The Grammy-winning score includes Something's Coming, Maria, America, Somewhere, Tonight, I Feel Pretty, Jet Song andCool.
In an interview with Rolling Stone after its premier, Bernstein said, "Everyone told us that West Side Story was an impossible project." He referred to the difficult score and death scene at the end of the first act. Casting also proved difficult. They needed actors who were great dancers and had to look like teenagers. This is obviously not a problem with WAAPA's production, featuring a huge ensemble cast of thirty-eight of its acclaimed all-dancing, all-singing Music Theatre students.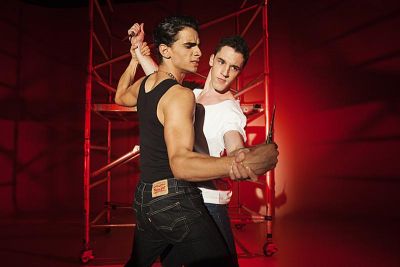 The 22-piece orchestra, consisting of classical, jazz and contemporary music students,
under the guidance of music director and Head of Music Theatre, David King, will bring Bernstein's beloved score to life in this spectacularly produced musical extravaganza that cannot be missed.
Director and Senior Lecturer, Music Theatre, Crispin Taylor enthuses, "I know I say it every year but this really is by the far the most epic production WAAPA has undertaken in its 34 year history. The fact that we are producing one of the all-time great musicals is just a bonus and has myself and the cast and crew thoroughly excited. We cannot wait to share this wonderful show with the public."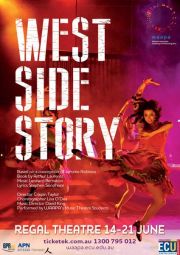 WAAPA's production is directed by Crispin Taylor (Thoroughly Modern Millie, Crazy For You, Anything Goes) and choreographed by guest artist Lisa O'Dea, Choreographic Supervisor on Mary Poppins, hit ABC TV show, Dance Academy, as well as We Will Rock You. Scenic design by acclaimed Designer, Steve Nolan, and lighting design by visiting artist and Helpmann Award-winner Mark Howatt (Cloudstreet, Sweeney Todd, Kura Tunga).
West Side Story
Saturday 14 to Saturday 21 June at 7.30pm.
Matinees Saturday 14 and 21 June at 2pm.
Regal Theatre, cnr Rokeby Road and Hay Street, Subiaco.
Tickets are $66 Full, $59 Concession. Group bookings are available.
Ticketing information: Regal Hotline 1300 795 012or visit ticketek.com.au (includes booking fee)
Group Shot: (from left to right) William Groucutt (Tony), Patrick Whitbread (Riff), Lyndon Watts (Bernardo), Miranda Macpherson (Maria) and Suzie Melloy (Anita). All photos by Donna Ferreri.
More reading