Strictly Ballroom at WAAPA.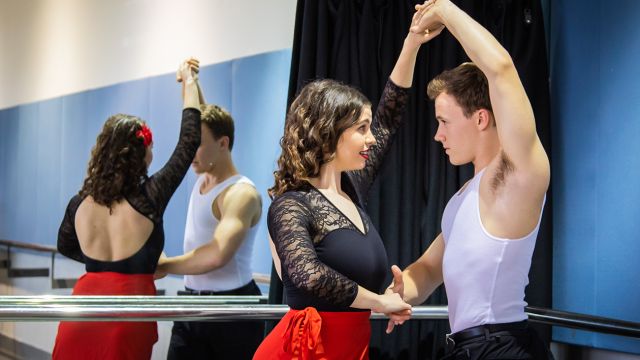 Strictly Ballroom The Musical will quick step, cha cha and samba its way on to the stage of the Regal Theatre as WAAPA's mid-year musical from June 15 to 22, 2019.
Based on Baz Lurmann's much-loved 1992 film, Strictly Ballroom The Musical breathes gleeful new theatrical life into the tale of the maverick ballroom dancer who just wants to do his own steps and the shy young Spanish dancer he takes on as his rookie partner.
Defying both convention and their families in their quest to win the Pan-Pacific Grand Prix Dancing Championship, Scott and Fran discover that to be a winner, your steps don't need to be strictly ballroom.
This sequined, sparkling extravaganza features larger-than-life characters, spectacular dance routines and much-loved songs from the hit film, including "Time After Time", "Perhaps Perhaps Perhaps" and "Love is in the Air".
There are also new songs by internationally acclaimed artists such as David Foster, Sia Furler and WAAPA graduate Eddie Perfect, whose original score for the new Broadway musical, Beetlejuice was recently nominated for a 2019 Tony Award.
Strictly Ballroom The Musical will be performed by a huge cast of WAAPA's 2nd and 3rd Year Music Theatre students with an orchestra of WAAPA Music students, under the direction of Crispin Taylor and music direction of David King.
Taylor describes how he and his young cast are working to find the 'beating heart' of this new production.
"There's three stories, really," he explains. "The first being that of the young dancer, Scott, who is struggling, having been brought up with the notion of 'strictly ballroom', a place of rules and strictures. He feels the need as an artist to break free of that. There's also the love story with Fran and then of courseFran's ugly duckling story. So there's three stories going on at the same time.
"What we're trying to do is not lose any of the comedy and the humour and the fun of the show, but to give it a contemporary heart. Fran's story is one of bullying, not unlike that in Muriel's Wedding. We're trying to embrace all the comic aspects and the music, but also the absolute truth of the story being told."
Making sure the show's dance routines are sprinkled with just the right amount of 'sparkle' is former WA Ballet principal artist Jayne Smeulders, who now teaches at WAAPA.
"Jayne grew up in the ballroom world as well," Taylor reveals. "Her parents are ballroom dancers and her skills lie across several different types of dance. There's ballroom, but she was also a prima ballerina, she also worked with the Nederlands Dans Theater. She also taps and is an acrobat! She's really worked across all kinds of professional types of dance. She has an understanding of the Strictly Ballroom environment, but also of contemporary dance and the improvisation that Scott is yearning for."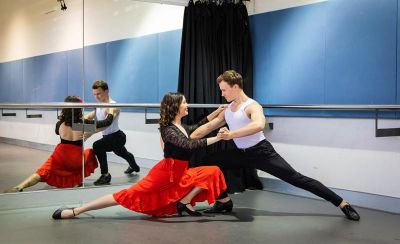 Returning to their alma mater for this production, thanks to the generous support of the Minderoo Foundation as part of WAAPA Visiting Artist Program, are set designer James Browne and lighting designer Trent Suidgeest.
As a production designer and creative director across theatre, film, television and events, James Browne has designed for Sydney Theatre Company, Sydney Dance Company, Jamie Oliver's live stadium show in Melbourne, and Just For Laughs at the Sydney Opera House starring John Cleese, among many others.
In the decade since he graduated from WAAPA, Trent Suidgeest has established himself as one of Australia's most sought-after young lighting designers. This year alone he has worked on Muriel's Wedding The Musical and the encore season of Calamity Jane in Melbourne, The Rise and Fall of Little Voice starring Caroline O'Connor and WAAPA graduate Geraldine Hakewell for Darlinghurst Theatre Company in Sydney, and the world premiere of Mimma The Musical in Perth.
These professional creatives are supported by students from WAAPA's Production and Design department, including Design, Costume, and Props & Scenery students who will make the costumes and sets a reality, while Sound, Lighting and Stage Management students will ensure the technical aspects of the show run smoothly.
"One of the joys of working at WAAPA is being able to work with a company of people over a number of years," says Taylor. "It's very unusual to work with a company like that in the professional world. They're very trusting and very faithful. We work economically; we know each other pretty well and we have a language and a level of respect and trust that makes every day enjoyable.
"The Regal Theatre's been beautifully renovated recently. It's great for the students to experience a large-scale theatre – at WAAPA the theatre is 350 seats, at the Regal it's around 1,000. Our kids are going to graduate and go out and work on The Book of Morman or West Side Story playing in pretty big theatres, so this is as close as we can get to an authentic learning environment for those professional situations."
"With this stage show, I think people can expect everything that the film offers and more," adds Taylor. "Strictly Ballroom The Musical is a great fun show packed full of great music and great wit… but it also has a great heart and soul."
So strap on your dancing shoes for this iconic Aussie story about daring to dream and being true to yourself.
*The WAAPA Visiting Artists Program is proudly supported by the Minderoo Foundation.
STRICTLY BALLROOM THE MUSICAL
Created by: Baz Luhrmann
Book by: Baz Luhrmann and Craig Pearce
Adapted by: Terry Johnson
Music by: Various artists
Director: Crispin Taylor
Music Director: David King
Choreographer: Jayne Smeulders
Set Designer: James Browne*
Lighting Designer: Trent Suidgeest*
Performed by: 2nd and 3rd Year Music Theatre students and WAAPA Music students
BOOK NOW via Ticketek: Tel: 1300 795 012 or online at ticketek.com.au