TAFE Queensland's Theatre Community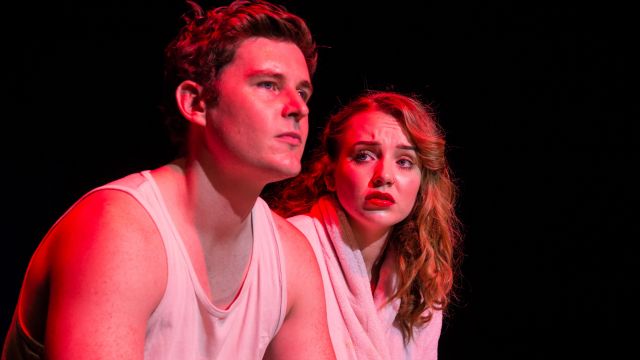 TAFE Queensland has proudly partnered with the University of Canberra to deliver two exciting three year degrees at their South Bank campus.
Located in the heart of Brisbane's cultural precinct, and delivered in purpose-built facilities, are the Bachelor of Creative Industries (Acting and Performance) (ABB401) and the Bachelor of Creative Industries (Drama and Performance) (ARB404).
The acting and performance stream major trains actors and performers, whilst the drama and performance stream prepares the next generation of theatre practitioners.
Students benefit from an extended 'community of practice' which includes ongoing relationships with schools, the industry and alumni. These partnerships broaden students' knowledge of the performing arts industry and prepare them for employment and career opportunities.
Acting students regularly demonstrate their performance skills and abilities in live performance and production events. TAFE Queensland Acting's partnership with Metro Arts and Robert the Cat Theatre Collective help graduate actors showcase their work as emerging performers.
Student productions are promoted across Brisbane, with most performances happening in the Norman Price Theatre - located on campus.
TAFE Queensland also offers a Diploma of Screen and Media (Directing) (CUA51020), and a Certificate III in Community Dance, Theatre and Events (CUA30220), as part of the TAFE in Schools program.
Taught by award-winning industry professionals, the performing arts program elevates artists' creative practice through fundamental skills training and specialist knowledge.
Graduates of the performing arts program have gone on to work as actors, performers, theatre makers and arts facilitators.
Central to the success of TAFE Queensland Acting is the relationship the program maintains with graduates. Staff and alumni come together to collaborate, utilise rehearsal space, access staff mentorship and use the campus theatre to develop and perform self-devised work.
The combination of broad and focused training and education, in conjunction with ongoing graduate student support, creates a deep and passionate community of practice that is unique to TAFE Queensland Acting.
Students are not simply enrolling into an arts program, they're enrolling into an extended support network to help them well into the future.
These initiatives deepen the connection between TAFE Queensland's training, drama teachers and students in the community, helping high school students to understand and engage with acting and the 21st-century theatre experience.
To learn more visit https://tafeqld.eventsair.com/acting.
To find out how TAFE Queensland can help kick-start your career in acting and performance, visit tafeqld.edu.au or call 1300 308 233, and see where TAFE can take you.
Photographer: Warwick Fraser
Click here to read about Performing Arts Courses across Australia and New Zealand in 2022 in our Performing Arts Course Guide.