WAAPA: THE BEST MEDICINE
A young WAAPA graduate has stamped his mark on a lead role of a British period drama.
In just over a year Harry Richardson has gone from WAAPA graduate to playing a lead role in a British primetime television period drama written by Downton Abbey's Julian Fellowes.
The three-part ITV drama, Doctor Thorne, which premiered in March this year, is an adaptation of Anthony Trollope's nineteenth-century novel about cash-strapped and status-obsessed English aristocratic families.
Harry plays the role of Frank Gresham, a financially troubled heir who is in love with his beautiful but poor childhood friend Mary Thorne.
Mark Redhead, executive producer of Doctor Thorne, describes Harry as "like an artist's vision of a young romantic hero."
Harry may have looked the part, but he was grateful for the advice given to him by Fellowes about aristocratic etiquette. "It's like having someone from that time period with you – no hands in pockets, never, never, never," he says, repeating one of the writer's mantras.
Period costumes and sets also eased Harry's path into the world of Doctor Thorne.
"The lads in Italian-made tails and top hats from the 1860s and all the women in corsets and gowns was incredible. We also shot everything on location in beautiful stately homes and castles. All this made the acting far too easy. We were completely transported back in time."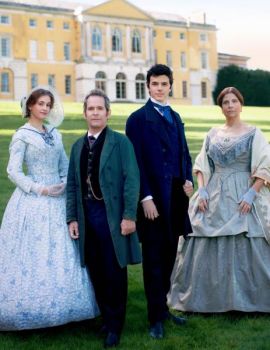 NSW born Harry spent his early childhood in England, returning to Australia for high school at Sydney Grammar. Then, drawn to acting, he successfully auditioned for WAAPA.
"WAAPA is so rigorous. It prepares its students to handle pretty much anything," says the 23-year-old, noting that his accent classes have come in handy. "The accent work I learnt really paid off as my character Frank was so darn English! I needed to know how to be specific.
"As well as that, the ability to handle new scenes every day was something I thank WAAPA for. TV is shot so fast; you have to know how to stay on top of the work and be vocally and physically fit."
Harry describes the benefit of studying in the safe environment of WAAPA as the opportunity to be able to "fail miserably and learn from it". He also found being surrounded by WAAPA's creative diversity rewarding.
"It was such fun each week getting to see mind-blowing dance performances, glorious musical theatre and the grooviest jazz because it inspires you to pour more into your craft."
Now relocated to London, Harry is looking for his next job in the UK, on stage or screen.
"It is an exciting time to be a young actor. The possibilities are infinite; there's no real roof on anything."
Click here for Stage Whispers' 2017 Guide to Performing Arts Courses.