When Ah Theatre Um Imitates Life.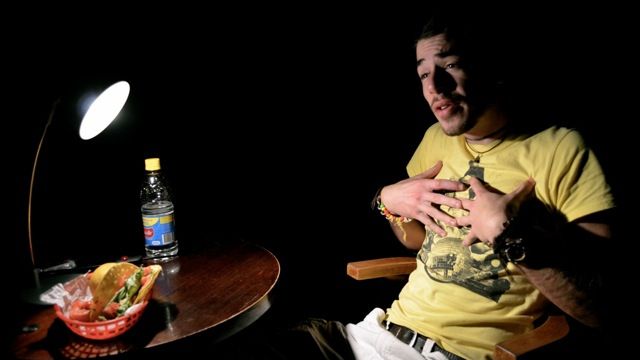 Dean Carey is a prime mover of Verbatim Theatre, the newest sub-genre of Documentary or Reality Theatre. Frank Hatherley investigates his methods.
"You get what you never really get in Theatre," says Dean Carey. "You get to hear what happens when people unlock some part of their head or their heart and really start to communicate authentically."
Carey is Creative Director (and co-Founder) of Actors Centre Australia, the dynamic college for would-be actors in Central Sydney. With breaks to teach acting at NIDA and WAAPA, he's coming up to 25 years leading ACA, which now boasts former star student Hugh Jackman as Patron.
"On stage you're always hearing actors who have rehearsed lines with all the ums and ahs cut out. With my style of Verbatim you get to be a fly on the wall and hear someone speaking to you as if it's happening right now."
He cites documentary-style shows that have inspired him with their use of the testimony of real people involved in dramatic situations. Aftershocks (1990) was compiled from interviews with people affected by the 1989 Newcastle NSW earthquake. The Laramie Project (2000) comprised edited reactions to the murder of gay American teenager.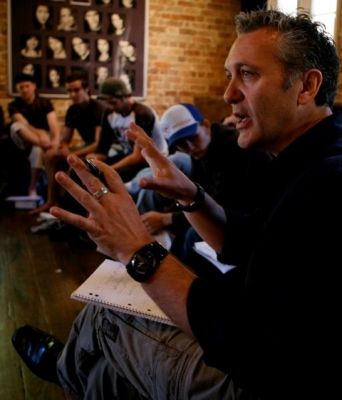 Verbatim Theatre is on the march worldwide. One of the most impossible London shows to get into in 2011 has been The Riots at the Tricycle Theatre. A brilliantly compiled commentary on the London riots of last August, its creators interviewed representatives of all groups involved — rioters, police, social workers, shocked citizens — and their actual words were woven into a challenging tapestry.
Dean Carey's method goes further. "We completely reflect the vocal soundtrack of the person we interview. We maintain their ums and ahs and vocal intonations and rhythmic changes. The actor reflects every vocal nuance precisely and accurately."
(In an experiment with Verbatim Journalism, the next paragraph is exactly as recorded.)
"And this um this this brings probably brings the audience's attention to something something that we don't pick up in life, because in life we're we're um thinking um about our response um and whether we agree or disagree and we often don't often I don't think hear ah what the person's actually releasing in their voice at that time, whereas in this um style of show you do and it's quite it's very revealing about about the character."
(Hmm. Let's get the edit knife out again.)
For the last six years Carey had embedded his version of the genre in ACA's major advanced diploma course. "I do a Verbatim show every year with the second year students: it's their last project of the year."
He explains his system. "We've got 24 student actors in the show. Each actor chooses a person to interview. What I say to the actors is 'go out and find someone who vocally would be a challenge for you, someone who is willing to share everything, and tell them we're doing the show, I'm going to sit on stage as you, I'm going to take your voice off, and I'd like to ask you about love, lust, drugs, religion, fear, politics, sex, the works'. And if the person goes 'yes, alright, I'm up for it', the actor records a one-hour interview.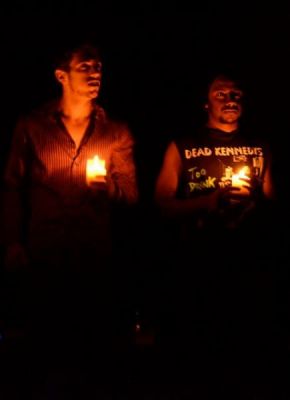 "I hear this first interview, and if I think the person sounds like they're going to go to the places we want them to go, I give them the thumbs up and off they go. Each actor does five one-hour interviews with their person, and by the fifth interview the person's relaxed and really speaking about things and it's really powerful.
"I edit it all together so it feels like the people are all in the same room in the same real-time conversation. It can be quite a remarkable coming-together of a tribe of people."
Stories from The Wayside, in August 2011, was a stirring portrait of the work done by the Wayside Chapel with Sydney's homeless and destitute. "All the Wayside tribe were there, many living on the street, some dealing with mental challenges or addiction challenges, trying to get back on their feet. And also the people who volunteer and work there, people who run the Op Shop and the various programs."
Stage Whispers was invited to Stories from Sydney in November, staged away from the ACA, at the atmospheric Darlinghurst Theatre behind Kings Cross.
Far less site-specific than the Wayside show, the 24 character studies covered a perhaps-too-wide range of Sydney denizens, a kaleidoscope of ethnic backgrounds, each person with their own opinions on a wide range of topics. With 12 actors in the first half and 12 in the second covering the same agenda, from Tony Abbott's Speedos to gay marriage (no relation!), it often felt like listening to a late-night commercial radio phone-in. Boorishness and ignorance vied with optimism and bravery.
Though movement and dramatic conflict were reduced to zero, it was crystal clear what Carey's Verbatim Theatre offered actors. Though this reporter is unable to give you the names of the half-dozen stand-out performers — possible future Hugh Jackmans — all 24 were utterly convincing, funny, caring and truthful. Their ums and ahs were fully integrated, adding to the general feeling of veracity.
Dean Carey had told me what to expect. "As an audience member you don't feel like you are being given a message. You are given a direct download from Sydney people's hearts and minds."
He was right.
Top and lower images from Sydney Stories, middle image Dean Carey.
Originally published in the January / February 2012 print edition of Stage Whispers.