The Good Audition Guides by Paul Harvard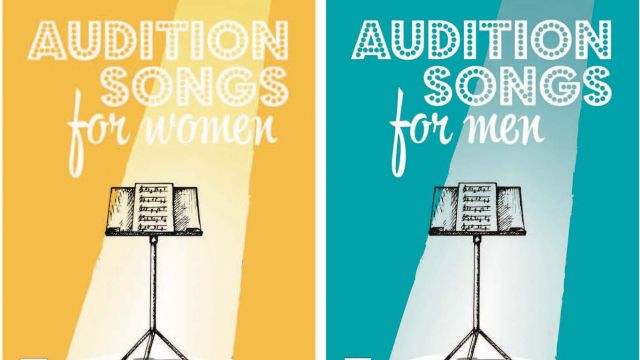 Audition Songs for Men and Audition Songs for Women. Nick Hern Books
Wouldn't it be great to have a director and musical director on hand when preparing the song on which your next audition depends. One of these books could well be the next best thing.
Before beginning to break down some great musical theatre songs from various eras and sub-genres as audition pieces, performer, director, composer and drama school educator Paul Harvard devotes 75 pages to probing the audition process, from who and what you are planning to audition for, through era appropriate song choices, to the dramatic and musical terminology and a series of targeted exercises, then on to the actual audition process. And amongst the tips, he also highlights some pitfalls.
Two separate books for men and women, share very similar introductory sections before diverging into gender and vocal range based repertoires. For men the split is tenor/high baritone and baritone/bass, while for women soprano/mezzo choices are distinguished from alto songs.
Choices for each voice range are divided into four sections - classical musical theatre songs (1925 to 1965), contemporary musical theatre choices (post 1965) - divided into ballads and up-tempo choices, and a selection of comedy/character songs. There's a good mix of well-known songs, balanced with a strong selection of lesser-known choices.
The discussion of each song begins with concise reasoning for selecting it. The Given Circumstances of the character and the song follow – the who, when and where, a detailed look at what has led up to the song in context, who else is on stage and who is being sung to. It's a great starting point if you haven't had a chance to go one better and read the script or seen a production.
A thorough textual breakdown of each song is followed by a list of key moments and 'top tips'. The vocal and musical analysis includes suggested recordings to listen to, along with details of range, original key and accent suggestions.
A segment on vocal set-up and musical tips provides some very precise notes of the vocal delivery of each song and their significant musical moments.
Finally, there's a link to obtain the correct sheet music, of course assuming you don't already have it in one of those brilliant anthologies of musical theatre songs compiled for your voice range.
Although you will no doubt layer your audition piece with personal choices, these books provide fantastic stimuli and starting points for you to interpret a broad musical theatre repertoire for yourself.
As a director, teacher and performer, these books were triply intriguing and insightful, with great take-aways for directors, musical directors and cast members alike, not to mention music theatre aficionados bent on picking apart performances of a great showstopper or two.
Neil Litchfield
https://booknook.com.au/product/audition-songs-for-women/
https://booknook.com.au/product/audition-songs-for-men/