In the Name of Theatre – The History, Culture and Voices of Amateur Theatre in Victoria by Cheryl Threadgold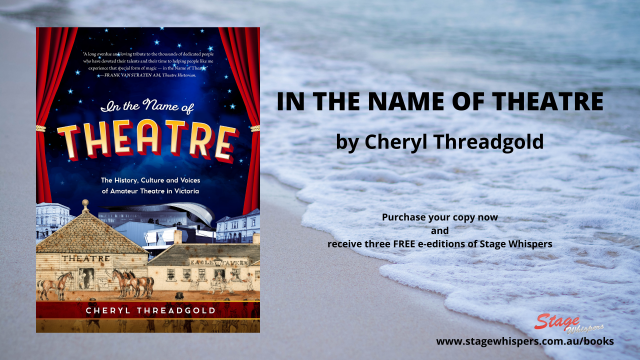 In April 1932 when Geelong Repertory Theatre Company presented George Bernard Shaw's Pygmalion, little did they realize that 88 years later the theatre would still be going strong. In fact it's the oldest amateur theatre company in Victoria. This is just one of the fascinating facts that emerge from Cheryl Threadgold's assiduously researched In the Name of Theatre.
We've had books on professional theatre before, and some amateur companies have written their own histories, but this is the first time that someone has looked at the genre as a whole.
The book is the reduction of an award-winning PhD thesis in two parts. The first looks at the background of theatre from convict days, through the nineteenth century, World Wars 1 and 2, and the 21st Century. It also includes some snapshots of theatre-makers. The second part features the culture and voices of 147 current amateur musical and non-musical theatre companies in urban and regional Victoria. It's a vast landscape and Threadgold does a wonderful job of welding all of the disparate elements together.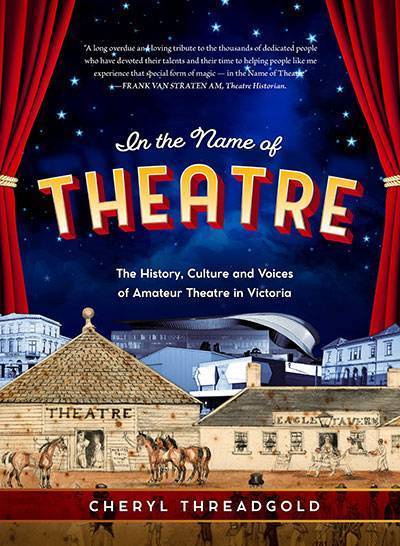 From Gregan McMahon's groundbreaking work with the Melbourne Repertory Company in the thirties; the Pioneer Players; Louis Esson; Maie Hoban; Brett Randall and Hal Percy and their Little Theatre Movement; to Gertrude Johnson's National Theatre in the forties; the Victorian Drama League under Colin Badger; Middle Park's Arrow Theatre; Cid Ellwood's musicals; the APG and La Mama, they're all there.
Part two, with its profiles and history of the theatre companies, is a monumental documentation of the diversity and breadth of amateur theatre in Victoria.
Colour and B&W photos accompany the text, which is an easy read. It comes with a listing of past known amateur theatrical companies, thankyous and a general index.
Book Review by Peter Pinne