NELLIE – The Life and Loves of Dame Nellie Melba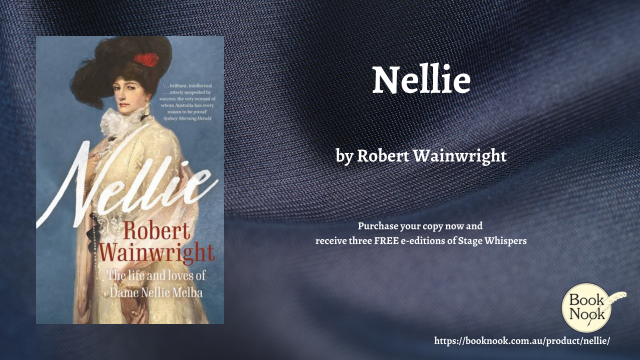 By Robert Wainwright (Allen & Unwin).
Book Review by Peter Pinne.
Click here to buy a copy at Book Nook
There are plenty of books out there about Melba's life and career, most of them authoritative, so you have to ask yourself do we really need another one. When they're as good as this, the answer is yes. Spending as many pages on her personal life as he does on her career, journalist and biographer Robert Wainwright digs below the notoriety and acclaim to find the woman underneath.
Today we know her as the face on the Australian $100 note and for the dessert delicacy Peche Melba, but life was not at all easy for the singer, who became the greatest opera singer of her time and our first recognized 'diva'. She had to battle her father for his acceptance of her singing career, she married in haste to Charles Armstrong and suffered spousal abuse, and she fell in love with the pretender to the French throne, Phillipe d'Orleans, who was eight years her junior.
Born in 1861 in Richmond, Melbourne, the eldest of 10, to a God-fearing Scots stonemason, David Mitchell, Nellie Mitchell attended Presbyterian Ladies College, Burwood, where her interest in music was first fostered by contralto Mary Ellen Christian, and later tenor Pietro Cecchi.
Her young sister's death at four had a profound effect on Nellie, who was tasked with her care. Aware of this, her father took her with him to Queensland where he had a contract to build a mill at Marian, 24 kilometres from Mackay. It was there she met Armstrong, nicknamed 'Kangaroo Charlie', who was a skilled horseman, a bare-knuckle fighter, and, like Nellie, had a fiery temper. They were ill-matched but they married in 1882 and the following year she gave birth to her son George.
Money was scarce, so Nellie started singing in concerts, but when Armstrong's violence constantly became physical, Nellie returned with George to Melbourne. In time, George would become the punching-bag between Nellie and Armstrong, who took him away from Nellie when he was nine. She didn't see him for ten years.
In 1886 in London Nellie auditioned for Arthur Sullivan, the composing half of Gilbert and Sullivan, who, to Nellie's dismay, dismissed her voice as being 'all right'. Undeterred, she went to Paris and auditioned for the famed teacher Mathilde Marchesi. Marchesi was so excited by her voice that she told her husband, 'I finally have a star.'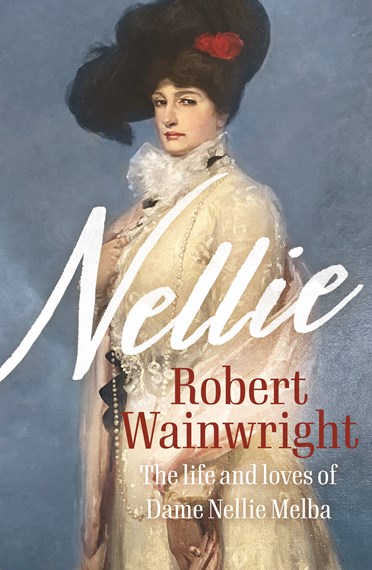 With her father reluctantly agreeing to support her, Nellie started taking lessons and Marchesi became a 'mother' figure to her. But Nellie was proud and strong, and when Marchesi told her not to come back until she had a new dress (she only had one because that's all she could afford), Nellie stood up to her, and Marchesi backed down.
Nellie Mitchell soon became Nellie Melba, and a singing contract followed from entrepreneur Maurice Strakosch. She was then asked to make her debut as Gilda in Rigoletto at Brussels' Theatre de la Monnaie, but the Strakosch contract was a problem. It was resolved when he dropped dead just before opening. Melba captivated the audience and critics with her performance, especially in the big aria 'Caro Nome', and from that moment on she became a 'star'.
London success followed, then Paris, New York and Milan. She became friends with with royalty, was feted by society, and met Phillipe d'Orleans. They began their illicit affair, which became common knowledge amongst the glitterati and eventually reached the ears of Armstrong back in Australia.
Armstrong was jealous of his wife's stardom and even more angry at being cuckolded. He insisted George go to boarding school in England. Nellie reluctantly agreed. George spoke English with an accent, which found him being called 'Froggy' at school. Armstrong later took him to America and George didn't see Nellie again until he heard her sing in 1905 in the U.S. when he was twenty-two.
A huge welcome awaited Nellie on her first homecoming tour to Australia, which was a great success. Even her father, although sick, got to see her, which was the one thing that thrilled her more than anything. After a lifetime of indifference, she finally received his approval. The only blot on the accolades was a three-thousand word 'open letter' in the Truth newspaper column of John Norton, who claimed she was a 'sad drunk who was destroying her own talents' - an unfounded accusation which Nellie hotly denied, but the claim left a sour taste and she vowed never to return.
But she did, and Norton was nowhere to be seen, having entered hospital for alcoholic addiction. At the height of her popularity in 1911 she toured in 12 operas in Australia, touring again in 1924 in a joint company with J.C. Williamson's. Both tours vindicated her belief in herself and her dream of pursuing a professional career.
Well-written, well-documented, and brilliantly evocative of the times and attitudes of society, the book comes with B&W photos but no index. Highly recommended!
Click here to buy a copy at Book Nook