Stage to Disc 2021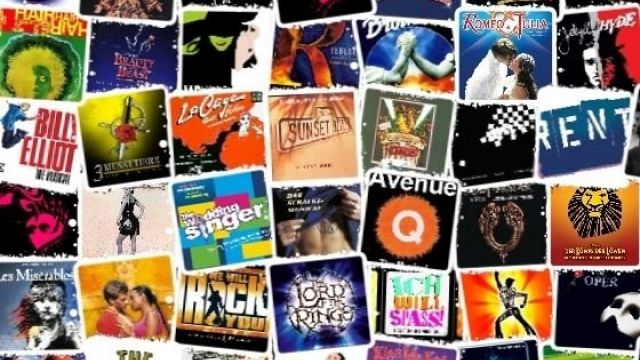 We've collected together Peter Pinne's CD reviews from the 2021 editions of Stage Whispers magazine, featuring the latest cast recordings, re-releases from the archives, soundtracks and other albums of interest to musical theatre enthusiasts.
Peter's ratings:
*Only for the enthusiast ** Borderline *** Worth buying **** Must have ***** Kill for it.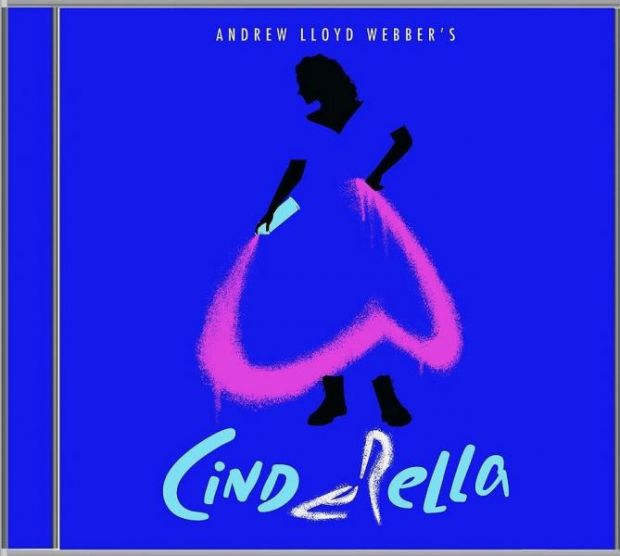 Cinderella (Andrew Lloyd Webber/David Zippell) (Polydor B0033415-02)
A leading lady with Goth tendencies, a town where the residents are 'buff' ('every one a chiseled god, with a ripped and rockin' bod'), and a geeky Prince Sebastian - Andrew Lloyd Webber's new take on Cinderella (via book writer Emerald Fennell) is far from traditional.
This two-album set is a mixture of tracks by original cast members, plus a guest performance by Adam Lambert of a rock god Prince Charming. It's a good mix - all are at the top of their games, as they perform what is one of Lloyd Webber's best scores in years.
From the opening, with Carrie Hope Fletcher singing "Bad Cinderella", to the finale when Ivano Turco as Prince Sebastian sings 'Only you can rescue lonely me', when the two lovers finally get together, it's a musical theatre ride that's witty, melodic and memorable. Turco sings the heart out of "Only You, Lonely You", a beautiful ballad, whilst Fletcher nails the score's big hit "I Know I Have a Heart".
Helen George (Queen) has fun with "A Man's Man", Gloria Onitiri (Godmother) and Fletcher do likewise with "Beauty Has a Price" and Adam Lambert blisters on "The Vanquishing of the Three-Headed Sea Witch". Fletcher's "Far Too Late (To Sing a Love Song)" is etched with emotion, as is "Cinderella's Soliloquy".
Lloyd Webber finds something new to say musically with his "Cinderella Waltz" and "Wedding March", and still in ¾ (like a lot of the score) the theme "Marry For Love", sung at the finale by the chorus, is destined to be played at weddings around the globe. There's even a 'lump in the throat' moment at the finale, which is always a good sign the authors have got it right.
Apart from the full album, which is also available on vinyl or MP3 download, there is a highlights album, available on CD, vinyl and download, and an ALW signed exclusive CD. *****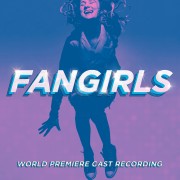 Fangirls (Yve Blake) (Ghostlight Records)
The cast recording of Yve Blake's sassy and sparkly musical about a young girl's pop-star obsession delivers a score that is dynamic, funny, and filled with euphoric pop-beats. It's far and away the best Australian cast recording of recent times. Blake not only wrote the book, music and lyrics, but also stars in the role of Edna. It's a mammoth achievement and has international hit stamped all over it. She began writing Fangirls in 2016 while in residence at the Australian Theatre for Young People, after being awarded the inaugural Rebel Wilson Theatre-maker Scholarship.
The story follows 14 years-old Edna, a diehard fan of the biggest boyband in the world True Connection, and its lead singer Harry. Body-shaming, a hot-button of teenage angst, is cleverly covered in the great trio 'Disgusting' for Blake, Chika Ikogwe and Kimberley Hodgson; mums who won't let their daughters go to a concert is amusingly parlayed in, 'Actually Dead', whilst a nod to domestic violence appears in 'Don't Exist'. Blake Appelqvist plays Harry as a bit thick with a broad Brit council-estate accent, which is lovable and spot-on in "Become Brand New', a duet with Edna. A concert medley is irresistible pop with the entire cast, whilst Blake's 'Silly Little Girl' is a powerful introspective ballad. But it's the mother/daughter growing up ode, 'Brave Thing', that resonates with pathos and gives Sharon Millerchip as the Mum, a spotlight moment.
The music production and mix by David Muratore is excellent, as are the vocal arrangements by Alice Chance.
The musical, which premiered in Brisbane in 2019, is currently on its second national tour. It's already won the Sydney Theatre Award for Best Production of a Musical, the Matilda Award for Best Musical or Cabaret, and a 2020 AWGIE Award for Music Theatre. The American label Ghostlight picked up the cast recording and released it digitally on 30 April 2021. It's the first Australian album to be released by the company. ****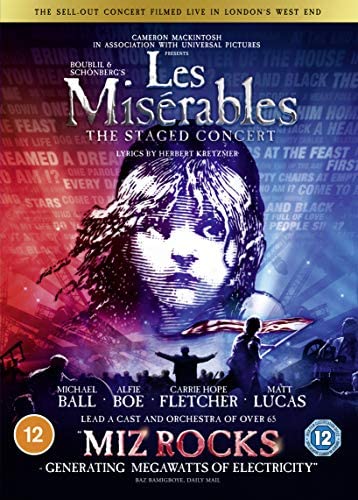 Les Misérables – The Staged Concert (Claude Michel Schönberg/Alain Boublil/ Herbert Kretzmer) (Universal Pictures)
The staged concert of Les Misérables played at the Gielgud Theatre, London, in 2019 while the newly christened Sondheim Theatre (formerly Queens) underwent refurbishments. With a company of over 65, the musical featured Alfie Boe as Jean Valjean, Michael Ball as Javert, Matt Lucas as Thénardier and Carrie Hope Fletcher as Fantine.
Directed by Laurence Connor and Jean-Pierre van de Spuy, it's an emotional roller-coaster ride from start to finish. The voices are magnificent, and Boe and Ball are simply thrilling in rafter-raising versions of their roles. The concert ended with five actors who had portrayed Jean Valjean - John Owen-Jones, Jon Robyns, Dean Chisnall, Killian Donnelly and Boe, all singing 'Bring Him Home', with Ball and Bradley Jaden (the new Javert) singing 'Stars'. When the company close with 'One More Day', there's not a dry eye in the house. ****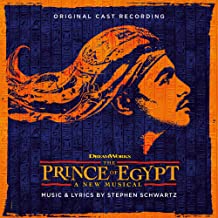 Prince Of Egypt (Stephen Schwartz) (Dreamworks)
The stage version of Dreamworks' 1998 animated feature (which had eye-popping artwork, an Oscar winning song, a star cast, and produced box-office gold), finally made it to the stage at London's Dominion Theatre, 25 February 2020. Closing when the pandemic hit, it's due to reopen 1 July 2021 when things get back to a post-Covid normal.
The cast recording features five songs from the original movie score and a whole heap of new material. The breakout song, 'When You Believe', a hit for Mariah Carey and Whitney Houston at the time, is still one of the best songs in the score, but Schwartz's new additions frequently hit the mark. 'Make It Right', a duet for the biblical brothers, Ramses (Liam Tamne) and Moses (Luke Brady), has an ear-worm melody and an insistent drive, the ballad 'Footprints on the Sand' has some nice poetic images ('Footprints in the sand, ripples on the river'), and 'Heartless' is a heartfelt mother's lament, given a strong performance by Tanisha Spring as Nefertari. Old-stager Gary Wilmot does fine on 'Through Heaven's Eyes', a holdover from the original film, and Christine Allado adds classy diva vocals to Moses' Midianite wife, Tzipporah.
The musical was heavily criticized as being too Disney, too Vegas, and too Cecil B. DeMille, with its religious storytelling akin to cheerleader-style gymnastics and the like, and it is, being grandiose, epic and awash with Middle Eastern themes. Schwartz is a long way from his simple, exhilarating Godspell. ***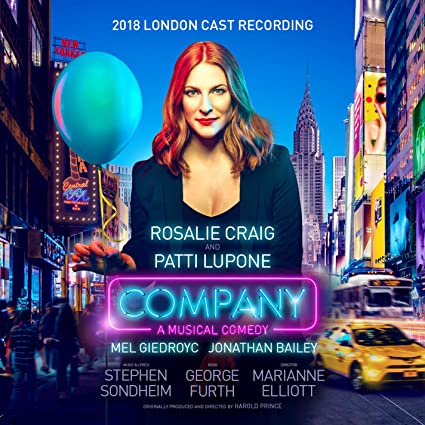 Company (Stephen Sondheim) (Warner Music Group 0093624900979)
Marianne Elliott's gender-switch version of Company gives the Sondheim classic a new and vibrant lease of life. Elliott, whose previous hits have included groundbreaking productions of War Horse and The Curious Incident of the Dog in the Night-Time, has re-imagined the quintessential 70s musical for today, with the role of Bobbie played by a female, the "Getting Married Today" sequence as a male gay couple taking their vows, and gender switches in "You Could Drive a Person Crazy" (male trio), "Another Hundred People" (male vocal) and "Have I Got a Girl (Guy) for You" (female quartet). With new orchestrations by David Cullen, and a few lyric tweaks, it's a brilliant re-interpretation.
Rosalie Craig, whose previous London credits include City of Angels, Ragtime and London Road, plays Bobbie with warmth and honesty, and can belt it out when necessary. Her "Being Alive" is emotional, and her comic instincts are perfect, giving "Barcelona" (with Richard Fleeshman) the requisite laughs. George Blagden's "Another Hundred People" is good but very English, and Jonathan Bailey (Jamie) and Alex Gaumond (Paul), are a great gay couple "Getting Married". 'Side, By Side, By Side, By Side' is vibrant and alive with great theatricality, whilst Patti LuPone eats up "The Ladies Who Lunch" as she did on the Neil Patrick Harris 2011 Broadway version. Ben Lewis (Love Never Dies), as Larry, gets a moment to shine in "Sorry-Grateful".
The production was a 2018 London hit and was due to play Broadway this year but cancelled due to Covid. Let's hope it gets up when Broadway reopens, as this version needs to be seen everywhere. ****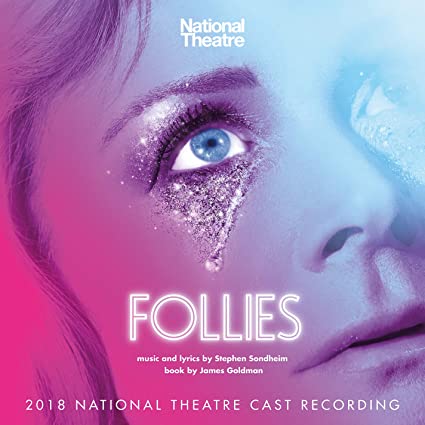 Follies (Stephen Sondheim) (Warner Classics 093624900955)
This is Dominic Cooke's 2018 National Theatre, London, cast recording of this cult Sondheim classic which won 'Best Musical Revival' at the Olivier Awards. Starring Imelda Staunton (Sally), Philip Quast (Ben), Janie Dee (Phyllis) and Peter Forbes (Buddy), Cooke's production was incisive and coherent, and very well played, though the show is still flawed, despite some brilliant sequences. Like the early Act-One medley of "Rain on the Roof'" with Norma Atallah and Billy Boyle skittering around like characters in a Jerome Kern 20s musical, Geraldine Fitzgerald bringing Gallic charm to "Ah, Paris" and Di Botcher delivering some White Way gloss to "Broadway Baby".
Peter Forbes is in top-form with "Buddy's Blues", possibly the best track on the album. Tracie Bennett's "I'm Still Here", although studied, bristles with guts. Josephine Barstow's wide vibrato as Heidi in "One More Kiss" is offset by the gorgeous soprano of Alison Langer as her youthful self, and you can hear the age of a faded show-girl in Dawn Hope's "Who's That Woman".
Staunton, in another demanding Sondheim role, beautifully controls her distress in "In Buddy's Eyes", whilst her "Losing My Mind" is suffused with a raw ache. Janie Dee's "Could I Leave You" has sweeping bitterness, whilst Gould brings gravitas and introspection to "The Road You Didn't Take".
Nigel Lilley conducts a 21-piece orchestra, which plays Jonathan Tunick's original orchestrations superbly. ****
Anyone Can Whistle (Stephen Sondheim) (Jay Records 1457)
Jay Records' ambitious recording of Sondheim's Anyone Can Whistle has been in the works for 23 years. The original tracks were put down in 1997, additional work was done in 2013, and now we have the first complete version of this legendary 9 performance 1964 flop. The reasons for the delay were mainly administration and financial. So, after a 23 year wait, is it worth it? Yes, definitely, yes.
With two of Sondheim's English muses at the helm, Maria Friedman and Julia McKenzie, who between them have introduced London to Sally, Mrs Lovett, Dot and Fosca, John Barrowman, whose credits include Putting It Together, and John Owen Edwards leading a superb National Symphony Orchestra, the riches on offer are many.
One is continually blown-away by the score, the breadth of invention, and Don Walker's orchestrations, which perfectly express the atonal nature of the subject, an industrial town that fakes a miracle to bring in the tourists.
The two extended musical sequences, 'Simple' and 'The Cookie Chase', were groundbreaking for Broadway in 1964. 'Simple' is astounding with its complex layered vocal parts, whilst 'The Cookie Chase', a 10 minute demented, but elaborate European operetta waltz sequence sung by Cora, the Mayoress, and the company is one of the musical theatre's most accomplished pastiches.
McKenzie, in good, strong voice throughout, is standout on the opening 'Me and My Town' with her four 'boys', but Friedman is a joy as the multiple personality frigid nurse Fay Apple, who can only function sexually when disguised as the 'Lady from Lourdes'. 'Come Play Wiz Me' is fun and Barrowman, a lightweight Hapgood, duets nicely on it, while they both pull the emotion out of the title tune and 'With So Little To Be Sure Of', my favorite Sondheim song, although I miss the abrasiveness of Harry Guardino's vocal on the original.
The 'Everybody Says Don't' ballet is recorded for the first time, along with several playouts, the curtain call and exit music. *****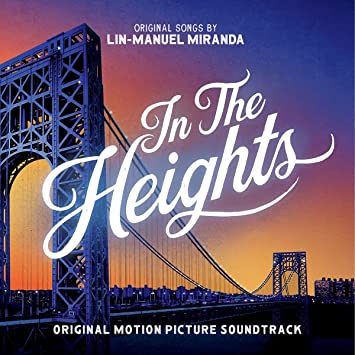 In The Heights (Lin-Manuel Miranda) (Atlantic)
The In the Heights soundtrack is a joyous mix of Latin beats, salsa, merengue and hip-hop. Hamilton creator Lin-Manuel Miranda's 2008 Broadway hit, about an enclave of undocumented Dominican Republicans in the New York borough, has been given a big-screen makeover by Jon M. Chu (Crazy Rich Asians), that simply throbs with a love of Latin culture. You can almost smell the café con leche.
The first thing that fans of the Broadway cast album will notice is that the order of the songs has been altered, which actually improves the story. Plus, there are several lyric changes - the multiple references to Donald Trump are gone, and so is the line 'Yo, I got more hoes than a phonebook in Tokyo' from '96,000'. The songs 'Sunrise', 'Hundreds of Stories' and 'Atencion' have been cut, but there's a new song over the end credits, 'Home All Summer', which is an asset to the score.
The album blisters with the ensemble numbers and reaches its apex with 'Carnaval del Barrio', performed, like the opening 'In the Heights' and '96,000', in the street.
Anthony Ramos, as the bodega owner Usnavi, is a delight, with crisp vocals whether rapping or singing, whilst Melissa Barrera's Vanessa could hold her own in any Broadway company. Leslie Grace displays a fantastic voice as Nina (she's just been signed by Sony Latin), and her duets with Corey Hawkins (Benny), 'When You're Home' and 'When the Sun Goes Down', are two of the best on the album. Olga Mereditz as Abuela Claudia is the only holdover from the original Broadway cast, and she walks away with the movie and the soundtrack with her passion and heart on 'Paciencia y Fe'. Miranda makes a cameo appearance as the 'flavored ice' man singing 'Piragua', whilst Daphne Rubin-Vega (Rent) brings sizzle to Daniela, the hair-salon mistress, who leads the dance on 'Carnaval del Barrio'.
Already Number 1 on the Billboard soundtracks chart, there's no doubt this movie has a lot of admirers, and the album's vibe catches all of its Latin energy. ****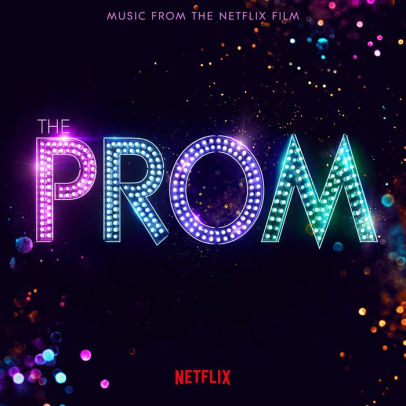 The Prom (Matthew Sklar/Chad Beguelin) (Masterworks)
Once upon a time Hollywood bought the rights to a Broadway musical and then proceeded to emasculate it in its screen adaptation. I'm happy say that's not the case with Ryan Murphy's frenetic Netflix version of The Prom, which is almost a direct stage-to-screen transfer, with all the songs intact. Matthew Sklar and Chad Beguelin's score was a key element in the success of the show on Broadway, which slyly riffed on Broadway clichés, here presented in ripe (perhaps overripe) versions, by one of the best casts assembled for a musical. Meryl Streep is simply dazzling as the self-adoring Dee Dee Allen, the star who's just a little way past her prime, as she belts 'It's Not About Me' to the gym rafters. James Corden's late in the show 'Barry is Going to the Prom' is one of those solo manic numbers he does so well, whilst Nicole Kidman is sinuously sexy with 'Zazz', the Fosse homage. As the two lesbian teens, not allowed to attend the prom at the centre of this middle-American morality charade, Jo Ellen Pellman as Emma and Ariana DeBose as Alyssa Green have the pop vocal chops to deliver and belt with passion. 'Dance With You' is particularly good, as is 'You Happened'. Andrew Rannells makes a meal of 'Love Thy Neighbor', which cleverly uses bible quotes to prove the townsfolk are nowhere near holier than thou, whilst Keegan-Michael Key's headmaster is sincerely good on 'We Look To You', the anthem that's destined to become every show-queen's mantra. A new dance track, 'Wear Your Crown', written for the movie's finale when the bigots have been usurped by the Broadway do-gooders, closes the album on a high. ****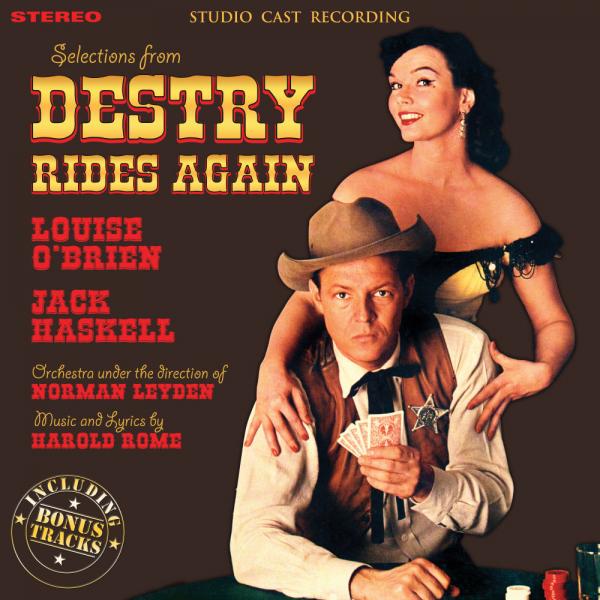 Destry Rides Again (Harold Rome) (Stage Door STAGE 9086)
Digging deep into the vaults again, Stage Door have come up with a studio cast recording of Harold Rome's 1959 musical Destry Rides Again, based on the classic Western movie of the same name.
The original show, which starred Andy Griffith and Dolores Gray, received 4 Tony nominations with a win for Michael Kidd's choreography - similar in style to his frontier moves for MGM's Seven Brides For Seven Brothers. Jack Haskell sings the Griffith role (probably better than Griffith), and Louise O'Brien is a fine substitute for Gray.
Accompaniment is by the Norman Leyden Orchestra. No hits emerged from the score, but there were lots of pop covers as the 14 bonus tracks testify. Lisa Kirk does well on the bouncy, "Ring on the Finger", whilst The Four Aces croon "Anyone Would Love You" in 50s close-harmony. ***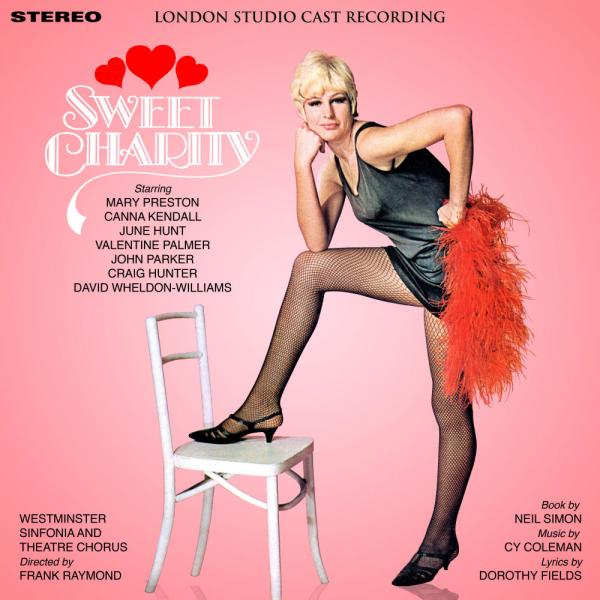 Sweet Charity (Cy Coleman/Dorothy Fields) (Stage Door STAGE9085)
Stage Door have been digging into the vaults again and have come up with this Saga studio cast recording of Sweet Charity which was released in 1967 when the show was first produced in London.
There's a couple of Australian connections. Mary Preston, who was Lola in the original Australian musical Lola Montez (1959), sings the title role of Charity, whilst Philip Street alumni, and Tony in the original Australian cast of The Boy Friend, John Parker sings the film star/lothario role of Vittorio. Preston does well in most of the numbers, except the top register in the pop-anthem 'Where Am I Going', whilst Parker, with a studied accent is cod-suave on 'Too Many Tomorrows'.
Accompaniment is by the Westminster Sinfonia and Theatre Chorus, directed by Frank Raymond, and other cast members include Craig Hunter, Canna Kendall and June Hunt. This is the only recorded version to feature an additional cut verse in Charity's song 'You Should See Yourself' and it also includes an extended version of the 'Rich Man's Frug', recorded during the original Saga session but not released on the original LP. ***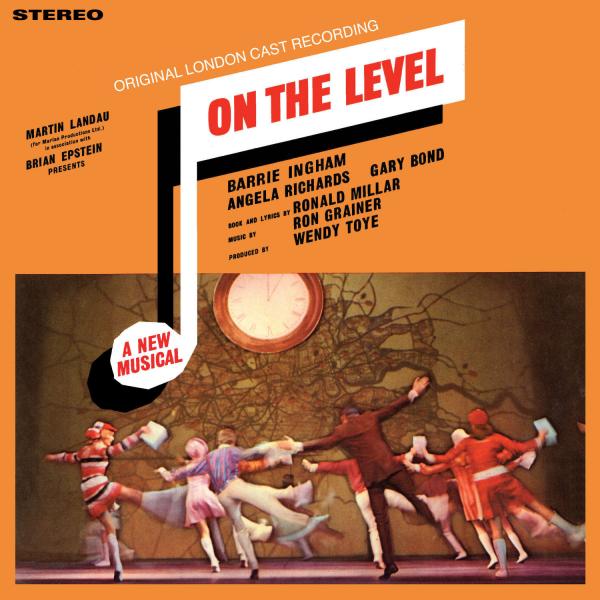 On The Level (Ron Grainer/Robin Miller) (Stage Door STAGE 9076)
Stage Door continue their 'Masters Series' with this West End entry from 1966. It was Ron Grainer and Ronald Miller's follow-up to their massive hit Robert and Elizabeth, but without its staying power - running a mere 118 performances. It's lively, even frenetic, with a score that's typical of the 60s, featuring a jazz-waltz, soft-rock beats, and a title tune done as a 'frug'. "My Girl at the Dance" sounds like a Cliff Richard number, "Very Good Friend" is nicely handled by Barry Ingram and Phyllida Law, whilst, "Bleep-Bleep" made a star (briefly) of chorus-girl Sheila White. "Nostalgia" was a pleasant number for the adults, which satirically asked 'bring back the war', Vera Lynn, and 'the White Cliffs of Dover'. The plot revolved around the stealing of high-school exam papers, and the cast was top-heavy with Australian talent - Rod McLennan, Terry Mitchell, Earle Cross and Noel Tovey. ***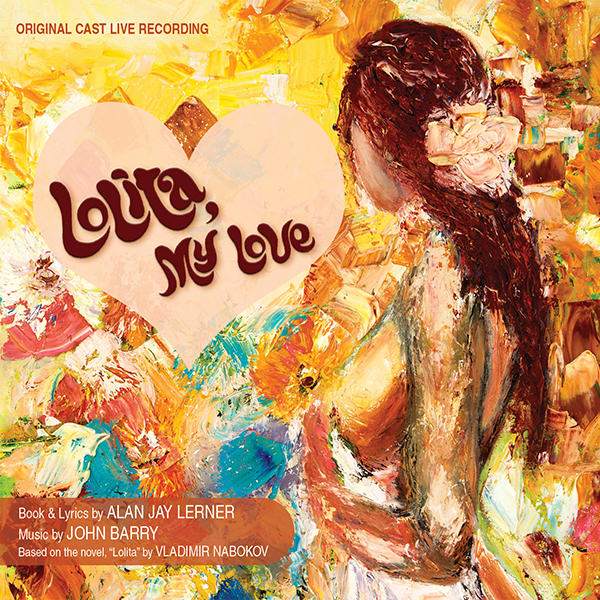 Lolita, My Love (John Barry/Alan Jay Lerner) (Kritzerland KR-200385)
Hot on the heels of York Theatre Company's 'Musical In Mufti' version of this forgotten show, which closed out-of-town before reaching Broadway in 1971, comes a new live soundboard recording of the original cast.
In 1987 Blue Pear Records released a soundboard recording of the original cast but the sound was poor and there was so much noise ambience it was un-listenable. Producer Bruce Kimmel has now done a mighty job of restoring this live recording, which sounds very good. The show, based on Vladimir Nabokov's 1955 novel Lolita, was about a 'precociously seductive' teenage girl and her middle-aged literature professor, Humbert Humbert, which starred John Neville and Dorothy Louden.
Three-years earlier, Neville had made his musical theatre debut in the West End's Mr and Mrs. Not a singer - more an actor who carries a tune - his vocals capture the essence of the character in the haunting ¾ "Tell Me, Tell Me" and "How Far Is the Next Town", and one of the best songs ever written about adolescent love, the lovely "In the Broken Promise Land of Fifteen". Louden, as Lolita's vulgar mother, sings the piquant waltz "Sur le Quais". "Going, Going, Gone" was a hit for Shirley Bassey at the time.
The CD reveals John Barry and Alan Jay Lerner's score to be a lost gem from Broadway's Golden Age. Highly recommended! ****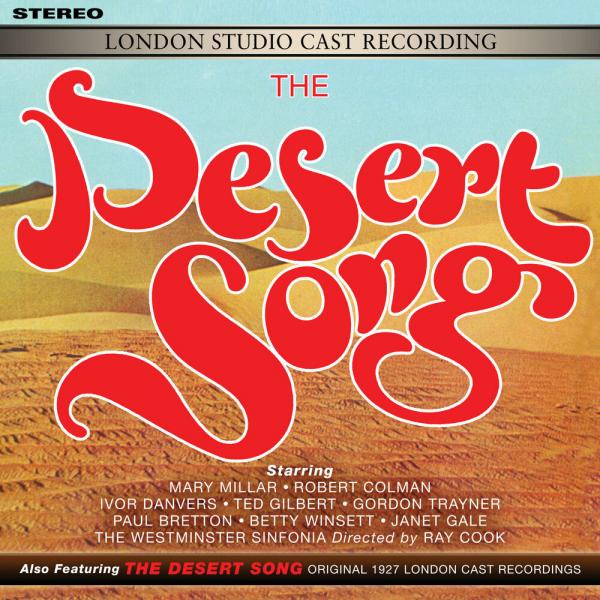 The Desert Song (Sigmund Romberg/Otto Harback/Oscar Hammerstein ll) (Stage Door STAGE 9080)
Once upon a time, The Desert Song was the staple of every amateur musical theatre group around the world, but those days are long gone. This twenties operetta, originally called Fair Lady, has a glorious Sigmund Romberg score, and was a huge hit when it opened on Broadway in 1926 and London in 1927. Capitalizing on the then current Riff uprising in Morocco, Lawrence of Arabia and Rudolph Valentino's success in The Sheik, the story was an up-to-date and contemporary tale involving espionage, intrigue and romance.
Its last outing in London was in 1967 and this studio recording was released at that time. Mary Millar, who had toured as Margot Bonvalet in the show twice, was a well-known face on Broadway and London stages, having understudied Julie Andrews in Camelot on Broadway, starred in London's Ann Veronica, and played Madame Giry in the original The Phantom of the Opera. Contemporary audiences know her as Rose in Keeping Up Appearances. Opposite her as the 'Red Shadow' is Australian actor Robert Coleman, whose credits include Camelot, Charlie Girl and Robert and Elizabeth. They couple well on the title song, Coleman does nicely with 'The Riff Song' and 'One Alone', whilst Millar is equally as good on the 'French Military Marching Song' and 'The Sabre Song'.
The CD comes with recordings from the original 1927 London cast, which starred Harry Welchman and Edith Day. The 78 clean-up is superb. Bonus tracks are by John Hanson, a frequent touring 'Red Shadow' of the sixties. ***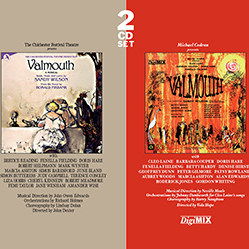 Valmouth (Sandy Wilson) (Jay Records CDJAY 2 1461)
Jay continues its DigiMIX version of essential British musicals with a reissue of Sandy Wilson's outrageously ribald and camp Valmouth (1959). Based on a novel by Ronald Firbank, the characters include a masseuse - Mrs Yaj (Cleo Laine/Bertice Reading), an aging nymphomaniac - Lady Parvula de Panzoust (Fenella Fielding), a notorious prelate -Cardinal Pirelli (Geoffrey Dunn/ Robert Helpmann), and Sister Ecclesia (Marcia Ashton), the dancing nun who is under a vow of silence.
A cult musical at the time, it shocked many but is fondly remembered. It was written for Reading, who played the tryout season at Hammersmith but was unable to transfer with the show to the West End, so she was replaced by Laine.
It was Laine's first big success. She recorded the original cast recording which is here given the DigiMIX treatment with the dreaded organ (which Wilson hated) being tamed and integrated more with the rest of the orchestra.
Jay have coupled the original cast recording with the Chichester revival cast, which included Reading, Fielding, Ashton and Doris Hare (Grannie Took) reprising their original roles. That album also includes the song 'Where Then Can Make Him Come So Slow', not on the original cast disc. The revival cast is good, but the original is better, and Laine's vocals sound much warmer than Reading's. 'My Big Best Shoes' is still the standout number, and Fielding's 'Just Once More' the wittiest. ****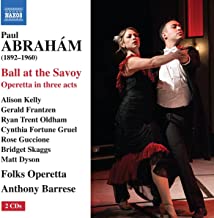 Ball At The Savoy (Paul Abraham/Hersh Glagov/Gerald Frantzen) (Naxos 8.660503004)
Ball at the Savoy was the last major cultural event of Weimar Germany, opening to great acclaim in 1932 Berlin at Grosses Schauspielhaus. Its run was cut short by the Nazis, as a result of its composer Paul Abraham's and several of the leads' Jewish heritage.
Naxos Records and the Chicago based Folks Operetta have now produced the world premiere complete recording of the work in English.
The plot is not unlike Die Fledermaus, wherein a wife goes to a ball at the Savoy Hotel in Nice in disguise to spy on her husband who she believes is cheating on her. The difference is that she seeks revenge by having a sexual liaison of her own.
The recording springs from a 2014 production by Chicago Folk Operetta. The principal couple, Aristide, the Marquis de Faublas, and his wife Madeleine are played by real-life couple Gerald Frantzen and Alison Kelly. Both do well on the show's hit 'Toujours L'amour', but Cynthia Fortune Gruel shines as songwriter Daisy Darlington, especially in 'Kangaroo', 'Mister Brown and Lady Claire' and 'Out on the Town'. As the much-married Mustafa Bey, Ryan Trent Oldham lacks the vocal strength to do the role justice.
The 18-piece orchestra, under Anthony Barrese, handle Abrahams infectious jazz-age score with brio. ****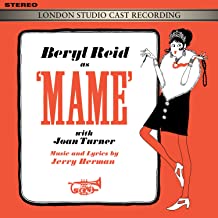 Mame (Jerry Herman) (Stage Door STAGE 9082)
Considering Jerry Herman's Mame was such a big Broadway success, there's not many versions of the score out there except the Angela Lansbury original and Lucille Ball's pale soundtrack. Ginger Rogers played the role in London, but her version was not recorded. Instead, we have a reissue and first time on CD of Beryl Reid, better known as a straight actress (The Killing of Sister George), heading a 1969 studio cast recording with Geoff Love and his Orchestra and the John McCarthy Singers. It was Reid's second outing in a Herman musical. She'd previously recorded a studio cast of Hello, Dolly! in 1965.
Reid started in Music Hall, graduating to intimate revue. Her voice is not the greatest even though the attack is, and when she can't reach the top notes, the chorus swiftly step in and finish the job. The score, one of Herman's strongest, sounds best on the ensemble numbers ('We Need a Little Christmas'/'It's Today'), with the title tune a standout. In fact the chorus work is one of the album's big pluses. Reid brings some 1920s verve to 'That's How Young I Feel', and duets well with comedienne Joan Turner (Vera Charles) on 'Bosom Buddies', one of Broadway's all-time great comic numbers. The score's other comic gem is 'Gooch's Song', which finds Pat Whitmore scoring the laughs. Bonus tracks are by Joan Turner, from the BBC serial The Teckman Biography - 'The Shadow Waltz' and 'The Homecoming Waltz' - accompanied by Wally Stott and his Orchestra. ***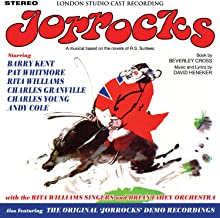 Jorrocks (David Heneker) (Stage Door)
According to Adrian Wright (Must Close Saturday) 'Jorrocks was the finest British musical flop of 1966. David Heneker considered it his best score. It was cleverer, more stylish and witty than his greatest successes Half a Sixpence and Charlie Girl, and vastly superior to the Heneker show that followed, Phil the Fluter.' Stage Door, in their Lost British Musicals series, have now reissued a lively studio cast recording of Jorrocks and coupled it with the original demo recordings. They prove that Wright was right. It is a forgotten gem and well worth a listen. Based on the novels of R.S. Surtees, it followed the career of John Jorrocks, a Falstaffian tea merchant, who in 1845 takes up the Mastership of the Old Handley Cross Hunt. Fox hunting, and all its attributes, was at the heart of the show which ran for 181 performances amid much controversy from the pro and anti fox hunt brigade. Barry Kent, London's Lancelot in Camelot, sings the title role - being particularly stirring and bumptious on 'Love Your Neighbour' and the title song. As his wife Mrs Jorrocks, Rita Williams is to the fore on 'Toasts of the Town' and 'I Well Recall the Day', whilst Pat Whitmore's 'I Don't Want to Behave Like a Lady' has wit. The Rita Williams Singers bring bounce to the jaunty 'Belinda', one of the best songs in the score. This release includes an 'Overture' (released for the first time), several cut songs, the best of which is 'Where You Are', plus a BBC radio version (found on e-bay) of the duet 'You Can Depend on Me' by Cheryl Kennedy (the original Belinda), and Barry Kent singing some lyrics not heard on the Original Cast Recording. ****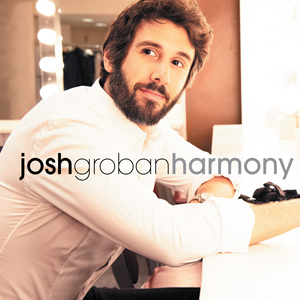 Harmony – Josh Groban (Reprise)
If you're looking for a belated Valentine's gift then you can't go past this album by Josh Groban, which has romance dripping all over it. He opens with the 60s Sinatra tune 'The World We Knew (Over and Over)', which has a very James Bond feel, and follows with Robbie Williams' biggest hit 'Angels'. Nina Simone's 'The First Time I Ever Saw Your Face' and Bonnie Raitt's 'I Can't Make You Love Me' are a comfortable fit in this playlist, as is 'Both Sides Now', which he duets with Sara Bareilles. There are only two show songs on the album, a very short version of Man of La Mancha's 'The Impossible Dream' and 'She', the popular theme from the BBC's Seven Faces of Women, written by Charles Aznavor and Les Miz lyricist Herbert Kretzmer. The most romantic number however is probably 'It's Now or Never' ('O Sole Mio'), which is swathed in Latin beats and sounds like it's accompanied by a million guitars. ***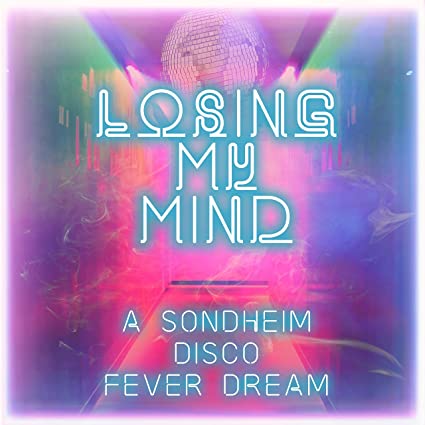 Losing My Mind – A Sondheim Disco Fever Dream (Stephen Sondheim) (Broadway Records BR-CD14420)
Still on a Sondheim kick, this album is much, much more than a disco album, being a clever mash-up of Sondheim songs which are thematically linked. The harmonies and arrangements are excellent, and the terrific orchestrations are by Joshua Hinck and Scott Wasserman. "Opening" (Doors) sets the style with lyric grabs from Company, Into The Woods and Merrily We Roll Along. It's sung by Joshua Hinck and Charity Angél Dawson, who both have great Broadway belt voices.
The second track mixes "Somewhere" (West Side Story) with "There Are Giants" (Into the Woods), whilst the third has grabs from Sweeney Todd, Into the Woods and Passion. Aili Venho does a driving version of "The Miller's Son", with stunning trumpet work by Jami Dauber, whilst track eight, "Artists Are Bizarre", features sections of "Simple" from Anyone Can Whistle, a song where the characters decide who should be in the 'cookie bin'. It's the first time I've ever heard this song (or part of it) recorded since the original cast recording in 1964.
"Losing My Mind" is mixed with "You Could Drive a Person Crazy", whilst the finale is a megamix of "Somewhere", "Unworthy of Your Love", "Lovely", "No One Is Alone", "Losing My Mind" and "Take Me to the World". It's Sondheim with a difference. ****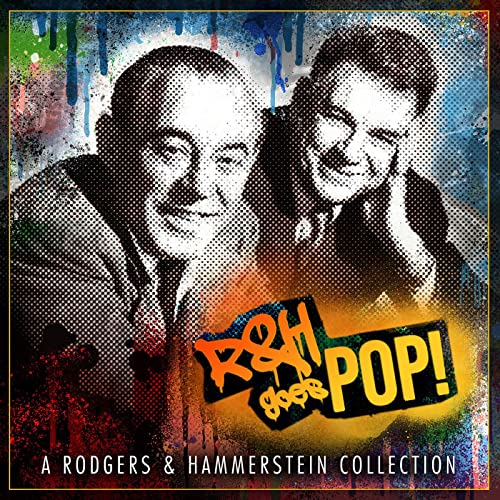 R&H Goes Pop (Richard Rodgers/Oscar Hammerstein ll) (#rhgoespop)
When Broadway went into lockdown early last year, the Rodgers and Hammerstein Organization started releasing contemporary versions of their classic catalogue by young Broadway performers. These have now been released as a download collection. Hosted by Laura Osnes, the result puts a new spin on these old favorites. The most non-traditional are Ashley Park's 'Do-Re-Mi' rap with four guys, Katrina Lenk's countrified 'Something Good', Ariana DeBose's 'Shall We Dance', which uses 'A Wonderful Guy' lyrics as rap, and Jelani Alladin and Matt Doyle with an interracial gay take of 'We Kiss In a Shadow'.***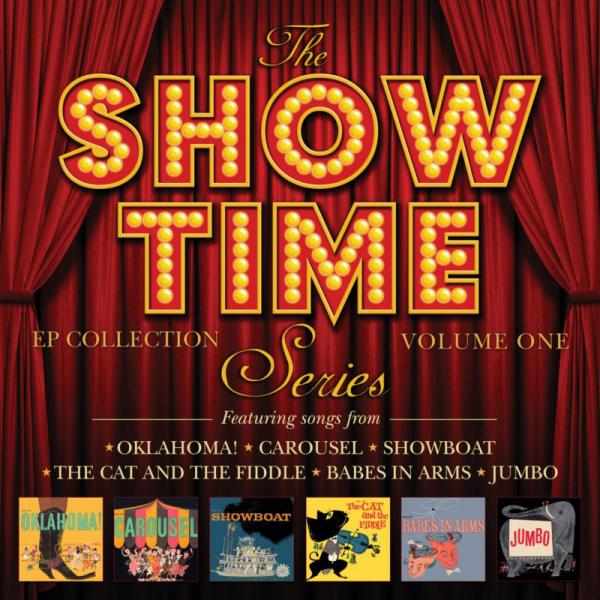 Show Time – Volume 1 (Various) (Stage Door)
In 1952, RCA Victor created the first 45rpm Extended Play records. Instead of re-releasing the back catalogue, they recorded, and beautifully recorded at that, new versions of popular musicals with Broadway stars of the time. Some had played in the original cast, others were replacement or touring cast members, and for some it was their first chance to commit to discs roles they had sung on Broadway or on tour.
Stage Door have now combined six of these EPs on one CD – two shows from Rodgers and Hammerstein, two by Rodgers and Hart, and two by Jerome Kern.
The Rodgers and Hart and Kern are the most interesting - Jumbo, Babes in Arms, and The Cat and the Fiddle - as it's not often we get recordings of these shows with their original orchestrations.
Stephen Douglass (Damn Yankees/The Pajama Game) is wonderful on 'The Night was Made For Love' and 'She Didn't Say Yes' from The Cat and the Fiddle. Lisa Kirk (Kiss Me, Kate/Mack and Mabel) brings a classy vocal to Babes in Arms' 'The Lady is a Tramp' and 'My Funny Valentine', but it's Sheila Bond (Wish You Were Here) who's vibrantly alive on 'Johnny One Note'. A young sounding Jack Cassidy delightfully croons Jumbo's 'My Romance' and 'The Most Beautiful Girl in the World', whilst Jordan Bentley, who memorably sang 'Pass That Football' in Wonderful Town, gets swept away in 'Over and Over Again', another gem from Jumbo.
Other shows are Show Boat, Carousel and Oklahoma! and other performers include John Raitt, Carol Bruce, Doretta Morrow and Patricia Neway, Broadway's original Mother Abbess in The Sound of Music. ****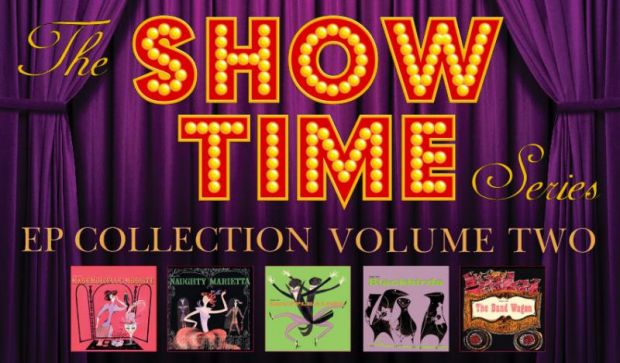 Show Time – Volume Two (Stage Door STAGE9084)
If Sweet Charity was one of Dorothy Fields' last Broadway assignments, then Blackbirds of 1928 was one of her first. It features on this Show Time – Volume Two compiled from RCA Victor's EP series released in 1953, along with Arthur Schwartz and Howard Dietz's The Band Wagon (1931), Eubie Blake and Noble Sisle's Shuffle Along (1921), and two Victor Herbert titles, Mademoiselle Modiste (1905) and Naughty Marietta (1910). Modern audiences will know Naughty Marietta's 'I'm Falling in Love with Someone' and 'Ah! Sweet Mystery of Life', as they've been added to the score and sent-up in the recent version of Thoroughly Modern Millie (2002). 'I Can't Give You Anything But Love' from Blackbirds and 'Dancing in the Dark' from The Band Wagon have been in the American Classics songbook for years, but the rest are mainly vintage operetta, a far cry from what we hear on Broadway today, but very well sung. Artists include the wonderful soprano Doretta Morrow (The King & I/Kismet), athletic singer-dancer Harold Lang (Pal Joey/Kiss Me, Kate) and the original Daisy Mae, Edith Adams (Li'l Abner). ****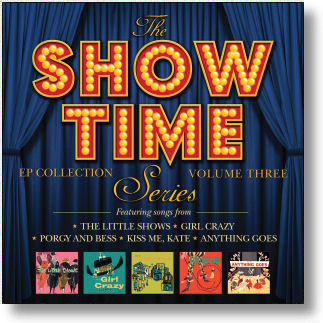 Show Time Volume 3 (The Little Show/Girl Crazy/Porgy and Bess/Kiss Me Kate/Anything Goes) (Stage Door Stage 9087)
This release is the third and final volume of the Show Time Series EP Collection, originally released across 16 EPs and 3 albums by RCA Victor in 1953. The series featured a host of Broadway performers who had sung their roles on Broadway.
Arthur Schwartz and Howard Dietz's The Little Show finds Carol Bruce (Pal Joey/Miss Liberty) putting her stamp on the standards "Can't We Be Friends" and "Moanin' Low", and Hiram Sherman in 1940s Latin-mode with the lyrically clever "When Yuba Plays the Rumba on the Tuba". From the Gershwins' Girl Crazy, Li'l Abner's Edie Adams finds romance on "Embraceable You", whilst Helen Gallagher out-belts Merman on "I Got Rhythm".
Porgy and Bess brings us two of the principals who played the show on Broadway in 1953, Leslie Scott with a terrific "I Got Plenty o' Nuttin' " and Cab Calloway's definitive "It Ain't Necessarily So",' whilst Kiss Me, Kate finds Lisa Kirk giving "Always True To You In My Fashion" even a little more raunch than she did on the Original Broadway Cast album.
Finally, Helen Gallagher and Jack Cassidy are a delight with Cole Porter's witty wordsmithery on "You're the Top" from Anything Goes.
The whole series is highly recommended. ****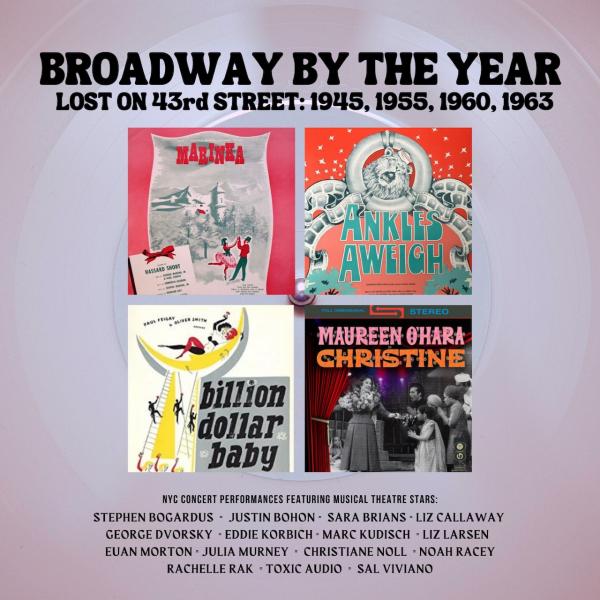 Broadway By The Year – Lost on 43rd Street: 1949, 1953, 1960 and Broadway By The Year – Lost on 43rd Street: 1945, 1955, 1960, 1963 (Footlight)
Footlight Records have now released two albums of cut-songs from the New York Town Hall series that began back in 2001. Because a disc's running time was only 80 minutes, the complete two-hour concerts didn't fit on the album and several tracks had to be dropped. These new albums rescue them.
Highlights on the first include Davis Gaines with a powerful "For a Moment of Your Love" (Carnival in Flanders), Marla Schaffel and Karen Ziemba's fun duet of "You Can Have Him" (despite its dated sexism), from Irving Berlin's Miss Liberty, and Brent Barrett's gorgeous tenor warbling Meredith Willson's "I'll Never Say No To You" (The Unsinkable Molly Brown).
The second's highlights include George Dvorsky's open-throated "Gonna Be Another Hot Day" (110 in the Shade), Noah Racey and Sara Brians' sparkling song-and-dance, "When I'm In Love" (Sophie), and Eddie Korbich and Christiane Noll's take on parenthood with "When the Children Are Asleep" from Rodgers and Hammerstein's Carousel.****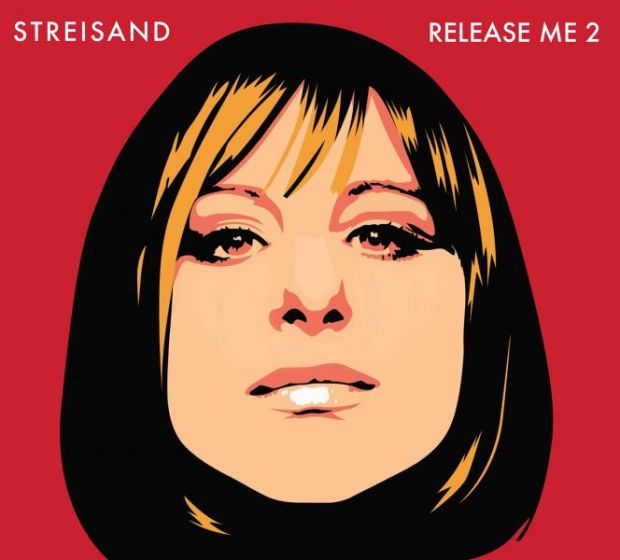 Barbra Streisand – Release Me 2 (Columbia 19439863402)
Barbra Streisand is the only recording artist with No. 1 albums in six consecutive decades. That's a remarkable feat and she celebrates it with this new release of 'old' tracks, recorded throughout her career, that for some reason or another were never released at the time. It's a follow-up to her first Release Me album in 2012.
The vocals are as she originally recorded them, but the tracks have been re-mixed to Streisand's exacting tastes, and sometimes re-orchestrated to change certain chord structures.
There are three duets - one with Willie Nelson on the country-fied "I'd Want it to be You", written for the 2014 Partners album, another where she teams with The Muppets' Kermit the Frog on "Rainbow Connection" (originally a solo track), and "If Only You Were Mine", a great playful swinging track with Barry Gibb, originally recorded for their second album together, Guilty Pleasures.
Burt Bacharach and Hal David's "Be Aware" gets superb treatment, with stunningly pristine vocals that were originally recorded for a 1971 TV Burt Bacharach Special. Likewise, she vocally caresses Carole King's "You Light Up My Life", a 1970 take intended for Stoney End that was discarded.
But the most interesting vocal is the earliest on the disc - Harold Arlen's "Right as the Rain" from the musical Bloomer Girl - recorded in 1962 before she even released her debut album, which contained the same song. The voice is simply magic, floating on a bed of strings, with flutes and a full orchestral sound.
The Target version of the album contains a bonus track – "When the Lovin' Goes out of the Lovin'" from the Emotion sessions of 1984. It's been rejigged from the bootleg version, with the electronic keyboards removed and the back-up singers minimized. One of the best tracks on the album. *****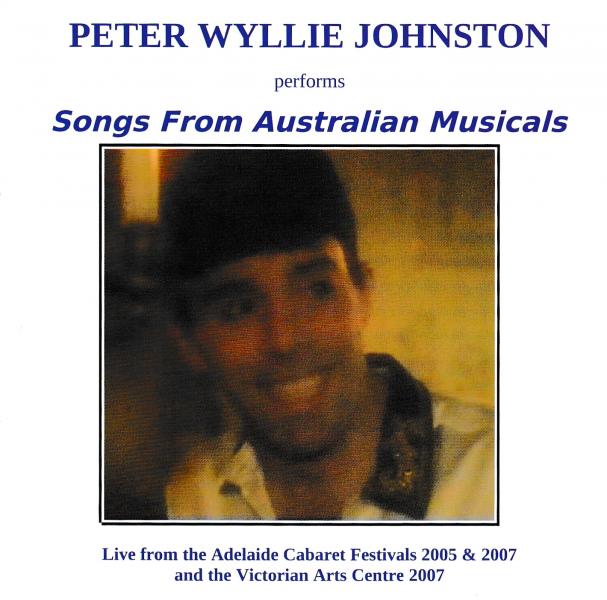 Songs From Australian Musicals (Jack Fewster/Tom King/Kenneth Duffield) (www.hoflandmusic.com/download at PJMADsiU7Vm)
Writer, musician, and co-author of The Australian Musical – From the Beginning Peter Wyllie Johnston features in two concerts from the Adelaide Cabaret Festival in 2005 and 2007, and one from the Victorian Arts Centre in 2007, in a collection of songs from early Australian musicals. Fewster and King has songs by the composer and lyricist of Yantabingie, Yvonne, Juanita and Better Times, whilst Kenneth Duffield – From Saints to the West End offers songs by Duffield and P.G. Wodehouse, and his only book musical, Healo.
Johnston, a baritone, sings and accompanies himself on both Adelaide outings and is joined by soprano Jane O'Toole in Melbourne for Yvonne's 'Prayer to Buddha' and 'Only One Star'. These are the first recordings of this material since it was written in the 1920s and 30s. Johnston is an ingratiating performer and his love of this material and its history shines through every bar of music. Also included are two songs from Johnston's own Moses – The Spirit of Freedom. ***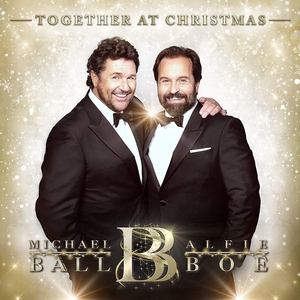 Together At Christmas – Michael Ball & Alfie Boe (Decca)
Released one year prior to their tour to promote the album, Michael Ball and Alfie Boe's new yuletide offering is more of the same from these two powerhouse tenors, who are shaping up to be the oldest boy band in the world. It's a good selection of familiar favourites, plus a couple of unexpected entries - Anastasia's lilting and pretty 'Once Upon a December' is wistfully nostalgic, whilst 'Christmas (Baby Please Come Home)' is a do-wop from the sixties complete with wailing saxophones and a backing trio. Also included, apart from 'I'll Be Home for Christmas' and 'It's Beginning To Look a Lot Like Christmas', is the anthemic sixties hit 'I Believe.' ***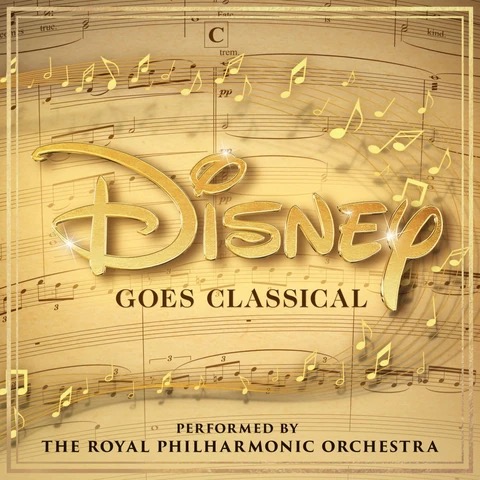 Disney Goes Classical (Disney)
This album, recorded at London's Abbey Road Studios, features the famed Royal Philharmonic Orchestra in a collection of Disney favourites from their Golden Age, to their 90s renaissance and into the modern era of CGI animation. The album features songs from Mary Poppins, Aladdin, Hercules, Beauty and the Beast, Toy Story, Tangled, Mulan, Pocahontas, Moana and The Lion King. Best tracks are Frozen's 'Let it Go' and soprano Renee Fleming gloriously adding some heart to Pinocchio's 'When You Wish Upon a Star'. ***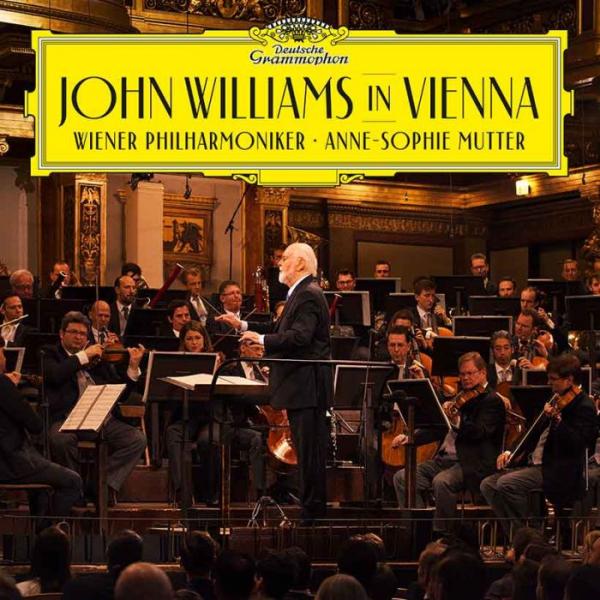 John Williams in Vienna (Deutsche Grammaphon)
According to John Williams it was the greatest thrill of his life when the Vienna Philharmonic asked him to come to Vienna and make his debut with the famed orchestra, conducting his own music. Recorded on 18 and 19 January, 2020, at the Musikverein, the concerts have now been released on audio and video, and include music from Raiders Of the Lost Ark, Jaws, E.T., Close Encounters of the Third Kind, Jurassic Park, War Horse and Star Wars. Violin soloist Anne-Sophie Mutter accompanies on the lively 'Devil's Dance' from The Witches of Eastwick. Norwegian classical composer Marcus Paus claims Williams has a 'satisfying way of embodying dissonance and avant-garde techniques within a larger tonal framework. It makes him one of the great composers of the century.' Williams is the most successful film composer ever, with eight of the highest grossing films at the U.S. box-office featuring his soundtracks. Everyone will have their favourite Williams score, but there are enough delights here to satisfy even the most ardent admirer. ****
About Peter Pinne.
Peter is an author, playwright, composer and record producer.
12 of his musicals are available for performance. Click here for more details.