Stage to Page 2020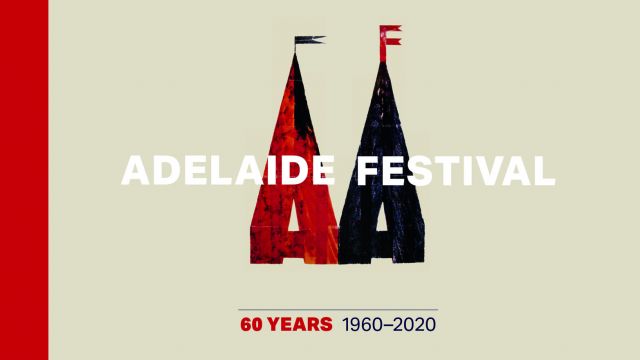 Adelaide Festival 60 Years 1960-2020 (Catherine McKinnon/Sheree Tirrell/Colin Koch) (Wakefield Press $70.00).
For sixty years the Adelaide Festival has never been short of controversy, debate and divided opinion, and this book, with over sixty essays from arts administrators, actors, singers, choreographers, artistic directors and more, is a sweeping overview of the period.
The early festivals were very British focused, which is not surprising as the co-founders, Professor John Bishop and Sir Lloyd Dumas, were determined to make the festival the "Edinburgh of the South". Opera and music dominated the programs: The Australian premiere of Strauss's Salome (1960) in which Joan Hammond performed the "Dance of the Seven Veils", Marie Collier in Walton's Troilus and Cressida (1964) and the London Symphony Orchestra with conductors Sir Malcolm Sargent and John Pritchard (1966).
Robert Helpmann's 1970 festival was star-heavy, with the South Australian Symphony Orchestra and the English Opera Group performing three Benjamin Britten operas, the Warsaw Philharmonic Orchestra, Helpmann directing Rudolf Nureyev and Josephine Jason in his own Hamlet for the Australian Ballet, and the Royal Shakespeare Company led by Judi Dench and Donald Sinden in Twelfth Night and The Winter's Tale.
Dance was not represented in the first festival, but that anomaly was soon rectified with the Australian Ballet and Helpmann's astonishing and popular The Display (1964). Later festivals saw Merce Cunningham and his company with Squaregame (1976), Pina Bausch's Tanztheater Wuppertal, from the industrial town of Wuppertal, Germany (1982) (the most influential dance company to visit Australia since the Ballet Russes in the 1930s) and Jiri Kylian's Nederlands Dance Theatre with three programs - Sinfonietta, Field Mass and Stamping Ground, a piece devised by Kylian after spending time with several Aboriginal tribes on Groote Eylandt in the Gulf of Carpenteria.
Experiencing cutting-edge theatre at the festival provided watershed moments in the career trajectories of composer Alan John and directors Benedict Andrews and Gale Edwards. For John it was seeing Jim Sharman's production of Britten's Death In Venice (1980), for Andrews it was the butoh company Sanjai Juku with Unetsu – Eggs Standing out of Curiosity (1988), and for Edwards it was the Black Theatre of Prague (1966).
Distinguished director Peter Brook came twice and staged two remarkable theatrical events in the Anstey Hill Quarry: his adaptation of the Persian poem The Conference of the Birds (1980) and the marathon eight hours dusk-to-dawn staging of the sacred Indian Sanskrit text The Mahabharata (1988). The venue was used thirty years later for the Sydney Theatre Company production of Andrew Bovell's The Secret River (2017).
The parochial attitudes of the city have never been more vividly expressed than in David Marr's recounting of the Patrick White scandal. Geoffrey Dutton convinced the literary panel of the festival that Patrick White's The Ham Funeral should have its world premiere at the 1962 festival. It was programmed and then the governors got wind of the subject, abortion and a foetus found in a rubbish bin, and demanded to see the script. They were horrified. "They did not want this play. They were not going to allow filth of this kind to be presented at the festival." And they didn't. But White finally got his festival outing twenty years later when Jim Sharman programmed Signal Driver, directed by Neil Armfield.
Anthony Steel, the Artistic Director of five festivals, also supplied an accurate assessment of Adelaide's parochial attitudes in his essay when he juxtaposed an international critical quote alongside one from the Adelaide reviewers. Commenting on Merce Cunningham's radical masterpiece Winterbranch, the New York Times said, "Winterbranch, one of Mr Cunningham's great works and finest success de scandale…is…potent and mind-pulveriszing." The News, Adelaide, thought it was "As flat and dull as exposed concrete".
Highly praised Belgian visual artist Jan Fabre's four-and-a-half-hour piece The Power of Theatrical Madness had the Financial Times gushing - "An astonishing reaffirmation of the vitality of the European avant-garde theatre" but the Adelaide Advertiser claimed it was a "megapretentious piece of twaddle."
One of the most successful streams of the festival has been the Writers' Week, a talk-fest when literary icons provide insight into their craft. Participants through the years have included Alan Ginsburg, Anthony Burgess, Salman Rushdie, Isabel Allende, Margaret Attwood, Fay Weldon, Peter Carey, David Malouf and Mem Fox.
Artists' Week has also been a significant attraction through the years. Large cutting-edge art installations have been mounted in every corner of the city and surrounds to spectacular effect. One of the most talked about was Christopher Hunt's inspired idea of placing a giant inflatable horseshoe tube on the River Torrens, through which children could slip and slide, walking on water. A hit of the 1980 Festival, it was an introduction to theatre for many including the six and seven year old Annabel Crabb and Benedict Andrews.
Barry Kosky's famed Berlin company Komische Opera combined forces with 1927 to present Mozart's The Magic Flute (2019). Kosky has a long history with the festival, artistically directing the 1996 festival, creating the Red Square bar area, and directing the dramatic oratorio Saul, which opened the 2017 Festival.
Both Circus Oz and Bangarra Dance Company have the Adelaide Festival to thank for their beginnings. Without its support, both companies would not have got off the ground.
Originally a biennial festival until 2012, but subsequently presented annually, the festival had Royal patronage in 1966 when HM Queen Elizabeth, The Queen Mother was patron.
The 2019 festival brought 19,046 visitors from interstate and overseas and cost a little over $18 million. As festival junkie Alan Brissenden says, it was "a far cry from the slightly more than 15,000 pounds ($26,921) that was the cost of the first in 1960."
The Adelaide Festival is the largest arts festival in the southern hemisphere and quite rightly deserves Brett Sheehy's description of it as the "jewel in the crown of Australia's festivals." As director Gale Edwards says, "There is no doubt in my mind that the Adelaide Festival of Arts set me on the path that has consumed, and fulfilled, my life's journey."
The book is filled with stunning full-colour images of the productions, and there's even a separate chapter for William Yang's superb photographic contribution. Editor Catherine McKinnon, and pictorial editors Sheree Tirrell and Colin Koch, have done a splendid job in the easy-to-read layout which brings moments, fragments and memories vividly alive.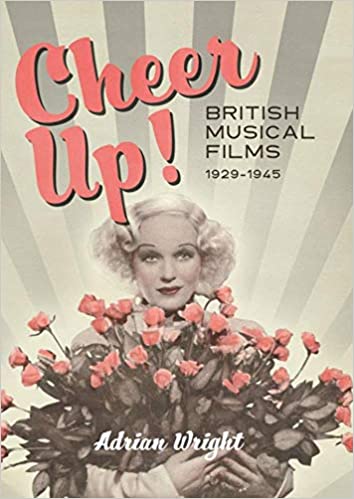 Cheer Up! British Musical Films 1929-1945 – Adrian Wright (Boydell Press A$70.60)
Adrian Wright's latest book looks at the British film industry, in particular musical films, from the beginning of sound until the end of the Second World War. Hollywood musicals have been endlessly dissected and discussed in countless tomes but this is the first time we've had a book that talks critically and affectionately about British musical films.
The period (1929-1945) was a bleak one indeed for Britons, struggling through the Great Depression and Blitz, and sometimes the only light at the end of the tunnel was what was showing at the local cinema.
Alfred Hitchcock's Blackmail was the first British talkie in 1929, but Wright identifies Auld Lang Syne, produced in the same year, as being the first film musical. It was made at Cricklewood Studios, George Pearson directed it, and it starred Scots Music Hall entertainer Harry Lauder. It became the template for many musical films with non-diegetic scores, featuring stars from the halls and variety houses.
The outdated art of concert-party turned up on screen in The Co-Optimists, a popular pierrot troupe of the time, whilst Splinters, built around the true story of a concert-party begun by serving soldiers at the Western Front in France in 1916, highlighted the company of female impersonators. (The Australian equivalent was Pat Hanna's Diggers, and later The Kiwis). It was directed by Herbert Wilcox, who became a sort of 'éminence grise' of the medium, introducing Anna Neagle in the operetta Goodnight Vienna, and eventually marrying her. Their movies together included Noël Coward's Bitter Sweet, Victoria the Great, The Queen's Affair, and the late forties duo of hits, Spring In Park Lane and Maytime in Mayfair, with Neagle playing opposite Michael Wilding.
European émigré directors were flooding the studios, escaping Nazi Germany, and in a talent-hungry industry were welcomed with open arms. Bi-linguals and tri-linguals were the order of the day, with some productions shot in German, French and English. Many continental stars headed projects, including Richard Tauber and Gitta Alpár, whose face graces the cover of this book.
Stage and radio hits were plundered, with backstage stories a popular genre, as were stories built around big-bands. When the Manchester Guardian praised Gracie Fields as 'rough, abrupt, and real' in Sally In Our Alley in 1931, it started a spectacular movie career for the Lancashire-born actress and singer that lasted for a decade, and saw her introduce two of the era's most famous hit songs, 'Sing As We Go' and 'Wish Me Luck', both written by Happy Parr-Davies.
Her rival in popularity was the elfin Jessie Matthews, whose biggest success was the movie version of Evergreen, in which she danced (the squeaking of her shoes clearly heard as she pirouettes) to Rodgers and Hart's 'Dancing On the Ceiling'.
A working-class environment was the forté of George Formby, another bankable star whose career (despite an insanely jealous wife) usually had him playing 'ordinary Joes' and singing catchy songs accompanied by his ukulele.
Ivor Novello's Drury Lane hit Glamorous Night, Maid of the Mountains (with Australian Nancy Brown as Teresa) and the West End marathon-runner Chu Chin Chow all became movies (not very good ones), but three Jack Waller and Joseph Tunbridge stage musicals, For the Love of Mike, Yes, Madam? and Please Teacher, with their original West End star Bobby Howes, managed a successful transition to celluloid.
1940 sees the book introduce Arthur Lucan's great comic creation Old Mother Riley in Old Mother Riley in Society. The character, based on Lucan's Music Hall double-act with his wife Kitty McShane, was the first and arguably the most influential drag act on stage and screen. He made 16 movies between 1937 and 1952, all on a miniscule budget, but all highly profitable. Mrs Brown's Boys owes its comic-lineage Old Mother Riley.
During the war Bud Flanagan and Chesney Allen turned up in We'll Smile Again, with a plot line that involved Nazis, and We'll Meet Again exploited Vera Lynn's popularity in a story set around the Blitz, a bucketful of songs that included 'Be Like the Kettle and Sing' and the title tune.
And what are the gems? Wright believes Stanley Lupino's Cheer Up!, with a title tune by Noel Gay and Desmond Carter, had 'one of the nicest scores of the period', the Violet Lorraine vehicle Britannia of Billingsgate has a 'thrilling finale' and Champagne Charlie with Tommy Trinder and Stanley Holloway is 'unequivocally a masterpiece'.
Wright's layout is in chronological order, following a film's first release, similar in style to his 'Must Close Saturday' (2017), with creative personnel, composers, and directors listed for every entry. It's a great read and comes with B&W sheet music covers, and an index.
The thing with a book like this is that it makes you want to view the movies discussed. A few years ago the British Film Institute (screenonline.co.uk) released boxed sets of all the Gracie Fields and George Formby films, and clips and some whole movies can now be found on YouTube, but the best place to view these vintage titles is 'Talking Pictures' (talkingpicturestv.co.uk), a website that specializes in old British movies.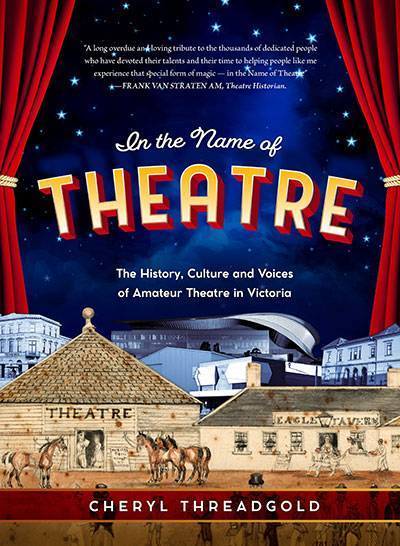 In the Name of Theatre – The History, Culture and Voices of Amateur Theatre in Victoria – Cheryl Threadgold ($49.50)
In April 1932 when Geelong Repertory Theatre Company presented George Bernard Shaw's Pygmalion, little did they realize that 88 years later the theatre would still be going strong. In fact it's the oldest amateur theatre company in Victoria. This is just one of the fascinating facts that emerge from Cheryl Threadgold's assiduously researched In the Name of Theatre.
We've had books on professional theatre before, and some amateur companies have written their own histories, but this is the first time that someone has looked at the genre as a whole.
The book is the reduction of an award-winning PhD thesis in two parts. The first looks at the background of theatre from convict days, through the nineteenth century, World Wars 1 and 2, and the 21st Century. It also includes some snapshots of theatre-makers. The second part features the culture and voices of 147 current amateur musical and non-musical theatre companies in urban and regional Victoria. It's a vast landscape and Threadgold does a wonderful job of welding all of the disparate elements together.
From Gregan McMahon's groundbreaking work with the Melbourne Repertory Company in the thirties; the Pioneer Players; Louis Esson; Maie Hoban; Brett Randall and Hal Percy and their Little Theatre Movement; to Gertrude Johnson's National Theatre in the forties; the Victorian Drama League under Colin Badger; Middle Park's Arrow Theatre; Cid Ellwood's musicals; the APG and La Mama, they're all there.
Part two, with its profiles and history of the theatre companies, is a monumental documentation of the diversity and breadth of amateur theatre in Victoria.
Colour and B&W photos accompany the text, which is an easy read. It comes with a listing of past known amateur theatrical companies, thankyous and a general index.
The book is available through the author at PO Box 215, Black Rock, Victoria, Australia, 3193. Email: thrdgld@optusnet.com.au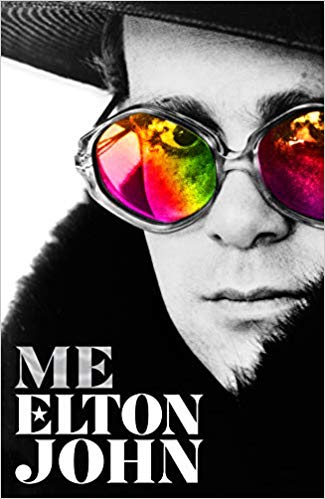 Me - Elton John (Pan Macmillan $22.00)
Sex, drugs and rock'n'roll has become the mantra of virtually every rock star since the species was invented and there's no shortage of it in Elton John's new autobiography Me. Ghost-written with The Guardian's pop critic Alexis Petridis, the elder-statesman of British pop has a right royal time of debunking and endorsing myths about him and his extravagant lifestyle in a marvelously self-effacing and revealing tell-all. And he doesn't stint on the gossip either.
Born Reginald Kenneth Dwight in 1947 in Pinner, a North-West London suburb, he began playing pub-piano at 16 in Northwood Hills Hotel. His idols were Little Richard, Jerry Lee Lewis, Ray Charles, Bob Dylan, Elvis Presley and the "jolly Trinidadian lady Winifred Atwell", whose style of piano-playing he admired and copied - "The way she would lean back and look at the audience with a huge grin on her face while she was playing, like she was having the best time in the world." It could be describing any Elton John concert of the last six decades.
The off-spring of a chronically unhappy marriage, he loved his no-nonsense grandmother, who came to his rescue when his foreskin got caught in a trouser zip as a boy.
He studied at the Royal Academy of Music but knew he would never become a classical pianist as his fingers were too short. He was also a statistic freak, a record-collecting obsessive, and good at sport, which is why later in his career he bought the Watford Football Club and took it from Third Division to First.
He changed his name to Elton John when he was playing in the band Bluesology, taking the John from lead singer Long John Baldry and Elton from another band mate.
His outrageous fashion sense burst into creative flower when he met Tony King, an openly gay man who worked for Dick James Music where John was employed. He met his writing partner and lyricist Bernie Taupin when they both answered an ad for talent in the popular UK music publication New Musical Express, placedby Liberty Records A&R man Ray Williams. At the time Taupin was living in Lincolnshire, in Owmby-by-Spital, and pushing wheelbarrows full of dead chickens for a living.
Empty Sky was the first John/Taupin album, released in 1969, but it was in the 1970's that Elton John produced their first hit single, "Your Song", which John had knocked off in fifteen minutes. Since then they have collaborated on 30 albums, making them one of the most successful songwriting duos in pop music.
With success came uncontrollable excess for John - tantrums, lavish spending and out-of-control drug binges. The drug addiction lasted for 15 years.
"The first line I snorted made me retch. I went out to the toilet and threw up, then immediately went back and asked for another line."
At one time during this period his days were filled with snorting coke and watching porn. It was also the legendary time he called his office and asked some chap to do something about the weather: "It's far too windy here, can you do something about it?"
A late bloomer when it came to sex, he had his first experience when he was 23 with John Reid, a Scotsman who became his financial adviser and who later turned out to be dodgy. John claims he missed out on catching HIV because he was more voyeur than participant when it came to orgies.
But it's the gossip and dissing of fellow rock stars that provide the laughs - like when he asked Yoko Ono what happened to the herd of cattle she and John Lennon once bought - Yoko shrugged and said "Oh I got rid of them. All that mooing." Or the time he and legendary drag queen Divine were refused entry to New York's gay bar "Crisco Disco" because they were over dressed! Divine was in a caftan and John a flowered shirt.
He was "never great friends with David Bowie", who called him "the token queen of rock and roll", but he adored John Lennon and got on famously with him.
Early in his life he got engaged to Linda Woodrow, but called it off when he met a new boyfriend. Later he married German recording engineer Renate Blauel in Sydney in 1987. They were divorced a year later.
After a lifetime of disastrous relationships, he finally met and married (when it became legal in the UK) Canadian David Furnish. They had a stag party at a gay Soho club where Ian McKellen came in drag as Widow Twankey.
John's mother was prone to constant mood swings, which came to a head when he married Furnish, and she viciously said, "you care more about that f**king thing you married than your own mother." It was seven years before he spoke to her again.
John used his public profile to raise awareness of AIDS and fought for the elimination of prejudice and discrimination against HIV/AIDS patients. He annually raises money for AIDS charities.
There's little about the nuts and bolts of songwriting. Taupin wrote the lyrics in one room and then gave them to John, who sat down at the piano and set them. No editing, no agonising. And he was prolific too, setting "Mona Lisas and Mad Hatters", "Amy" and "Rocket Man" before breakfast one morning.
The Lion King, written with Tim Rice's lyrics, despite becoming the second longest running musical on Broadway and being the biggest grossing Disney animated film ever, gets scant mention except the fact that he wrote a song for a warthog who farted a lot. Likewise, his other forays on Broadway - Aida, Lestat and Billy Elliot - receive only brief mentions. His tribute single "Candle in the Wind", reworked for Princess Diana's funeral in 1997, stands as the best-selling single in the UK and US charts, having sold over 33 million copies.
Currently on his Farewell Yellow Brick Road tour around the world, John's epic career has never been more brilliantly captured than in the pages of this book. It's racy, it's vivid, and it's a must read!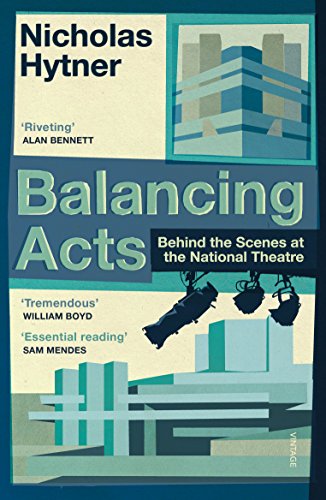 Balancing Acts – Behind the Scenes at the National Theatre by Nicholas Hytner (Vintage $34.70)
When Trevor Nunn was running Britain's National Theatre, he asked Nicholas Hytner to direct two plays during his last year (2001) at the helm of Britain's cultural behemoth. Hytner, who'd been an associate director of the theatre back in 1988, agreed because he was in the running to take over from Nunn and so he used the two plays as an audition for the top job. Cambridge educated and having spent his theatrical apprenticeship at Exeter, Leeds and Manchester, with periods in commercial theatre (he directed Miss Saigon), he'd built up an impressive CV.
Amongst his many creative arms was his love and mastery of Shakespearian text, so he told Nunn he wanted to direct The Winter's Tale and Mother Clap's Molly House, a Mark Ravenhill (Shopping and F**king) play that had been sitting on the National Theatre shelf for years. The play was based on fact - in eighteenth-century London there were around forty molly houses, where men met to have sex with other men, wear women's clothes, and call each other by women's names. Ravenhill used this scenario for his play, with intercuts of a contemporary sex party in the second act. It was ribald, licentious and bawdy, and Nunn was immediately enthused. With a cast of straight young actors, amongst them Dominic Cooper at the start of his career, the play gave the young, funky (a lot of them gay) audience a really good time.
It sealed Hynter's future as director of the National Theatre for the next 12 years. During that time he introduced 10 pound seats, a sponsor (Travelex), National Theatre Live film programs, and a cauldron of hits that traveled around the globe: The History Boys, War Horse, The Curious Incident of the Dog in the Night-Time and One Man, Two Guvnors. The first night of The History Boys was "the most euphoric of Hytner's life."
With cheaper prices came more of a young and hip audience. There were grumbles that the top job had gone to another white, male Cambridge educated graduate, but Hytner, who is gay and Jewish, deflected the claims by saying the NT was too white, too middle-aged and too middle-class. There was a lack of innovation, too much of the programming was safe, and they had to change.
Hytner's first year was dominated by his production of Henry V, which auspiciously opened the day British troops entered Baghdad in the Iraq War. It wasn't planned that way, but was a happy confluence that gave contemporary authority to the war scenes. Jerry Springer: The Opera, during the same season, spear-headed the new wave - a pop-culture marriage of low-entertainment and high art. Plays by Alan Bennett (The Habit Of Art), David Hare (Stuff Happens) and Michael Frayn (Democracy) headed the new plays, but Hytner always found room for Shaw, Pinter and Shakespeare.
At his leaving party, Hytner stole a joke from Bennett when he thanked everybody and "the contribution we have all made together to show-business history, by playing a small part in the inexorable rise of James Corden." On the strength of his Broadway performances in The History Boys and One Man, Two Guvnors, Corden became a successful late night TV host in the U.S.
Balancing Actsis a delightful read - a bit gossipy, lots of the nuts and bolts of running a theatre, and a memoir that's affectionate and fun.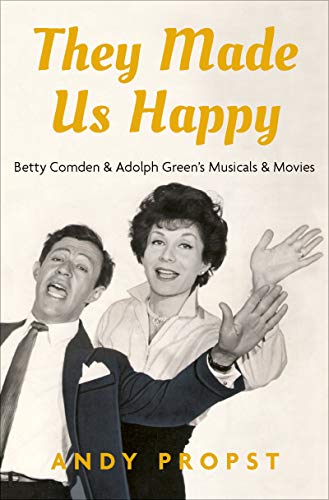 They Made Us Happy: Betty Comden & Adolph Green's Musicals & Moviesby Andy Popst (Oxford University Press U.S.$30.25)
If your credits include the screenplay for one of Hollywood's most beloved musical movies, Singin' In The Rain, then you deserve a place in Hollywood history, but then Betty Comden and Adolph Green's credits also include Broadway's On The Town, Wonderful Town and Bells Are Ringing, plus a song-stack that features "Make Someone Happy", "Just In Time" and "The Party's Over" amongst others, so it was only right that in 1991 they received the Kennedy Center's Lifetime Achievement in the Performing Arts Award.
They wrote in a period when if a Broadway show ran a season it was classified as a hit.
Both were born in New York (Green in the Bronx/Comden in Brooklyn) and they never lost their love for the city, penning several musicals about it.
Green had an encyclopedic knowledge of the movies. His idol was Charles Chaplin, who later became a friend. Comden found her love of movies sitting in a New Haven cinema owned by her uncle. They both aspired to be stage performers, with Comden's first role in Having a Wonderful Time, and Green's playing the Pirate King in Gilbert and Sullivan's The Pirates of Penzance, with Leonard Bernstein accompanying on piano.
They created "The Revuers", a group who specialized in satire and appeared at Greenwich Village's Village Vanguard in 1938. Judith Tuvina (later Judy Holliday), whom Green had met in the Poconos, Pennsylvania, joined them as did Gene Kelly, who did choreography, with Bernstein on piano.
They both married in 1942. Comden's lasted - Green's didn't. It was the first of Green's three marriages.
Bernstein asked them to write the book and lyrics for On The Town, a musical based on his ballet Fancy Free, which had successfully premiered for the American Ballet Theatre in 1944 and has remained in their repertoire until this day.
On The Townwas a hit, putting them on the map as performers (they appeared in it as Ozzie and Claire) and wordsmiths. They followed with Billion Dollar Baby, with music by Morton Gould. Set in the 1920s, and about the Miss America Beauty Pageant, it failed, as did Bonanza Bound (music by Saul Chaplin), about the Alaskan gold rush. But they hit it big again working with Bernstein on Wonderful Town, a musical version of My Sister Eileen which starred Rosalind Russell.
They followed with Bells Are Ringing, which they wrote for their friend Judy Holliday, Say Darling, Do Re Mi, Subways Are For Sleeping, Fade Out – Fade In and Hallelujah Baby, all with scores by Jule Styne.
From the late forties they lived bi-coastal lives, writing for Hollywood and Broadway. Their MGM credits include Good News, The Band Wagon, The Barkleys Of Broadway, Take Me Out to The Ball Game and It's Always Fair Weather. Their biggest TV success was Mary Martin's Peter Pan, which attracted 65-75 million viewers.
They had their last hit with 1991's The Will Rogers Follies, which won them a Tony Award and, at 993 performances, ran the longest of all their shows.
Comden and Green had an amazing career and Andy Propst has done a fine job of condensing and distilling it into this enjoyable read. The projects that didn't get up are almost a fascinating as those that did: they wrote two unused drafts for the book of Cole Porter's Out of This World, a musical version of Thornton Wilder's The Skin Of Our Teeth was aborted, whilst a bio-pic about Busby Berkley went the same way.
Comden and Green were famous for their "Readers Digest" sketch, which condensed famous books into three lines. Propst ends his book with one they might have written for themselves:
"Comden and Green wrote films and shows,
Many of which the whole world knows,
They made us all forget our woes, The end!"
It's a fitting and clever tribute to their amazing body of work.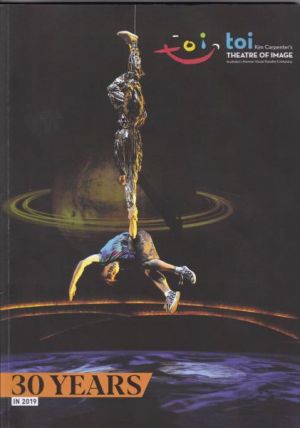 Toi Toi - Kim Carpenter's Theatre Of Image: 30 Years In 2019 (Theatre of Image $30.00)
This book is a retrospective of past productions of Kim Carpenter's Theatre of Image and was launched at a celebratory party at NIDA in September 2019 on the announcement that after 30 years of operation Theatre of Image will close.
Initially founded by Carpenter as a Theatre in Education company, under Carpenter's astute artistic vision it became Australia's premiere visual theatre company, with The Australian proclaiming "Theatre of Image is the best possible introduction to theatre children can have" and the Sydney Morning Herald saying "Theatre of Image holds a special and unique place in the Australian theatrical landscape."
The book contains full-colour spreads on all of the 27 original shows, plus anecdotes by Carpenter, actors and practitioners. From the beginning TOI integrated film into their work and later digital animation in Jake and Pete – A Road Story for Cats! which featured The Umbilical Brothers, who interacted with a host of cartoon characters on the screen behind them.
Their successes include: Monkey…journey to the west (2014), The Book of Everything (2010-2013), which included a season on Broadway, and national and international tours of Oscar Wilde's The Happy Prince, which became their most successful production and remained in their repertoire for 16 years. It has now become a major ballet with a new adaptation by Carpenter, who has also designed sets and costumes, with choreography by Graeme Murphy and music by Christopher Gordon, which the Australian Ballet will perform throughout 2020.
It is an impressive achievement in Australia that an independent theatre company, underpinned by one individual's singular distinctive vision, has sustained a successful life for three decades. Carpenter deserves our hearty applause. TOI will be missed.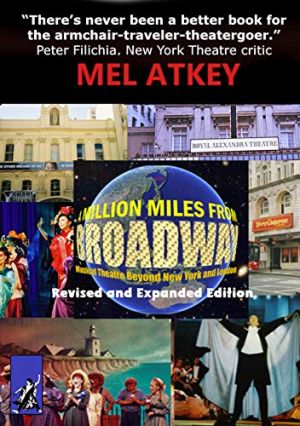 A Million Miles From Broadway – Musical Theatre Beyond New York and London – Revised and Expanded Edition by Mel Atkey. (Friendly Song Company A$42.44)
Mel Atkey has updated and expanded his 2012 A4 sized book into this more bookshelf friendly tome. If the previous version was monumental in its research, then this update is even more all-encompassing, and at 644 pages is a veritable bible of musical theatre outside of London and New York.
Atkey's premise is to "explore the diversity of multi-national musical theatre, and to learn its craft by examining the works that have gone before – in all parts of the world." He succeeds very well because the book covers all types of musical theatre including operetta, zarzuela, revue, cabaret and jukebox musicals. It doesn't include the innumerable international productions of The Phantom of the Opera, Les Miz or Mamma Mia! - that's another book - but looks at originally created work in the various countries.
Act 1 begins with the birth of the musical theatre in Paris with Offenbach's Orpheus in the Underworld in 1858. He then discusses operetta in Vienna and Berlin before we get to Gilbert & Sullivan's comic opera oeuvre in London.
We cross the pond to New York with the arrival of Jerome Kern's Princess Theatre shows, the Gershwins and Rodgers and Hart, and in the thirties the London work of Ivor Novello, Vivian Ellis and Noël Coward.
A chapter on Rock 'N' Roll discusses rock influences in musical theatre (Hair/Rent etc), and one on musical writing craft quotes Lehman Engel, Stephen Sondheim and Dave Mallory.
Act 2 looks at "Europe After Hitler", with international successes Irma la Douce, Les Misérables andOnce, the post-war British musical andAtkey's home country, Canada, which has added its recent international hit Come From Away. There's a large and detailed chapter on Australia, with entries as recent as The Detective's Handbook, Melba and Evie May. South Africa (in the original manuscript) is now just Africa and the chapter includes Egypt. South America and Asia follow.
Atkey visited the Daegu International Musical Festival in 2019, so there's quite a lot about what's happening in South Korea, while Singapore has been beefed up with more entries.
Stephen Schwartz's 2016 Vienna-only Schikaneder is mentioned, along with a passing reference to Frank Widlhorn's South Korean The Man Who Laughs, but Wildhorn's extensive catalogue of musicals in Prague (Carmen), Switzerland (Count of Monte Cristo/Excalibur) and Japan (Never Say Goodbye/Cyrano) are ignored.
Still, considering the scope and parameters of Atkey's focus, it's a magnificent work and should be on the shelf of every musical theatre geek around the world. Atkey's love of the genre shines through on every page. It's an easy read and indispensable as a reference work. It comes with an index and some images of the players and productions.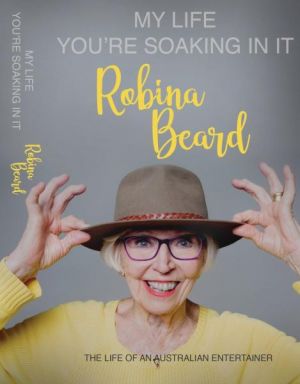 My Life You're Soaking In Itby Robina Beard.(Playscript $24.99)
Robina Beard has spent a lifetime in the arts and a lot of it in dance or dance related projects. She has been National President of Cecchetti Ballet of Australia and President of AusDance NSW. She has a Lifetime Achievement Award from the Australian Dance Awards, of which she was Chair and a founding organiser, and a Medal of the Order of Australia "For service to the arts, particularly through dance."
Her biography begins with her post-war childhood in England and follows with her early education in Australia and her dance training.'
She started her career for J.C. Williamson's in 1954 in Can-Can, dancing in the chorus, her one and only stint as a 'chorus girl'. She became obsessed with intimate revue and the work at Sydney's Phillip Street Theatre, joining the company for a NSW Arts Council tour of The Willow Pattern Plate. She later played the March Hare in Alice in Wonderland for the same company and followed with several of their original musicals, which included Ride On a Broomstick, Mistress Money and A Wish is a Dream, but had her greatest success playing a flapper in the 1920's set Flaming Youth.
Beard understudied Judy Bruce in the original Australian production of Irma La Douce and played the role many times, then did the original Australian seasons and tour of The Sentimental Bloke.
In the sixties she worked in television, on IMT (In Melbourne Tonight) and as a weather girl, and appeared in one of the first Aussie TV sitcoms, Barlie Charlie, alongside Sheila Bradley.
Her brother Chris, after success in Australia scripting Revue 61, moved to Toronto, Canada. Beard visited him and ended up as one of the performers in the long-running revue Spring Thaw. She stayed two years and then returned to work in Australia at Phillip Street again, this time as choreographer of Hail Gloria Fitzpatrick. A revival of The Boy Friend and Anything Goes followed.
In 1968 Beard was offered a TV commercial that would bring her national fame, as Madge in the Palmolive Dishwashing Liquid ad which ran for 20 years. She next played Theatre Restaurant (Dimboola/Girl's Night Out), appeared briefly in No. 96, and returned to musical theatre in Chicago, The Stripper and Four Lady Bowlers in a Golden Holden, a compilation show at of some of the best sketches from the Phillip Street revues, which played at Kinselas, Darlinghurst in 1982.
She later taught dance to Aboriginal students at NAISDA. Beard has had a rich career, achieving many of her dreams and missing out on others. She desperately wanted to play the title role in Sweet Charity, but when told that Nancye Hayes was already cast and they asked her understudy, she said "Oh no I couldn't understudy someone I was better than."
Cassie in A Chorus Line was another role she wanted and was emotionally destroyed when they dismissed her after she sang a song and didn't want to see her dance.
The book is full of spelling mistakes. Par for the course these days with self-published titles, and it would have benefited from someone fact checking. David Merrick did not close On a Clear Day You Can See Forever out of town (it played 280 Broadway performances with Barbara Harris and John Callum), and the song is called "Hurry! It's Lovely Up Here" not "Hey Buds Below". The show that did close out of town was Breakfast at Tiffany's, with Mary Tyler Moore and Richard Chamberlain.
Still, despite the errors, it's an engaging read, especially the early post-war years in London and Australia in the fifties.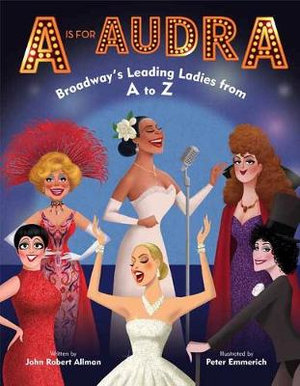 A Is For Audra – Broadway's Leading Ladies from A to Zby John Robert Allman / Illustrated by Peter Emmerich.(Doubleday Books for Young Readers A$27.94)
This cute book is the ideal gift for young budding musical theatre geeks. A series of caricatures and verses of Broadway leading ladies, it starts with Audra McDonald as Billie Holiday in Lady Day at Emmerson's Bar and Grill -
"A is for Audra, who awes and amazes,
With each line and note, all the critics sing praises,"
- and ends with Z is for Liza – with a "Z," not an "S"! In between there's a host of divas from Bea Arthur and Sutton Foster, to Ethel Merman, Bette Midler and Barbra Streisand. The prose is fun and the caricatures capture the ticks and quirks of the subjects with loving admiration.