A Star On Her Door The Life and Career of June Bronhill (Wakefield Press)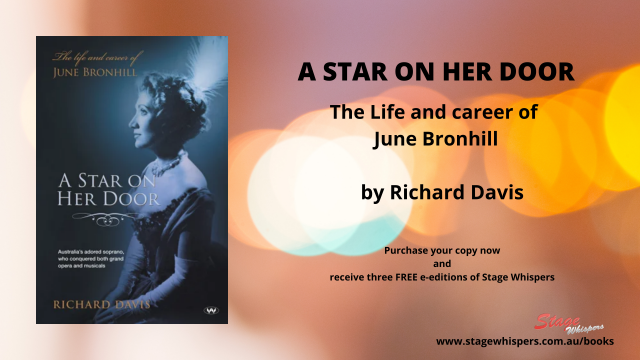 Book review by Peter Pinne - April 2021
To purchase your copy at Stage Whuispers Books, click here.
After writing definitive biographies of Stuart Challender, Marjorie Lawrence, Geoffrey Parsons and Eileen Joyce, author Richard Davies has now turned his attention to June Bronhill. She is a more than worthy subject, with a career that covered grand opera, operetta, musicals, straight plays, variety, radio, concerts, television and recording.
Bronhill was born June Mary Gough in Broken Hill, NSW, 26 June 1929, the last child in the large family of George and Daisy Gough, who already had four daughters and a son. She studied music with Marianne Mathy, a former coloratura soprano and it was Mathy who helped June select a new performing surname, an abbreviation of her hometown Broken Hill.
Her first stage performances were for the Rockdale Opera Company, Sydney, where she sang in Hansel and Gretel and A Masked Ball. Playing the female lead Margo Bonvalet in The Desert Song for Petersham Musical Society, she met her first husband, Brian Martin, a sales representative for Berlei Corsetry Company. Martin had a daughter, Faith, by a previous marriage.
In 1952 they sailed for London, where Bronhill was to study singing with Italian Dino Borgioli. She auditioned for Sadler's Wells and very soon became their leading soprano, appearing as Barbarina in The Marriage of Figaro and Adele in Die Fledermaus. She did two Menotti operas on TV, The Saint of Bleeker Street and The Telephone, before starring in one of the biggest successes of her career, The Merry Widow.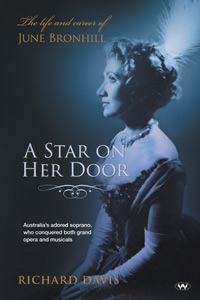 This led to a string of EMI recordings of operettas - Land of Smiles, Roberta and Orpheus in the Underworld - which she performed to great success on stage.
She returned to Australia with the Widow and followed with the role of Maria in Rodgers and Hammerstein's The Sound of Music, playing it to enormous success throughout Australia and New Zealand, which was where she met her second husband, Richard Finney. They had a daughter Carolyn, but the marriage was in trouble, with infidelity on both sides. They divorced in 1971.
In 1964 Bronhill had an enormous success as poet Elizabeth Barrett in Robert and Elizabeth opposite Keith Michell as Robert Browning. After playing 948 West End performances, with Kevin Colson succeeding Michell as Browning, Bronhill toured the show to South Africa and Australia. It was a success in Melbourne, but flopped in Sydney.
Bronhill was devastated and ended up working at the Lido nightclub, Melbourne, to earn money. She returned to London for a provincial tour of Novello's The Dancing Years which did a London stint, and also tours of Coward's Bitter Sweet, and Novello's Glamorous Night and Perchance to Dream.
In 1981 The Sound of Music beckoned again, only this time she played the Mother Abbess opposite Petula Clark as Maria. Following the season she returned to Australia to find her partner at the time, Freddie Wrennell, who had access to her bank accounts, had failed to pay her tax bills and drained her account, having spent the money on himself and lavish parties. Broke, she found work as Mrs Pearce in My Fair Lady, Nunsense, and Arsenic and Old Lace with Gwen Plumb.
She began losing her hearing in 1992. Roles became more infrequent and eventually she went into aged care. She died in 2005. The book comes with lots of B&W photos and a loving foreword by her successor, Marina Prior. 'She was also a star of the "old school" and an incandescent light on stage, able to hold thousands in her thrall. We will not see her like again. Brava, dear June.'