Top Drama Comes Home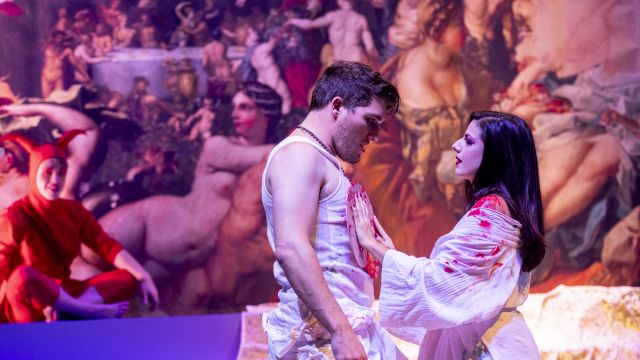 Frank Hatherley has sampled the newest streaming service - Australian Theatre Live - which now offers a wide variety of locally staged plays, revue, music acrobatics and opera.
Television streaming services are coming at us from every corner: Foxtel, Netflix, Disney, Paramount, Apple, Stan, etc. You don't have to travel one step beyond your TV set to experience every available filmed or videotaped happening.
And live theatres are getting in on the act, too. Broadway titles and Britain's National Theatre are available in your home.
Now Australian theatres (and music and acrobatics) are joining in. Australian Theatre Live, from a small building in Sydney's Rozelle, has launched its own subscription platform.
Forget ticket prices, or hearing difficulties, or physical disabilities, or COVID-19. Regardless of geographical or economic barriers you can now see these shows as they were originally produced without leaving your living room.
Grant Dodwell, the Creative Director of Australian Theatre Live says, "People often have this perception that recorded theatre is not as enjoyable as the live thing. However, due to the beautiful camera angles and crisp sound quality, our films offer a level of intimacy beyond that of the usual audience member's experience. Watching an Australian Theatre Live film is like watching a play from on the stage."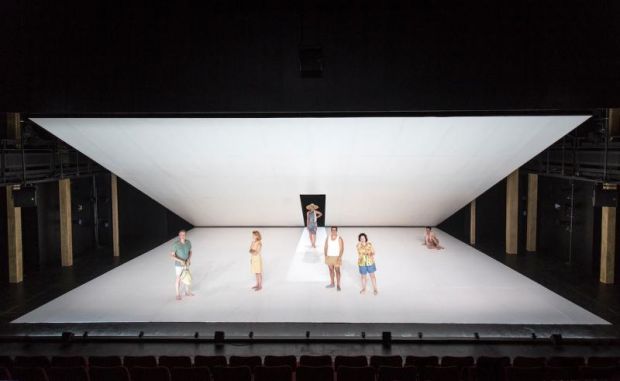 Image: Away. Photographer: Pia Johnson.
For $7.99 per month (and a first week free) you can gain access to titles from the Sydney Theatre Company, Griffin Theatre Company, Sydney Festival, Kings Cross Theatre, the Old Fitz and more.
For instance:
This Much is True by Louis Nowra, at The Old Fitzroy Theatre, 2017. A writer (Lewis Septimus) comes to The Rising Sun, a rundown Sydney pub, and finds a group of Sydneysiders waiting to be discovered, including drag queen Venus (Justin Stewart Cotta). Enthralling. Director Toby Schmitz gets full value from a fabulous script.
The Gospel According to Paul by (and featuring) Jonathan Biggins, at the Playhouse Theatre, Sydney Opera House, 2019, directed by Aarne Neeme. Biggins rises to the challenge of presenting Paul Keating in all his incendiary brilliance. Singing as Tom Jones, affectionate and irreverent, he emerges as a 3-dimensional bloke. 'Right,' he concludes, 'now you can all bugger off!'
Norm and Ahmed by Alex Buzo, at the Riverside Theatre, Parramatta, 2021. A 55-year-old Australian study in racism, this brilliant play shows us what happens when an older Aussie bloke meets a bright Pakistani arts student late at night. It all boils down to the final two words.
Diving for Pearls by Katherine Thomson, at the Griffin Theatre, Sydney, 2017. Directed by Darren Yap, this is an excellent first production of a play that highlights the death of mining activity in Wollongong. Great performances all round, especially from Steve Rodgers and Ursula Yovich.
Taming of the Shrew by William Shakespeare, from the Queensland Theatre Company, directed by Damien Ryan in 2021. Rousing, all-action version of this play, directed in Ryan's Sport for Jove manner.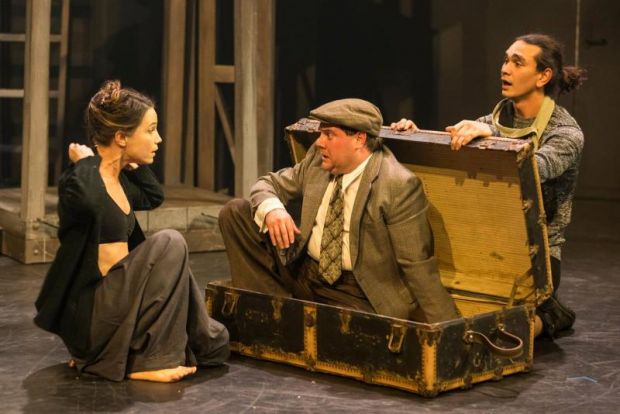 Image: The Taming of the Shrew. Photographer: Brett Boardman
Away by Michael Gow at Sydney Opera House, 2017. Directed by Matthew Lutton, it opens with a school play version of A Midsummer Night's Dream that sets the scene for what follows. Brilliant performance from Heather Mitchell, 'henpecking at a million miles an hour'.
The Dapto Chaser by Mary Rachel Brown, at the Griffin Theatre, 2015. Directed by Glynn Nicholas, about a family of greyhound lovers at their home in Dapto, south of Sydney. Winner of Most Outstanding Independent Production of its year, with perfect performances from Danny Adcock and company.
Liberty, Equality, Fraternity by Geoffrey Atherden, at the Ensemble Theatre, 2013, with just a few in the audience. Caroline Brazier stands out in this excellent 3-hander, directed by Shannon Murphy. What happens when you're asked to answer a 'few simple questions'?
Emerald City by David Williamson, at the Griffin Theatre, Sydney, 2014. Directed by Lee Lewis, this production of Williamson's 1987 play is fresh, bright and cutting, with wonderful Sydney sets by Ken Done.
And acrobatics and music combine in The Pulse. 26 black-clad female singers warble away while 22 acrobats fling themselves about playing 'stacks on the mill', at the Roslyn Packer Theatre for the Sydney Festival, 2022.
Or there's Italian Baroque with Circa, also from Sydney Festival 2022, mixing music from the Australian Brandenburg Orchestra and acrobatics from a richly versatile mob of gymnasts.
Not to mention Platée, an opera by Jan Philippe Rameau, directed by Neil Armfield, performed by Pinchgut Opera in December 2021 for only 5 performances. Luckily they taped it and now it's available to us all!
To get your subscription, go to: stream.australiantheatre.live/subscription
(Lead image Orontea. Photographer: Brett Boardman)