Benefactors on Stage at Pymble
Pymble Players present Benefactors by award winning playwright Michael Frayn from May 2 – 26, 2018.
This gritty, compelling drama explores the impact of political and psychological change on flawed relationships. Written as a memory play, Benefactors looks back on two married couples in 1960s London and unsentimentally reveals how the long-term friendship between these two right-thinking couples slowly unravels when challenged by the social and political upheavals of that time.
The play tells the story of David (played by Brendan Estridge), an architect more excited by plans than by people, who is commissioned to develop a disadvantaged 1960s South London slum known as Basuto Road. Colin (Brett Joachim), a cynical journalist, mocks his friend's hubris while believing that he is really trying to help. Meanwhile, Colin's mousy wife, Sheila (Alexandra Burton), worries that her marriage is falling apart, leading David's wife, Jane (Bernadette Hook) to provide assistance that soon backfires. In the process the play resonates with issues that are still current today.
This thought-provoking, prescient production promises to entertain, as it takes you on a journey that may challenge and unsettle as it illustrates the limits and hazards of good intentions when mixed with jealousies and unfulfilled dreams.
Tickets for the four week season, 2-26 May, are on sale now. Tickets can be booked on line at www.pymbleplayers.com.au or by phone 02 91441523 (Mon to Fri 11am -7pm).
Images On PP's stage, amid set construction, Alexandra Burton, Brendan Estridge, Brett Joachim & Bernadette Hook rehearse scenes from Benefactors and together with director Diane Howden. Photos by Ben Townsend - ben@btphotography.com.au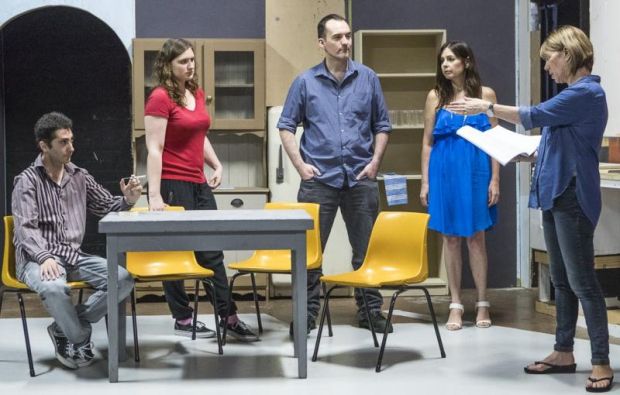 More Reading