A Bunch of Amateurs
The first production for Arts Theatre Cronulla for 2019 is A Bunch of Amateurs, a comedy by Ian Hislop and Nick Newman packed with comic dialogue and plenty of twists and turns.
Facing the loss of their community theatre, a local amateur dramatic group in the sleepy Suffolk village of Stratford St John decides that their only hope of ensuring vital sponsorship and attracting a large audience is to cast a celebrity in their final production, King Lear.
Jefferson Steel, faded Hollywood celebrity of action-movie fame, is expecting to appear onstage at the legendary Royal Shakespeare Company in Stratford-upon-Avon, birthplace of William Shakespeare, but is deceived by his agent into playing the title role in this amateur production.
The slapdash thespians are astonished and delighted that Steel has accepted the role, but have no idea what they are letting themselves in for. After discovering the deception, the spoilt celebrity's monstrous ego, vanity and insecurity test everyone to the limit.
The play also highlights the redemptive power of theatre as we witness Steel's transition to humble actor, happy to perform with this bunch of amateurs. If you love a laugh, and Shakespeare, this is the play for you.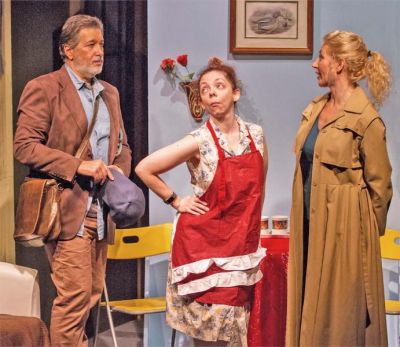 A Bunch of Amateurs runs from February 15 to March 23. Performances are on Wednesdays, Fridays and Saturdays at 8pm, with three Sunday afternoon matinees. Tickets are $28/$25 and can be booked online at
www.artstheatrecronulla.com.au
Director: Tom Richards
Cast:
Jefferson - Emmanuel Nicolaou
Dorothy - Margareta Moir
Mary - Arianne Hough
Nigel - Bill Ayers
Denis - Ronny Couling
Jessica - Louisa Panucci
Lauren - Jo Clark
Photo credit: Port Hacking Camera Club
More Reading
Community Theatre Seasons 2019