Catch The Regals' Catch Me If You Can
"Was he history's greatest con artist or just a lonely youth looking for his place in the world? Set in the swinging 60's, this fast-paced, rollicking musical about Frank Abagnale Jr's true story has been translated from the classic hit movie of the same name into this variety-television style musical by the creatives of Hairspray and Saturday Night Live." - Thus goes the publicity spiel for The Regals Musical Society's latest offering, Catch Me If You Can which opens on Friday 13th October 2017.
In this high-flying musical comedy, Frank Abagnale Jr. runs away from home to begin an unforgettable adventure. With nothing more than his boyish charm, a big imagination and millions of dollars in forged cheques, Frank successfully poses as a pilot, doctor and a lawyer to name a few, living the high life and winning the girl of his dreams. But when Frank's lies catch the attention of FBI agent Carl Hanratty, Carl pursues Frank across the country to make him pay for his crimes.
This unique story was transformed to the musical stage and ran on Broadway for over 120 performances and according to society Secretary, Kathryn Skelsey, The Regals production absolutely does this show justice thanks to the direction of Belinda Robinson, choreography by Kirrily Shaw and musical direction by Dane Carroll. Skelsey says the show features slick and sassy dance routines, great acting with some very funny lines and of course 20 musical numbers all telling this incredibly true and entertaining story. "Featuring some great local talent including Tom Ragen playing the role of Frank Jr., Paul Adderley as FBI agent Carl Hanratty, and Emily Potts as Brenda Strong, Frank's love interest, this show has something for everyone, both young and young-at-heart alike," says Skelsey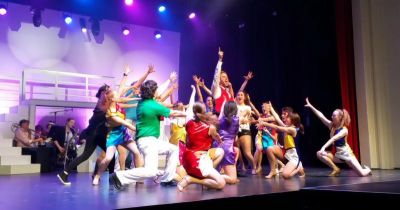 Good old-fashioned live entertainment in the Southern Sydney area is available thanks to societies like The Regals (one of Australia's oldest continuously running musical societies), and this show is promoted as being one of their best. As with all community theatres and societies these days, who cannot necessarily rely on donations or grants to remain afloat, every ticket sale matters, and reputation is central to this. It will be interesting to see if the core themes of CMIYC are a hindrance or a help to this. To be sure, Catch Me If You Can is an adult-themed show; it includes conflict and swearing, one night stands and adultery, fraud and deception. But it also celebrates the power of love, and manifests the pathos of a son losing his beloved father to debt and alcohol; his gorgeous mother to the pursuit of new love; and losing his own youth, innocence, and hopes for a more stable life and love as they heartbreakingly slip from his grasp at the 11th hour. Ultimately at least some of the key characters experience a form of redemption. Although it is presented in flashy variety-TV show style, with sequins and spotlights, it is a show with heart and more reality than any reality-TV show could offer.
In contrast, May next year has The Regals' presenting Disney's Aladdin Jnr and The Eurobeat Goes On back to back. It will be an intensely busy season but Regals' President Peter Sharratt anticipates that it will ultimately be immensely rewarding. "In Aladdin Jnr., we will have the opportunity to nurture the talent of our youngest musical society members, and we look forward to seeing the depth and breadth of talent that is sure to be showcased at our auditions in December this year. Aladdin Jnr. is specifically a kids' show, and for that reason we will not be inviting anyone over the age of 18 to audition, and we will be paying particular attention to it being as family-friendly as possible. Each musical we produce has its own focus and Aladdin will be for the kids".
Catch Me If You Can Director Belinda Robinson has the final word; "Catch Me If You Can has been a challenging ride. This show is jam-packed, an emotional rollercoaster of excitement, comedy, sadness, love, friendship, despair and action, in a fast paced and intricate script and musical score. It has opened my eyes to so many things in musical theatre that I never knew about, and has increased my love for theatre ten-fold!"
With tickets starting at $29 (for the Wednesday night) this is a very affordable afternoon's or evening's entertainment.
PERFORMANCES
Evening performances @ 8pm – 13th, 14th, 18th, 20th, 21st Oct
Matinee performances @ 2pm – 14th, 15th, 21st October
ROCKDALE TOWN HALL
448 Princes Hwy (cnr Bryant St) Rockdale, Sydney
For tickets visit www.theregals.com.auor call Peter on 0466 069 973
More Community Theatre Reading