The Club to Play at Heidelberg
David Williamson's The Club, to be presented by Heidelberg Theatre Company during September 2017, is a set in the social room of a famous football club; one with a rich tradition and history of success. However times have changed. The club is in its longest ever premiership drought; 19 years and counting.
Embattled coach Laurie Holden (Andy Fry) has had enough of incoming president Ted Parker (Darren Gregor) and his constant meddling in everything from team selection to game day strategy, and has publicly resigned, blasting Ted in the media in the process. Laurie is also upset that the club paid a small fortune to recruit Geoff Hayward (Abhi Parasher) without consulting him, especially as it turns out and arrogant Geoff is not playing anywhere near well enough to justify the money. This purchase has also upset many long term players on significantly less money, leading to captain Danny Rowe (Andrew Rance) threatening to strike if Laurie's resignation is accepted.
With all these issues and ego's floating around, Club administrator Gerri Cooper (Jennifer Mettner) takes on the responsibility of mediating for Laurie and Ted with the goal of presenting a united front to the media. The situation complicates when the egomaniacal club legend (and the club's last premiership coach), Jock Riley (Bob Tyers), imposes himself on the situation as saviour. Both Gerri's mediation of Laurie and Ted (and her future plans for the club) and Laurie's management of his players, are thrown into chaos by his input, much to the chagrin of both Gerri and Laurie.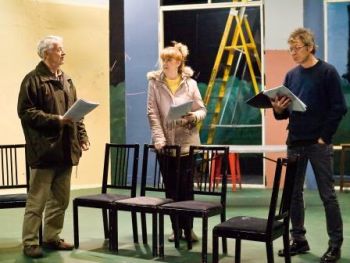 Director Gavin Williams, with the support of A.D. Eleni Alvertis and Production Coordinator Joan Moriarty, presents this rich character exploration of ego and power. Costume designer Wendy Drowley is bringing all the character and fun of 70's fashion and Owen Evans leads a team of builders constructing a set he designed, which will feature the work of the l Marie Mackrell. The show is stage managed by Mel Belcher and her team.
THE CLUB
By David Williamson
Directed by Gavin Williams
8th – 23rd SEPTEMBER, 2017
Evenings at 8.00pm
Matinees:
Sundays 10th & 17th & Saturday 23rd September at 2pm
Adults: $27 Concession, Senior's Card Holders and Members $24
Group of 10+ - $22 per ticket.
Preview Night & First Wednesday Night
Special -Groups 50+ - $10 per ticket.
For more information htc.org.au or call the Box Office on 9457 4117
Rehearsal images: (from left): Bob Tyers (Jock) & Jennifer Mettner (Gerri) and (from left): Bob Tyers (Jock), Jennifer Mettner (Gerri) & Andy Fry (Laurie). Photographer: David Belton.
More Community Theatre Reading