Crossing Delancey at Heidelberg
Heidelberg Theatre Company's first play for 2018 is Crossing Delancey by Susan Sandler, directed by Llaaneath Poor. Llaaneath has been a member of Heidelberg Theatre Company virtually since birth, and she is now following in the footsteps of her parents, Gayle and Mick Poor, becoming a second-generation director. During her time at Heidelberg she has worked on numerous productions either as an actor, crew member or Assistant Director, but this will be her first time flying solo as a director for Heidelberg.
Crossing Delancey explores the bonds of family and tradition and the culture clash of old East Side and new West Side of New York. The play was written by Susan Sandler, an American playwright, screenwriter, teacher, and lecturer. Along with her teaching, she has passionately guided NYU's Fusion Film Festival since its inception, celebrating the work of women behind the camera, and mentoring the next generation of female change-makers in film, television and new media.
The New York Times described Crossing Delancey as "an amusing romance that tells its unpretentious story believably, rarely trying to make its gag lines, of which there are many, upstage its narration or outshine its heart."
The comedy tells the story of thirty-something Izzy Grossman who lives alone on the West Side of Manhattan. She has a job at a prestigious independent bookstore, plenty of friends, and a handsome local author to dream about. None of this matters to her 'Bubbie',a strong-minded, fiercely loving, traditional Jewish grandmother, who worries about her living alone. She decides to take matters into her own hands and along with herfriend Hannah the matchmaker, set out to find a "good catch" for Izzy.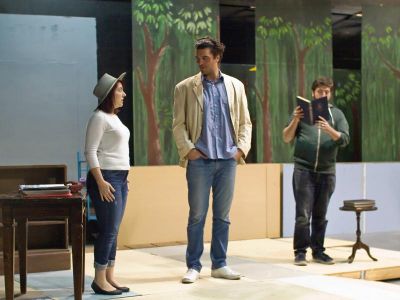 Director Llaaneath Poor is thrilled to be working with a talented group of actors. Julia Lambert playing 'Izzy', who has collaborated across Gippsland and Melbourne as a performer, producer, director, mentor and creative consultant, recently played the volatile, self-assured and unbending Daphna Feygenbaum in Williamstown Little Theatre's production of Bad Jews. Seth Kannof is from the United States, born and raised in the suburbs of New York City and will play Sam the Pickleman. Seth has worked both in the States and Melbourne with various theatre groups, including Williamstown Little Theatre and Altona City. Tyler, the highbrow writer after whom Izzy has been hankering, will be played by George Alexander who will be making his theatrical debut at HTC. Genevieve Ryan (Steel Magnolias, Dixie Swim Club and Dinner) plays the Jewish grandmother Bubbie. Paula McDonald (The Cripple of Inishmaan, Les Liaisons Dangereuses, Close of Play and I Hate Hamlet, among many others) portrays Hannah, the meddling match-maker. Completing the cast, is Malcolm Cother, who after a 75 year hiatus from the stage will be making his return as Delivery Man. Mal, who has worked with HTC since 2011 as a carpenter, builder and artist, was also the recipient of HTC's Bill Cherrey Award for 2017.
Production Coordinator Maureen McInerney leads a team including Melanie Belcher as Stage Manager, Emma Fox as Lighting Design, Rob Wanless as Sound Design and Wendy Drowley, assisted by Morgan Thomas Connor, leading the wardrobe team. Janine Kerwood is assistant to the director and rehearsal prompt.
The set has been designed by George Tranter and has been realised by the HTC set building team, led by Owen Evans and Doug McNaughton.
More Reading
Community Theatre Seasons 2018
CROSSING DELANCEY
by Susan Sandler
Directed by Llaaneath Poor
16th Feb – 3rd March, 2018
Evenings at 8.00pm
Matinees:
Sundays 18th & 25th Feb. & Saturday 3rd March at 2pm
Adults: $27 Concession, Senior's Card Holders and Members $24
Group of 10+ - $22 per ticket.
Preview Night & First Wednesday Night
Special -Groups 50+ - $10 per ticket.
htc.org.au
Box Office (03) 9457 4117
Rehearsal images. Top (from left): Genevieve Ryan as Bubbie, Seth Kannof asSam the Pickleman and Paula McDonald as Hannah, and Lower(from left): Julia Lambert as Izzy, George Alexander as Tyler and Seth Kannof as Sam the Pickleman. Photographer: David Belton.