Daylight Saving at Rockdale
Enter the beautiful Pittwater home of Tom and Felicity on the night Daylight Saving ends - 1989. They seem to have it all. She, a successful Sydney restaurant and he the jet setting life that goes with mentoring an international tennis star. However Tom's next departure sees the sudden visit of Felicity's old boyfriend and infidelity is on the cards. Romantic plans go hilariously haywire when a string of unexpected visitors drop by … but will that old flame still be rekindled?
The first production of 2019 at Rockdale's Guild Theatre is Daylight Saving, Australian playwright Nick Enright's fast-paced comedy about love, loneliness, food and the rigors of managing a temperamental tennis star.
Lyn Lee directs Daylight Saving. Lyn is a NIDA graduate and teacher with a long career in professional theatre. Lyn is also the wife of a tennis coach and has personal insight into the world of tennis mentorship.
Rosemary Ghazi – playing Felicity – is treading the boards for the third time at The Guild. She played Puck in A Midsummer Night's Dream and Gabriella in Boeing Boeing in 2017. Rosemary believes audiences will appreciate the fun, light-hearted nature of Daylight Saving.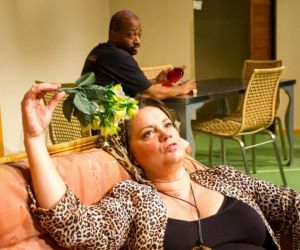 Tye Byrnes plays Felicity's workaholic husband Tom. Tye believes audiences will get a kick out of seeing a previously pre-occupied husband suddenly confronted with a would-be interloper.
Haki Pepo Olu Crisden is Josh – Felicity's old flame from her school exchange year in the USA in 1969. Haki played the dual roles of Theseus and Oberon in A Midsummer Night's Dream. Haki is looking forward to playing a romantic who attempts to play out his fantasy in real life.
Brayden Palmer is playing the role of Jason, the international tennis icon who can't keep himself out of the newspapers for both his victories and his tantrums. Deidre Campbell plays Bunty, Felicity's confident but perennially unaware mother. Susan Stapleton takes a break from directing in recent years (A Midsummer Night's Dream, Boeing Boeing) and returns to the Guild stage as Stephanie – the neighbour from hell.
The Guild's first production of 2019 promises a fast paced Australian comedy with hilarious characters and situations.
THE GUILD THEATRE LIMITED
Walz Street, Rockdale, NSW.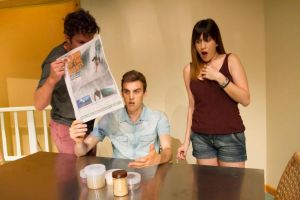 SEASON: February 15 to March 9 2019
DIRECTOR: Lyn Lee
CAST
Tye Byrnes
Deirdre Campbell
Haki Pepo Olu Crisden
Rosemary Ghazi
Brayden Palmer
Susan Stapleton
TICKETS: Ticket Prices include refreshments and programme.
Adults ... $25
Concessions ... $20
Theatre Parties (20 people or more) ... $20
Special prices for Wednesday Nights – contact bookings.
BOOKINGS:9521 6358
Images are rehearsal photographs.
More Reading
Community Theatre Seasons 2019