Dogfight Musical at Bankstown Theatre Company
Written by Justin Paul and Benj Pasek, the same writers of the Broadway hit Dear Evan Hansen, Dogfight is set in 1963, beginning on the eve of three young recruits' deployment to a growing conflict in Southeast Asia. On their final night of debauchery, partying and trouble-making, Corporal Eddie Birdlace (Stefan Jamal), angry and inexperienced, meets unsuspecting, trusting, and idealistic waitress Rose Fenny (Tanya Boyle) and enlists her to win an unkind bet with his fellow recruits. But Rose turns out to be far more than Eddie bargained for. What will Eddie do when Rose rewrites the rules, opens Eddie's eyes to what really matters in life, and turns his last night before heading to war into a lesson on the power of compassion and kindness? What happens when trouble meets tender? Dogfight shows how one hopeful heart can bring about change in the face of cruelty.
Based on the 1991 Warner Brothers film of the same name, Dogfight premiered off-Broadway in 2012, winning the Lucille Lortel Award for Outstanding Musical. Dogfight promises audiences a winning combination of an impressively rousing musical score, an unexpected love story and genuine soul. This emotional and heartbreaking theatrical journey finds beauty and comfort in the most unexpected of places.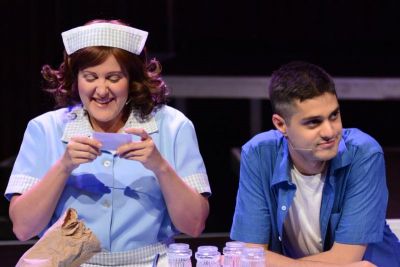 Directed by Meg Day along with musical direction by Claire Moroney and choreography by Lauren Nalty, Dogfight features (Boland), Andrew Farbis (Bernstein), Virginia Natoli (Mama), with an ensemble cast including Jessica Green, Sean Curran, Jackson Eather, Nathan Maynard, Brad Facey, Taylor Thomson, Hannah Barn, Chantelle Nabaki, Zoe Martino and Stacey Gay.
Dogfight plays at the Bankstown Arts Centre March 16, 17, 18, 23, 24 and 25, 2018.
BOOKINGS www.bankstowntheatrecompany.com
More Reading
Community Theatre Seasons 2018