Dreamgirls for Rockdale
Sydney is about to enjoy the behind-the-scenes musical that takes audiences on a journey from Pop to Rock & Roll to Rhythm & Blues to Disco… and beyond!
Rockdale Musical Society will present the NSW amateur theatre premiere of DREAMGIRLS during September 2017
DREAMGIRLS is about a time in American musical history when rhythm and blues blended with other styles of popular music creating a whole new American sound. Based on the show business aspirations and successes of R&B acts such as The Supremes, The Shirelles and others, this hit Broadway musical tells the story of a young female singing trio that crosses over to the pop charts in the 1960s to become music superstars. But as the group's fame and fortune skyrockets, they realise that life on top is rocky.
Act One is set in the fabulous sixties — a time when we were still screaming at Elvis and bopping to the Beatles but were dancing to the new beat of girl and boy groups like The Supremes, The Marvelettes, The Temptations and The Shirelles. Act Two depicts the creation and the arrival of disco.
The music of DREAMGIRLS charts the musical contribution to America of a period whose importance we are only now — decades later — beginning to fully understand.
DREAMGIRLS is not just about singing and the dancing. The show also reveals the behind-the-scenes reality of the entertainment industry — the bitter rivalries and the heartbreak as well as the hard-edged business part of showbusiness that made possible this cultural phenomenon.
Directed by Rod Herbert, with musical direction from Anthony Cutrupi and choreography by Joseph Nalty, DREAMGIRLS stars Kaleigh Wilkie-Smith, Sasha-Lee Saunders and Jade Montalvo as Effie, Deena and Lorrell – the Dreamettes. With Stefan Jamal, Quinton Rich, Craig Winterburn, Liv Wassef and Claudio Acosta; plus Ruth Jesus, Shaan Patel, Jasmine Cale, Carah Takauw, Sian Fuller, Carl de Villa, Haile Zabala, Jordan Fuller, Nathaniel Laga'aia, Robert Mashall, Blain Joseph Kapea and an all-singing, all-dancing ensemble of more than thirty!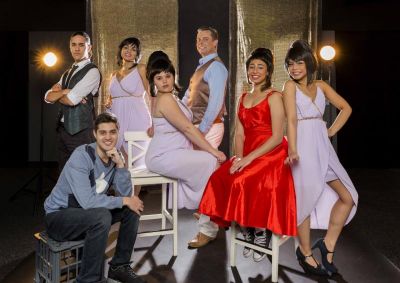 Director Rod Herbert said he was thrilled to be able to add his own, new take on a hit show that is still playing professionally on London's West End.
"We are showcasing some of Sydney's best talent and they will take audiences on a journey of ups and downs faced by African-American performers during the 60's and 70's struggling for acceptance not only in American Society but also on the music charts and within their own industry. Audiences will fall in love with every character on the stage and will leave wanting more of the powerful and stunning voices of our cast!"
Rockdale Musical Society presents DREAMGIRLS
Book and Lyrics by Tom Eyer, Music by Henry Krieger
Rockdale Town Hall cnr Princes Highway & Bryant Street, Rockdale
Friday 8 Sept 8pm | Saturday 9 Sept 2pm | Saturday 9 Sept 8pm | Sunday 10 Sept 2pm
Friday 15 Sept 8pm | Saturday 16 Sept 2pm | Saturday 16 Sept 8pm | Sunday 17 Sept 2pm
Tickets $31.50 to $41.50 (incl booking fee) Bookings www.rockdalemusicalsociety.com
Photographer: Chloe Snaith
More Community Theatre Reading