Frankenstein Born Again In Adelaide
2018 marks two hundred years since Mary Shelley's iconic novel Frankenstein was first published. It is also the year Adelaide audiences will experience for the first time a production of Nick Dear's recent and critically acclaimed adaptation for theatre of this story of hostility, prejudice and social injustice. Lesley Reed reports.
Adelaide Repertory Theatre has a long history, as does the company's venue, the Arts Theatre. It seems appropriate therefore that this company should be the one to mark the two hundred years of history behind Mary Shelley's novel Frankenstein. The company will celebrate the milestone by presenting the Adelaide stage premiere of a recent re-imagining of the classic story.
Initially published anonymously in 1818, it wasn't until 1823 that Shelley's name was publicly aligned to the novel. The book tells the story of a young scientist named Victor Frankenstein who creates in a laboratory an intelligent yet monstrous-looking creature that is self-aware and has its own expectations as a living being.
Feared by all, due to its appearance and its perceived potential to kill, this humanlike creation has a relationship with Victor that must surely end in tragedy.
Adelaide Repertory Theatre will produce the Adelaide premiere of Nick Dear's 2011 award-winning theatrical adaptation of the story in April. In an unusual twist to the narrative, this adaptation is presented from The Creature's perspective and thus it becomes an essay in the effects of prejudice and isolation.
The world premiere in London of this particular stage version of Frankenstein starred Benedict Cumberbatch and Johnny Lee Miller. In Adelaide Repertory Theatre's production Steve Parker plays The Creature, while Patrick Clements is Victor Frankenstein. The play is directed by Kerrin White.
Parker says The Creature epitomises the changes that can happen in someone as life progresses beyond the innocence and innate goodness with which we are born. This very much depends on the specific harsh realities with which life bombards us and for this particular 'creature' it is rejection, prejudice and lack of human identity that take their toll.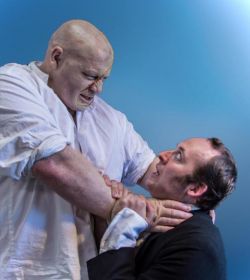 "I want to emphasise," Parker says, "that The Creature did not start out as a villain but was made so by events and experiences beyond his control. This is not an excuse for his vengeful actions, but perhaps an explanation."
Clement admires fellow actor Parker's investment in The Creature, including his fitness regime to trim down by around 20kg in order to physically better suit the role. However, Clement has had his own creative challenges to develop a believable Victor Frankenstein.
"I try not to think of him as an iconic character," he says. "I've stepped back, looked at his flaws, his talents and his quirks and built him like any other character, from scratch." In particular, Clement has deliberately resisted falling into the mindset of a particular expectation by others of the way in which Victor Frankenstein should be played.
The cast also includes Rosie Williams, Tasha Cameron, Tom Carney, Brad Martin, Dylan O'Donnell and Charlie Zorkovic.
It is interesting that 'Frankenstein' has become over the centuries a word that brings to mind The Creature rather than its creator. The story has created a monster of its own, with the word 'Frankenstein' also sometimes used in a derogatory way, to denote a deformed, monstrous and frightening figure not necessarily related to the narrative of Mary Shelley's Frankenstein.
In 1816, when Mary Shelley began what she thought initially would be a short ghost story to amuse herself together with Percy Bysshe Shelley and friends, she would have had not the slightest inkling of the eventual continuing evolution of the tale into a classic novel plus multiple stage and screen adaptations.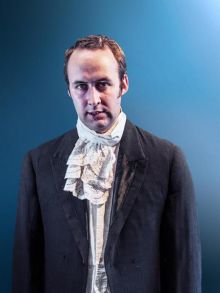 Now Adelaide has the opportunity to see the 'monster' in yet another incantation, an atmospherically electrifying and evocative new stage adaptation.
Note: Contains nudity, violence and scenes of a sexual nature.
WHERE:
Arts Theatre, Angas Street, Adelaide
WHEN:
8pm April 5-7 and 11-14, 2018
2 pm matinees on included Saturdays
TICKETS:
https://adelaiderep.com and click on ticket link
ENQUIRIES:
8212 5777 or enquiries@adelaiderep.com
More Reading