Honour at Villanova
Joanna Murray-Smith's Honour is a poignant examination of how the disruption of new love shocks four people into redefining their own selves, uprooting their understanding of love and loyalty, and forcibly restarting their emotional evolution after years of comfortable stagnation.
How do you react to the abrupt termination of a 32 year old marriage by a passionate spark?
This award-winning play reminds us there are no easy answers, grappling with the universal challenges of lost love, betrayal and new beginnings.
There are no losers in Honour, no villains, just four people finding their way as they question their lives. Are the routines they've created over decades comforting or stifling? What is more important: commitment to security or passion?
"Joanna Murray-Smith is the most exciting Australian dramatist of her generation." New Statesman
What do we really know about love? How long does it last?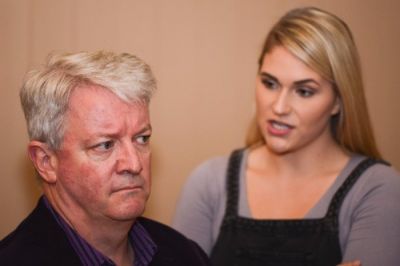 Villanova Players' production of Honour is directed by Cameron Gaffney and features Meg Hinselwood as Honor, Richard Yaxley as her husband George, Issy Mowen as their daughter Sophie, and Olivia Pinwill as the journalist Claudia.
Whilst the company's home theatre is undergoing renovations, performances will be held at the Yeronga State High School's FT Barrell Auditorium, Oakwood Street, Annerley.
The season runs 26 August - 10 September 2017 with performances Saturday evenings at 7:30pm, Sunday matinees at 2pm, and a Friday performance on 8 September at 7:30pm.
Bookings can be made online or by phone
Phone: (07) 3899 9962
Prices: Adults $25, Concession $17, Students $12, Groups of 10 or more $15 each
Duration: Approx 90 minutes with one interval of 20 minutes
Villanova Players was formed in 1948, and has been producing plays and nurturing the theatrical talents of the people of Brisbane for nearly seventy years
More Community Theatre Reading