Lane Cove's Female of the Species
Lane Cove Theatre Company opens its 2019 season with the comedy The Female of the Species, by Melbourne writer Joanna Murray-Smith. The 2019 season is shaping to be the theatre company's most ambitious yet! With four mainstage productions – including its annual children's show – Lane Cove will also present a new Aussie musical, the debut staged reading of a new Australian play… AND its first ever short play festival "In a Nutshell".
Joanna Murray-Smith is a Melbourne based playwright, screenwriter and novelist. Her plays, which include Honour, Rapture, Bombshells, Nightfall, Redemption, Love Child and Flame, have been produced around the world, including on Broadway, London's National Theatre and the West End.
The Female of the Species deftly walks the tightrope between satire and farce and is inspired by Germaine Greer's experience of being held captive in her Essex country house in 2000.
Margot Mason (played by Margaret Olive) - pioneer of the 1970s Women's Liberation movement, fearless academic, author of a ground-breaking book and numerous following best-sellers – has writer's block. Molly (Lib Campbell), an unannounced visitor and avowed fan, offers a solution. But then she produces a gun and threatens to kill Margot for warping her own mother's mind and therefore ruining her life with her book "The Cerebral Vagina".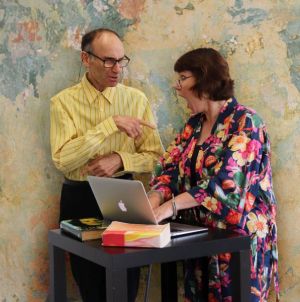 Director of The Female of Species Jess Davis says the play is a kind of antidote to the popular plays of male Aussie writers like David Williamson and Louis Nowra. The women carry the action in this story while the men exist to serve the plot and support the women.
"What was originally intended as a serious piece of feminist commentary blooms into modern farce, quick wit, big ideas and ridiculous reveals. When is the right time for feminism to laugh at itself? As Murray-Smith herself says: "feminism is now a big girl". And as Molly herself quips 'Men aren't our problem. Old feminists are.'"
The Female of the Species featuress Margaret Olive, Lib Campbell, Zoe Crawford, Jock Lehman, Taufeeq Ahmed Sheikh and John Grinston.
It will play 8 to 23 February, Friday to Saturday 7.30pm and Sundays at 2pm at The Performance Space, St Aidan's, 1 Christina Street Longueville. More information and bookings at www.lanecovetheatrecompany.com or direct at www.trybooking.com/ZEAB
Tickets are $27 (adults), $22 (concession) and $20 (groups 10+). Show & cheese plate combo $33/28.
Photographer: Dawn Pugh
More Reading
Community Theatre Seasons 2019