Mr Bailey's Minder for Melville
A PLAY from the pen of Offspring creator and head writer Debra Oswald comes to Melville Theatre in WA from April 26 to May 12, 2017, focusing onfriendship, ego and the secret longing for a better life.
Directed by Vanessa Jensen, Mr Bailey's Minder is the story of Leo Bailey, one of Australia's greatest living artists, whose genius battles to survive the effects of alcohol, cynicism and self-loathing.
Only one of his many children, Margo, is prepared to help but only at arm's length – she finds live-in-minder Therese, fresh out of prison and desperate for a home.
Added to the mix is handyman Karl who has the job of removing a valuable mural but keeps returning with offers of practical friendship.
Oswald is an award-winning writer for film, television, stage, radio and children's fiction with credits including Police Rescue, Bananas in Pyjamas, Wildside and The Secret Life of Us.
"Mr Bailey's Minder is a beautifully written drama bursting with honesty, a little humour and a whole lot of heart," Jensen said.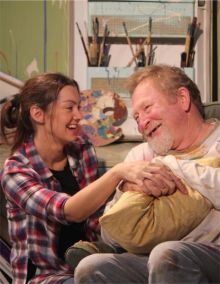 "The play isn't about art – it questions whether the arrogance and selfishness often displayed by those with incredible talent can ever be justification for treating others poorly.
"And, no matter how lost and damaged you are, or damaging to others you've been, there's always a way of finding some healing and peace."
The main challenge, according to Jensen, is ensuring the actors show the nuances and depth of their characters.
"No one is purely an abusive alcoholic, resentful daughter, mouthy ex-con or a sweet, naive handyman," she said.
"Portraying those stereotypes would be the easy option but everyone has degrees of selfishness and kindness, opportunism and compassion, insecurities and self-belief."
First appearing on stage as an eight-year-old and directing her first show at 14, Jensen wrote, directed, stage-managed and acted in various shows at Curtin University's Hayman Theatre over a four-year period and has staged several successful productions at the Old Mill and Melville Theatres, including The Venetian Twins, Emma, Three Tall Women, Pride and Prejudice, Away, Amadeus and her own award-winning script Jamie's Chooks.
Away won Jensen the Constance Ord Award for directing at the 2010 Milly Awards and also received a best director nomination at the annual Finley Awards for Amadeus in 2011 and Love, Loss and What I Wore in 2015.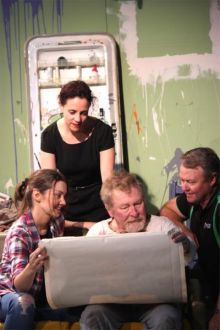 Awards continued in 2013 and 2014 when her productions of Rabbit Hole and Twelve Angry Men at Melville Theatre both won best play at the Finley Awards – the latter also scored her the Susan Hayward Award for Best Director.
"Upon first reading Mr Bailey's Minder, I was completely taken with it," Jensen said. "Debra Oswald has created beautiful characters with depth, personality and traits we can relate to.
"Her work has been described as having 'a quiet optimism permeating it' and this is what I felt.
"No matter how vile, selfish, insecure or resentful the characters were, there was a sense of possibility of healing and finding peace."
Mr Bailey's Minder plays at 8pm April 26, 27, May 3, 4, 5, 10, 11 and 12 with a 2pm matinee May 6. Tickets are $20, $15 concession – book on 9330 4565 or at www.meltheco.org.au. Please note: the play has some coarse language.
Melville Theatre is on the corner of Stock Road and Canning Highway, Palmyra.
Images (ftom top): Alan Kennedy as Leo Bailey; Therese (Sjaan Lucas, left), the minder of the play's title and Alan Kennedy, and Sjaan Lucas, left, Jayma Knudson, Alan Kennedy and Phil Barnett.
More Reading