The Music Man at Hornsby
Hornsby Musical Society is transporting its audiences back to the early 1900s in September / October 2017 as they stage their production of The Music Man.
The Music Man, written by Meredith Willson and Franklin Lacey, debuted on Broadway in 1957 and won 5 Tony Awards including Best Musical.
The Music Man follows a fast-talking salesman, Harold Hill, as he cons the citizens of River City, Iowa into buying instruments and uniforms for a boy's band. Alec Green plays Harold Hill and he is more than thrilled to be in the role, saying "to be able to play the title role in one of my favourite musicals is absolutely a dream come true".
Alec was introduced to The Music Man at a young age by his grandparents, and notes that playing a smooth-talking con-man isn't easy. "It has certainly been a challenge getting the character right, with the progression from mischievous, confident scoundrel to a man who's had his world flipped upside down by this one woman, while still keeping the cheeky side", says Green. That one woman would be Marian Paroo, played by Elise Tobin. Elise is no stranger to the HMS stage, having previously played Sarah Brown in the 2016 production of Guys and Dolls. She has found the role of Marian a lot of fun but also finds the contemporary nuances in the character stating that "she is a feminist, stuck in a time period where a woman is shunned for being unmarried… it has been interesting to tease out the different aspects of her character while still staying true to the show".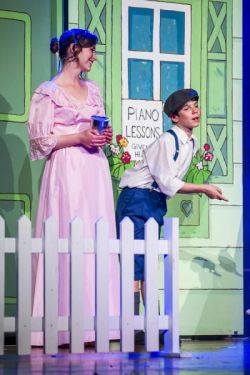 Back in 1957, the New York Times reviewed The Music Man as "a marvellous show, rooted in wholesome and comic tradition". The show certainly has its comedic moments, with cast member Michael Wrightson, who plays Marcellus Washburn, commenting on such scenes during the rehearsal process saying that "getting the comedic element of a scene just right left us all rolling on the floor!"
The rehearsal process has been a long one – about four months in the making – but it's all worth it in the end. Director, Elizabeth Dobb, has certainly seen the light at the end of the tunnel in her directorial debut. It's always a very different feeling moving from a performance side of theatre to the production side, but Dobb has taken it all in her stride saying that "having the opportunity to direct has been an extremely rewarding one, especially now as I get to enjoy watching the cast performing to their potential and loving the experience."
With a cast of over 30 – including 10 children – Dobb has been supported by a solid and experienced production team. Lauren Oxenham as assistant director and choreographer helps ground the team, with over 20 director and choreographer credits to her name. Choreographing shows such as A Chorus Line and Urinetown have given her the experience and versatility to tackle the big, lively ensemble numbers in The Music Man. Emily Layson as vocal director and Brendan Flanagan as band director work together as a cohesive team. Layson's experience with choirs certainly gave her a leg up when handling the barbershop quartet that features in the show, and Flanagan's experience as a trumpeter in big bands meant he was well equipped to assemble an orchestra that confidently plays numbers such as "Seventy-Six Trombones"
Photogrpher: Grant Leslie of PerfectImages Photography.
Friday September 29th to Saturday October 7th
Hornsby RSL Showroom, 4 High Street, Hornsby
Tickets:
Concession: $32
Adults: $37
Groups (10+): $32
To book visit:
www.hornsbymusicalsociety.com.au
www.hornsbyrsl.iwannaticket.com.au
or call (02) 9477 7777
More Community Theatre Reading
Community Theatre Seasons 2017