Post-war Family Conflict Sparks Comedy at Old Mill
A PLAY from a multi-award-winning actor, director, writer and stand-up comedian is on offer at the Old Mill Theatre (WA) in February 2019.
Written by Sue Ingleton and directed by Trevor Dhu, After You've Gone is a comedy set in 1946 in a large country town.
The town square is dedicated to dead hero Harold, followed by an evening supper and a gathering of World War II survivors.
But the event becomes a place of turmoil as friends, both alive and ghost-like, appear to cause retribution for a mysterious death – and then Harold turns up alive and well.
Playwright Ingleton has appeared as an actress in Neighbours, Halifax f.p., A Country Practice and the film version of Dimboola – but is often remembered for her role as Bill Rawlings, the pregnant man, in Australia You're Standing In It.
In 1985, she was nominated for the Perrier Award at the Edinburgh Fringe Festival.
"The play is about four sisters, all lost in relationships," Dhu said.
"They have no love for their children, nor the men that have been in their lives, and are bitter and confrontational towards each other.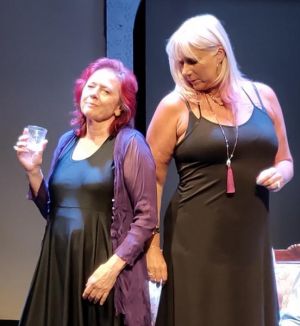 "The time period was difficult and that has to be re-created in the portrayals from the cast.
"As a result, the challenge is to showcase the conflict realistically, especially among the younger cast members, and highlight how these people were victims of the time."
Involved in the performing arts for as long as he can remember, Dhu has worked with Patch and Playhouse Theatres, Perth City Ballet and did extensive professional work with the Australian Dance Theatre in the eastern states.
He has directed, choreographed and acted in various productions at the Mandurah Performing Arts Centre – most notably West Side Story and Jesus Christ Superstar – and has also performed and directed at Harbour, Roleystone, Old Mill and Melville Theatres.
More recently, Dhu has directed Last Cab to Darwin, Summer of the Seventeenth Doll, Closer, Venus in Fur, Barefoot in the Park and Spike Heels.
With After You're Gone, he said could relate to the script because he was a post-war baby himself.
"I relate to the angst of women confronting parenting after the war," Dhu said.
"For women during the war, marriage was often based on convenience or a shortage of possibilities for real relationships with many Australian men off fighting."
After You've Gone plays at 7.30pm February 15, 16, 21, 22, 23, 28, March 1 and 2 with 2pm matinees February 17 and 24. Tickets are $25, $20 concession – book at www.trybooking.com/BACAP or call 0475 895 701.
The heritage-listed Old Mill Theatre is on the corner of Mends Street and Mill Point Road, South Perth (opposite the Windsor Hotel and Australia Post).
Images: (top) Steven Ozanne, left, Lis Hoffmann, Sue Hasey, Annabelle Segler, Rex Gray, Sage Lockyer and Kirstie Francis are appearing in the comedy After You've Gone, set in 1946, (middle) Lis Hoffmann, left, as Joy in After You've Gone with Sue Hasey as Coral and (lower) The cast of After You've Gone features Lis Hoffmann, Sue Hasey, Rex Gray, Steven Ozanne, Annabelle Segler, Sage Lockyer and Kirstie Francis. Photographer: Sue Murray.
More Reading
Community Theatre Seasons 2019