Rockdale Opera Company Turns 70
The red brick town hall, right underneath a flightpath of Sydney Airport, is home to the Rockdale Opera Company – proudly celebrating its 70th anniversary in 2018. Lynette Davis reflects on its history as a springboard for stars of the future and producer of quality affordable opera.
As with all companies, anecdotes abound at Rockdale Opera - like the time an unfortunate chorister brought the columns of the temple crashing down before Samson got his chance, or the time the audience screamed and ducked as Sir Joseph Porter heaved a cannon ball into the auditorium (it turned out to be a rubber ball which bounced down the aisle). Then there is the legendary East-West Runway, with its flight path passing directly over Rockdale Town Hall, drowning out many a dramatic aria over the years …
The company's 200 productions over the last 70 years have provided opportunities for over 800 aspiring principals and approximately 1300 enthusiastic chorus members, not to mention countless musicians, directors, creative, backstage and technical personnel.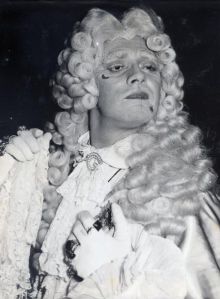 It's a rather unique company. Firstly, it 'does' opera! There aren't too many community groups which do that, certainly not as full-length, costumed, fully staged productions. Secondly, the company was not begun by a group of local independent music lovers but by a suburban council, with which it is still affiliated. And lastly, it is the oldest still-operating opera company in Australia, pre-dating the national opera company by almost a decade.
The company came into being in 1948, as an extension of the Rockdale Municipal Orchestra, and through the efforts of a small dedicated group of people led by Alderman Norman C. Guess, Cedric Ashton, conductor of the orchestra, tenor Allan Ferris and accompanist Megan Evans.
Things have changed a lot since the fledgling opera company began performing in Sydney's southern suburbs. Gone is the predominantly Anglo-Celtic population searching for local entertainment of the kind the new opera company offered. In its place is a highly culturally diverse group of people whose interests don't necessarily include opera, operetta and Gilbert & Sullivan. The demographics and personnel may have changed, but the company's philosophy remains the same - to present high quality productions of an art form usually reserved for city opera houses to local audiences, at affordable prices, and to provide the rare opportunity for young, aspiring opera singers to gain invaluable experience in their chosen field, using Rockdale as a springboard intonational and international careers.
The list of Rockdale performers who did exactly that is lengthy - Geoffrey Chard, Robert Gard, Alan Light, Rosalind Keene, Neil Easton, Doreen Morrow, Ronal Jackson, Ron Stevens, Deborah Riedel, Stuart Skelton, Paul Ferris, company Patrons José Carbó and Daniel Sumegi, and Jonathon Welch of Choir of Hard Knocks. International conductor Simone Young and SBS personality Silvio Rivier appeared as a dancing dew fairy and the witch in Hansel and Gretel, and even celebrity chef Bernard King turned up as the Viceroy of Peru in La Perichole.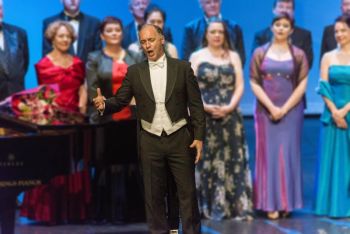 The company's first production in May 1948 was Faust, with many of the chorus 'borrowed' from Rockdale Musical Society. The audience numbered 2500 over 3 nights. By 1956, both Operetta and Gilbert & Sullivan had been introduced to the company's repertoire and by 1974 three productions a year had become the norm. Rockdale Opera continues to stage three productions each year but is always looking for ways to embrace change and innovation. To this end, it has added Opera Cabaret to its repertoire. Rendezvous at Orlofsky's Cabaret, with the audience seated at tables, has proved so popular that is has become a regular feature with this year's event being a 'sell-out'. Audiences enjoy the experience of hearing a pot-pourri of opera and operetta favourites in a more relaxed setting. AGala Concertin 2017 featuring international stars José Carbó and Emma Matthews was also a huge success.
To celebrate the productions and the people associated with the company, a souvenir book - 'Seventy Years at Rockdale Opera Company – A Snapshot 1948 to 2018' - has been published. This is filled with photos, statistics, tributes, reminiscences and names from the past seven decades including long-time Musical Directors Cedric Ashton and John Leeman, prolific producer Brian Phillips and the formidable G&S pairing of Mary Blake and Rob Hatherley, who between them notched up 55 shows.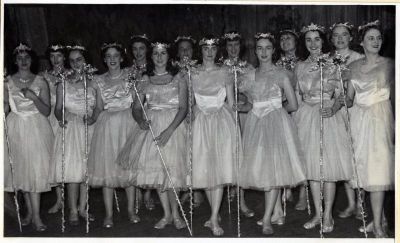 The company's major production for this anniversary year will be Tales of Hoffmann in August, while for the Gala Concert in November the company is looking forward to welcoming back on stage many past performers as well as their current group of young, talented singers.
A fitting way to celebrate 70 years of glorious music. And who knows, the next international opera star could be about to step onto the stage in suburban Rockdale.
More Reading
Community Theatre Seasons 2018
Images: The Bartered Bride (2016), Robert Hatherley as The Duke of Plaza Toro in The Gondoliers (1962), José Carbo and the Ensemble in Concert in 2017 and Iolanthe fairies ((1959).