She Stoops To Conquer North Side
Naughty laughs aplenty are promised when Lane Cove Theatre Co brings Sydney the classic bawdy romp, She Stoops to Conquer by Sir Oliver Goldsmith during May 2018.
When Marlow mistakes Kate's house for an inn and treats her father like an inn-keeper, things don't go so well for him. With her brother causing mischief, her father insulted and her mother plotting a marriage that nobody wants, it's no wonder Kate has to stoop to conquer!
She Stoops to Conquer belongs to that small group of classic English comedies which not only never go out of fashion, but never fail to delight. Directed by Peter Farmer (Away, The 39 Steps, Shadowlands, Charley's Aunt), this production is a concoction of Goldsmith's sly language and lovable characters. It's also a rarity: a comedy that - like Shakespeare's - has withstood the test of time.
Director Peter Farmer explains why he loves a rarely performed, 250-year-old comedy:
"Simple! She Stoops is full of charm – a quality too seldom seen in theatre today. Most playwrights turn vanity, egotism and snobbery into bitter social satire but Oliver Goldsmith loves his characters – and so do we. It's far more enjoyable to laugh at human frailties without a stern, didactic finger wagged in our faces… this play's infectious fun, happiness and joy echo through the ages."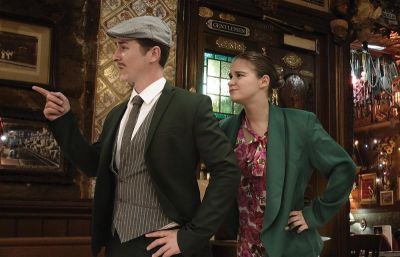 Farmer is confident Lane Cove's "light touch" overcomes the challenge of 18th century language too: "A charming and spirited performance requires the right balance – and we've found it!"
Times change but great characters don't, he adds. "They remain lively, real and recognisable: a girl discovering the thrill of independence; a boy learning from experience that freedom requires courage and self-awareness. Every complication is resolved and – through the magic of theatre – we share in their triumphs!"
She Stoops to Conquer stars Henry Taylor, Natasha Nogueira, Larissa Turton, Ross Scott, Alison Grace, Simon Emmerson, Katie Regan, Ross Holohan, Esther Hannan-Moon, Antony Akle & Wills Burke. It plays at St Aidan's Performance Space, Longueville Friday to Sunday from 11-26 May.
Photographer: Dawn Pugh.
Lane Cove Theatre Company presents
She Stoops to Conquer by Sir Oliver Goldsmith
Directed by Peter Farmer
11-26 May 2018 Friday & Saturday 7.30pm + Sunday 2pm
The Performance Space @ St Aidan's - 1 Christina Street, Longueville
Tickets: Adults $27 Concession $22 Groups $20 Children 3-12 $17
Info and bookings www.lanecovetheatrecompany.com
or www.trybooking.com/UJVL
More Reading
Community Theatre Seasons 2018