Song and Dance Snoopy at Miranda
Snoopy: The Musical is a musical comedy by Larry and Hal Hackady, with a book by Warren Lockhart, Arthur Whitelaw, and Michael Grace. The characters are from the Charles M. Schulz comic strip Peanuts. This sequel to the musical You're a Good Man, Charlie Brown focuses more on the life of Snoopy.
Snoopy: The Musical is a musical take on the well loved, quirky characters of Charles M Schultz Peanuts cartoon. It works for grown ups because, like the The Simpsons, Snoopy and friends have a satisfyingly adult edge to their humour.
Take actor Nathan Farrow, give him some white overalls and he becomes Schultz's eponymous beagle.
"I first saw this musical when I was about nine years old when my sister, my father, and Tim Dennis performed it at Rockdale's The Guild Theatre. I learned every line!", Nathan said.
Whether he is clambering on to his red kennel or sprawled inside it, he is a loveable and quirky puppy. His songs, complaining about the children's expectations that he should "sit up, lie down, roll over, play dead or fetch a stick" or wistfully thinking about his birthplace the puppy farm Daisy Hill, and why his mother never contacts him, all have a blend of self interest, sadness and philosophy we have come to associate with Schultz's character.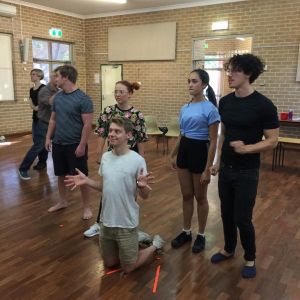 Snoopy's big number in the show, "The Big BowBow" is a classic of bravado and ambition. "I'm gonna be a big bow wow/You're going to see them all kow-tow/Bigger than Rin Tin Tin and Lassie/ . . . . and twice as classy".
Director Tim Dennis said, "I have always wanted to direct this show. The music is accessible and tuneful and the lyrics are truly wonderful. I have been reading Peanuts cartoons since I was a teenager, and I played Linus in a production at the Rockdale Guild Theatre in 1988."
Musical Director Adam Foster also has a sentimental attachment to the Peanuts gang.
"You're A Good Man Charlie Brown was one of the first musicals I ever played for, so I jumped at the chance to do this show!" Adam said.
The children are played by adults, including Jess Punch who plays 'in yer face' tomboy Peppermint Patty, Tamana Russell as the optimistic Sally Brown, and Lexi Hutchinson as bossy-boots Lucy, who said "I'm so excited to bring Lucy to life as she is so unlike me. I get to boss people around and not apologise for it!"
Of the boys, Louis Vinciguerra is the loveable loser Charlie Brown, "I love playing Charlie Brown because he is a character that is so close to people's hearts". Paul Tuohy plays the intellectual blanket carrying Linus, with the brilliant Nathan Farrow taking on the titular role of Snoopy, the egocentric beagle who is both participator and impassioned observer.
Snoopy: The Musical is a family friendly musical for all ages bursting with colour and waxing philosophical as only the kids from Peanuts can. Will Snoopy find his long lost mother for Mother's Day? Will the gang hand in their homework on Edgar Allan Poe? Will Linus finally meet The Great Pumpkin? Will Charlie Brown buy a new dog? Will Snoopy's manuscript ever get published? Will everyone be together for Christmas?
These questions and more will be answered in Miranda Musical Society's production of Snoopy: The Musical, ashow that teaches us all not to be anything less than everything we can be!
PRODUCTION TEAM
Director: Tim Dennis​
Musical Director: Adam Foster​
Choreographer: Madison Larsen
Assistant Director: Emily Dennis​
SUTHERLAND MEMORIAL SCHOOL OF ARTS
JUNE 15-24
www.mirandamusicalsociety.com.au
More Reading