Stop Kiss at Melville
ONE moment can change everything – an idea explored in the September 2017 production at Melville Theatre (WA).
Written by Diana Son and directed by Vanessa Jensen, Stop Kiss is a poignant and funny play about the ways, both sudden and slow, that lives can change irrevocably.
After Callie meets Sara, the two unexpectedly fall in love and their first kiss provokes a violent attack that transforms their lives in a way they could never anticipate.
Playwright Son has vast television experience as a writer and producer on shows such as The West Wing, Law & Order: Criminal Intent, Southland, Love is a Four Letter Word and 13 Reasons Why.
"The play is not all about that first kiss, nor the hate crime, but more about how choices shape your life," Jensen said.
"It could be whether you choose to kiss someone, leave someone for something new, intervene or ignore the obvious or, conversely, not being able to make a choice at all or having choices taken away from you.
"The play is beautifully written – at times funny, bittersweet and moving but always honest."
In considering the challenges the 90-minute contemporary American drama may pose, Jensen said the dialogue, situations and characters were so believable that it made many of her tasks easier than normal.
"But the story is told is numerous short scenes that jump back and forth from the months in the lead up to the kiss and the aftermath of the resulting action," she said.
"As well as ensuring the audience keeps up with where the story is at, there are the more practical challenges of actors needing to change costumes and locations frequently and very quickly."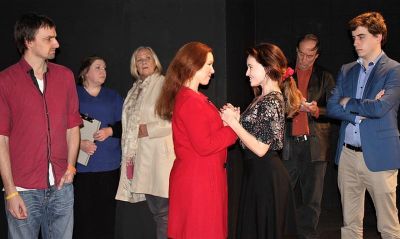 First appearing on stage as an eight-year-old and directing her first show at 14, Jensen has a wealth of theatre experience behind her.
She wrote, directed, stage-managed and acted in various shows at Curtin University's Hayman Theatre over a four-year period and has staged several successful productions at the Old Mill and Melville Theatres, including The Venetian Twins, Emma, Three Tall Women, Pride and Prejudice, Away, Amadeus and her own award-winning script Jamie's Chooks.
Away won Jensen the Constance Ord Award for directing at the 2010 Milly Awards and she also received a best director nomination at the annual Finley Awards for Amadeus in 2011 and Love, Loss and What I Wore in 2015.
Awards continued in 2013 and 2014 when her productions of Rabbit Hole and Twelve Angry Men at Melville Theatre both won best play at the Finley Awards – the latter also scored her the Susan Hayward Award for Best Director.
"The unusual style of Stop Kiss appealed to me, particularly the non-chronological order of scenes in which two almost separate stories are intertwined," Jensen said.
"I also admired the clever way the audience is drawn into wanting the lead characters to make the choice to be together, even though they already know it will lead to a hate crime with life-changing repercussions."
Stop Kiss plays 8pm September 8, 9, 14, 15, 16, 21, 22 and 23 with a 2pm matinee September 17. Tickets are $20, $15 concession – book on 9330 4565 or at www.meltheco.org.au.
Please note: the play has adult themes and some coarse language.
Melville Theatre is on the corner of Stock Road and Canning Highway, Palmyra.
Images: (top) Stop Kiss at Melville Theatre features Kayti Murphy, left, and Jessica Warriner, & (lower) Shaun Griffin, left, Michelle Sharp, Valerie Henry, Kayti Murphy, Jessica Warriner, Willy Smeets and Thomas Dimmick.
More Community Theatre Reading