Thrills, Chills and Laughs at The Guild
The Guild Theatre at Rockdale promises Thrills, Chills and Laughs during August 2018 in I'll Be Back Before Midnight by Peter Colley
Jan and her husband Greg rent a remote farm house to aid Jan's recovery from a nervous breakdown. Their serenity is disrupted by the local farmer who revels in gruesome ghost stories and odd behaviour - along with the arrival of Greg's malevolent sister Laura. Strange occurrences begin and suspense builds as spine-chilling shocks intermingle with deadly humour. A nightmare unfolds that will leave audiences aghast.
Veteran Guild director Jennifer Gilchrist is well versed in thrills and chills having directed many thrillers in the past as well as comedies. Her most recent production was Exit Laughing in 2017. Jennifer says the main challenge with this production is getting the timing perfectly tuned to achieve maximum suspense for the shocks in store.
Robert Mason, who plays the quirky role of farmer George Willowby, is another well-known face around the Guild theatre as well as musical societies. His last role at The Guild was Ben Hecht in Moonlight and Magnolias. Robert describes his character, George as "slightly crazy and mean" who never says no to a shot of whiskey. He believes audiences will enjoy the comedy, drama and suspense – all rolled into one.
George Gleeson playing Greg, was last seen as Piney in A Bad Year for Tomatoes. Greg is the apparently devoted husband of Jan, thoughtfully considering her recovery above all things and trying to shield her from the freakish occurrences happening around them.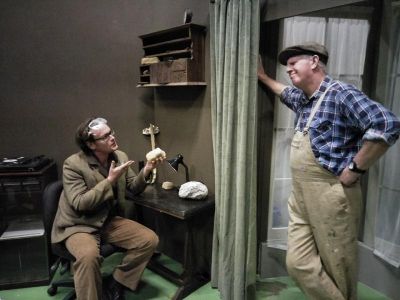 Lani Crooks is making her debut on The Guild Theatre stage as Jan, the mentally fragile wife of Greg. Jan could be described as the damsel in distress a la Hitchcock, who may or may not be 'crazy'. However she's quite willing to spar with her sister-in-law, providing some opportunities for comedy and tension in what Lani describes as a 'fun thriller'.
Natalija Karna plays the not-so-likeable Laura. Natalija says she will need to draw from her dark side to play this role and that makes it a lot of fun. Audiences last saw Natalija in the comedy The Underpants and she is keen to show another side of her acting ability. She describes I'll Be Back Before Midnight as intriguing, scary and fun which will keep audiences on the edge of their seats.
Season: August 3 to September 1
Ticket Prices include refreshments and programme.
Adults ... $25
Concessions ... $20
Theatre Parties (20 people or more) ... $20
Special prices for Wednesday Nights – contact bookings.
BOOKINGS:9521 6358
More Reading
Community Theatre Seasons 2018