Wicked on a Small Stage
Wicked, the international Broadway musical blockbuster, is making its way to Campbelltown in south-western Sydney with Woftam (World of Fine Theatre and Music) Productions.
The company has a reputation staging big shows in small spaces. Peter Novakovich, the director for Woftam Productions, said the community theatre group this provides audiences with a rich theatre experience and increased emotional reaction, that is sometimes lost in an arena spectacular.
"We revolved a barricade, landed a helicopter, dropped a chandelier and, made Freddie Mercury glow – all on the (7.5 x 5.5 metre) Town Hall Theatre stage," said Novakovich.
To put you in the picture, the 19th century Town Hall Theatre is a 195-seat Heritage listed building. It is a proscenium-style theatre with no fly tower and small wing space.
"Thankfully," said Novakovich, "there's an orchestra pit and a backstage."
When asked how he plans on bringing what is known as a theatrical spectacle to a smaller stage, Novakovich explained the importance of emotional focus.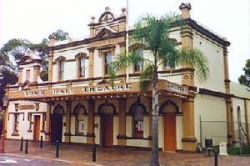 "Woftam wants to put on shows that even without excessive glitz and glam, the audience will still be taken on an emotional journey. In Wicked, the stakes for the characters are incredibly high, and often I feel as though the severity of their choices are missed by audiences due to the distractions of complex choreography and design choices. "
"Having said that, we haven't skimped on certain design factors. We have sets, stunning costumes, a live orchestra, and I'm not going to say a word about how we get Elphaba to defy gravity. The trick has been to know what to pull back on and what to expand."
"We have put pressure on the cast," added Novakovich, "as there are several emotional arcs that should resonate with everyone in the audience. I have every confidence in our cast members that they will be able to execute the vision. Already, I have been moved to tears in the rehearsal process. So, it's working".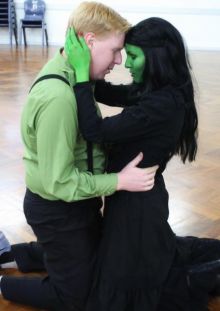 Novakovich's production has alternate casting for the roles of Elphaba, Glinda and Nessarose. Many amateur theatre companies have previously cast alternates or understudies due to the significant demands of the role.
"The alternate casts have worked incredibly hard to bring their individual truths to the roles. I have urged the casts not to copy each other, as it was their differences that got them cast in the first place. No matter which cast the audience sees, they are in for a refreshingly different take on these well-known characters. It has been a wonderful, collaborative experience."
So when asked how Novakovich intends to adapt Wicked for a small stage, he answered in one word, "fabulously".
Wicked – The Woftam Production
August 10 – 25, 2018.
Campbelltown Town Hall Theatre
https://www.trybooking.com/book/event?eid=391850
More Reading
Community Theatre Seasons 2018