Belvoir Hit The Book of Everything for Adelaide
A hit at Belvoir in 2010, The Book of Everything plays a short Adelaide season prior to heading for Broadway.
The magical production The Book of Everything is told through the eyes of nine-year old Thomas, a little boy who dreams big and who is determined to make sense of his life and achieve his modest ambition - to be happy. Adelaide Festival Centre and Windmill Theatre will present Belvoir and Kim Carpenters' Theatre of Image's The Book of Everything at Her Majesty's Theatre from 17 – 27 August.
Directed by Neil Armfield, this moving tale follows the story of a child who sees things others cannot imagine, and whose spirit and curiosity wins over those around him. Arguably Australia's most respected director, Neil Armfield – director of Cloudstreet, Keating! and the feature film Candy – this is the third of Neil's shows in the last three years to appear on Broadway (the previous two being The Diary of a Madman and Exit The King with long time collaborator and friend, Geoffrey Rush). Of The Book of Everything Neil says 'it has enormous spirit and celebrates the ability children have to let their imaginations roam. It's a funny, generous show that will grab your heart and challenge your mind, no matter how old you are'.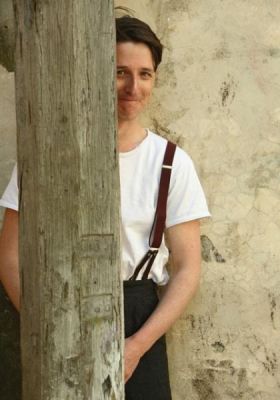 Featuring the quirky and captivating characters Jesus, the angels, the Bottombiter, the startling Mrs Van Amersfoort and a beautiful girl with a leather leg, The Book of Everything is based on an original novel written by the award-winning Dutch children's writer Guus Kuijer. It was adapted for the stage by Richard Tulloch.
Cast: Julie Forsyth, Claire Jones, Deborah Kennedy, John Leary, Rebecca Massey, Lucia Mastrantone, Pip Miller and Matthew Whittet
Director: Neil Armfield. Assistant Director: Eamon Flack. Set and Costume Design: Kim Carpenter. Musician / Composer: Iain Grandage. Lighting Design: Nigel Levings. Sound Design: Steve Francis. Choreography: Julia Cotton
Her Majesty's Theatre, Adelaide, from 17 – 27 August.
Bookings: BASS on 131 246 or online at www.bass.net.au
Images: Matthew Whittet. Photographer: Heidrun Lohr
Our review of the Sydney season.
Win Tickets
Win a pair of tickets to the preview performance of The Book of Everything on August 17 (5 pairs available - valued at $70 each).
The Challenge:
Either - Thomas sees extraordinary things which no-one else can imagine, like tropical fish in the canals of Amsterdam, a deluge of frogs, the Son of God popping in for a chat, which he writes in his Book of Everything. Share something extraordinary you would include in your Book of Everything.
or
Thomas calls his diary the Book of Everything. What would you call your Diary?
or
Name one of the extraordinary things Tomas wrote about in his Book of Everything (hint - three are listed above).
Return to the competition on our Facebook page - http://www.facebook.com/stagewhispers- and place your entry as a comment.
Likes will help us choose a winner.
Entries close 12 noon, August 4, 2011.
To keep up with the latest news and reviews at Stage Whispers, click here to like us on Facebook, or follow us on Twitter