CHITTY CAST ANNOUNCED
Producer Tim Lawson announced the principal members of the cast of Chitty Chitty Bang Bang August 9, 2012.
Playing the role of Caractacus Potts will be one of Australia's best-known singers and recording artists, tenor David Hobson; the role of Truly Scrumptious will be played by Rachael Beck.
The role of Baron Bomburst/Lord Scrumptious will be played by Alan Brough, best known for his role on the ABC music game show Spicks & Specks.
Actress and singer Jennifer Vuletic will play Baroness Bomburst/Miss Phillips; veteran of the Australian stage, Peter Carroll will play Grandpa Potts. Comedian George Kapiniaris (Wogs out of Work) will play Goran. Versatile and Tyler Coppin will play Child Catcher/Junkman.
The children playing the roles of Jeremy and Jemima, the children of of Caractacus Potts, were announced on October 3.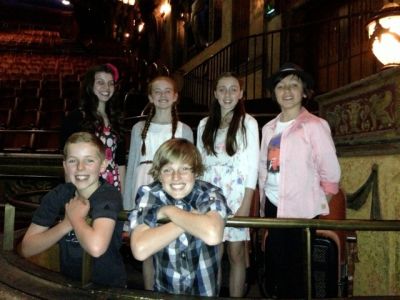 They are Max Walburn from Hunters Hill, Jasmin Younger from Beacon Hill, Ashleigh Ross from St Ives, Anthony Garcia from West Pennant Hills, Rose Shannon-Duhigg from Oyster Bay and Michael Kilbane from Kirrawee.
Other cast members are Todd Goddard (Boris), Philip Gould (Toymaker), Tony Farrell (Lord Scrumptious), Sophie Carter (Miss Phillips), Shannon Clarke (Violet) and Andrew Marshall (Coggins).
Ensemble
Male: Jan De Pietro,Alex Given,Mark Hill,Andrew Kroenwart, Rubin Matters,Jensen Overend, Anthony PepeandNathan Pinnell. Male Swings: Damien ChambersandNicholas Jones
Female: Alicia Attwood,Francine Cain,Ashleigh Hauschild,Megan Hoult,Annabel Knight,Emily Paddon-BrownandStefanie Turner. Swing / Dance Captain: Brooke Lowery.
Ensemble / Lost Children:Ayanda Dladla, Alexandra Duncan, Molly Ellison, Cody Ettingshausen, Beaumont Farrell, Cameron Field, Tyron Geany, Kristen Henry, Isabel Kratz, Miah-Rose Lake, Benjamin Langsam, Jordan Lazarus, Noa Lubotzky, Emily Maclean, Abbey McPherson, Aled Morris, Benjamin Muston, Otis Pavlovic, Michael Russell, Emily Simmons, Natasha Sloman, Chloe Thiel, Kirsten Tsoltoudis, Katia van Hilten, Annabel Wolfe, Ruby Wood, Elisabeth Woodcock and Jessica Zylstra.
Chitty Chitty Bang Bang will be directed by Roger Hodgman and features sets and costumes by renowned English designer Anthony Ward. The production will be choreographed by Dana Jolly, with musical direction by Peter Casey. Chitty Chitty Bang Bang plays at Sydney's Capitol Theatre from November 16, 2012.
SYDNEY SEASON
Venue: Capitol Theatre, 13 Campbell Street, Haymarket
Season: from 16 November 2012
Bookings: Ticketmaster 1300 723 038 or ticketmaster.com.au
MELBOURNE SEASON
Venue: Her Majesty's Theatre, Exhibition Street, Melbourne
Season: from 30 January 2013
Bookings: Bookings: Ticketek 1300 795 012
Other coverage