LadyNerd: a cabaret
Indulge your inner (or not-so-inner) nerd at the Seymour Sound Lounge during the Sydney Fringe with LadyNerd – Keira Daley's cabaret tribute to some of history's greatest minds, from Marie Curie to Ada Lovelace… via that woman who invented Liquid Paper.
Amazing true stories and intriguing real-life characters are interwoven with quirky rants and inventive arrangements of songs – some old, some new, all in the key of nerd.
LadyNerd sees 2010 Cabaret Showcase Grand Finalist and lifelong nerd Keira Daley ([title of show], The Great American Trailer Park Musical, Princess Cabaret) join forces with musical director and piano nerd
Mark Chamberlain (Jersey Boys, The Last Five Years, Mornings With Kerri-Anne), in an unashamedly brainy celebration where jazzy piano bar meets Sega Megadrive.
Long, long ago… the nerd emerged as a pop-cultural (and playground) punching bag. Now, with "geek chic", it's a marketing vehicle used to sell gadgets and copy paper. But nerd in its purest form is a much bigger deal – a nerdy state of mind can be inventive, powerful, and a little bit adorkable. And so, employing music and a dash of time-travel, LadyNerd sets out with one simple task: To reclaim nerd.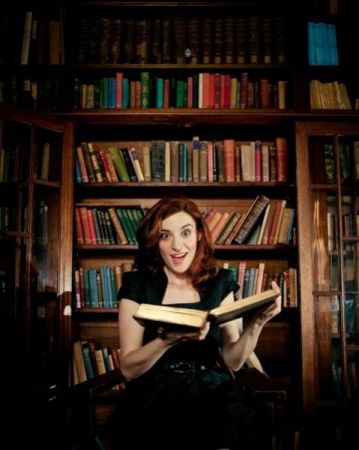 We asked Keira to fill us in a little further on the subject of LadyNerds/
When did you realise you were a LadyNerd? What are the classic signs?
Feeling physical pain when apostrophes are misused is definitely one sign. But being a nerd is not necessarily about being a pedant, nor do you have to be socially inept or have bad dress sense. Being a nerd is about being more concerned with ideas than image. I realised I was a nerd in high school when I subscribed to CSIRO's Double Helix Science Club Magazine while my peers read Dolly. Okay, so I read Dolly too, but only when my teen pin-up Dean Cain was in it – which is, in a way, still kind of nerdy given his comic book TV role of Superman at the time.
Who are some LadyNerds you inspire you, and why?
Ah, there are so many – that's why I wrote a show about it! But Marie Curie is the ultimate LadyNerd – she lived and died for her work on radioactivity. She even invented the word. The story of her life is filled with enough passion, drama, romance, tragedy and triumph to rival any reality show. Marie was told "no" by so many people, so many times, yet she was unstoppable. She just did her thing – and that thing lead to discoveries which profoundly impacted physics, chemistry, and medicine. Even the accolades she received didn't seem to make much difference to her – she and Pierre gave their Nobel Prize money away to poor students (which is how Marie began her own academic career). That whole family was wonderfully (read: sickeningly) talented. Other more obscure ones I like are Mary Anderson, who invented windscreen wipers, and Margaret Knight who invented the paper bag-making machine. Hey, we can't all win two Nobels!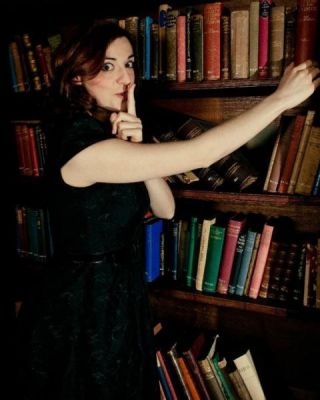 Male nerds tend to be portrayed as losers, even if they get their 'Revenge' in the movies. What about LadyNerds?
LadyNerd characters in pop culture tend to be more of a token effort – which is another reason I wrote a show about them. But they make up in quality what they lack in number. For example, in The Simpsons the male nerds include: cringe worthy Martin, narky know-it-all comic store guy, and the goofy scientist (by the way, Milhouse may look like a "nerd", but he's not – not on my watch!). But the one LadyNerd is Lisa Simpson. And we admire her because she's clever, passionate, multi-skilled, principled, and well-rounded. Like the real-life LadyNerds I cover in the show, her world benefits from her being in it.
What can audiences expect?
LadyNerd is a bit of an unusual combination for a cabaret. "Piano bar meets Sega Megadrive" it's not just a gimmicky tagline – musically that's not too far from the truth! LadyNerd is a (mostly) comedic musical variety show – part historical character studies, part rant, all nerd. It takes a good look back through time but also at things nerds today can relate to more directly – namely, video games and why hipsters aren't nerds. You may learn things. You may even feel a little bit inspired by the real-life stories explored in the show. But my main goal is that everyone who comes along has a rollicking good time.
Find out which LadyNerd...
- was a high school drop-out who sucked at typing
- sold her kisses for $250,000 a pucker
- was pushed into science by her mum so she wouldn't become an artist
- called herself a dude
- changed the world (answer: all of them)
LadyNerd plays on September 15, 29 & 30, October 1 at the Seymour Centre Sound Lounge.
To keep up with the latest news and reviews at Stage Whispers, click here to like us on Facebook, or follow us on Twitter.
Win Tickets
Competition closed - Congratulations to our winner Celeste Notley-Smith
Win two tickets to the opening performance of LadyNerd on September 15 (1 pack available).
The Challenge: Tell us something nerdish about yourself.
To enter, visit our contact form http://www.stagewhispers.com.au/contact and type LadyNerd in the subject field. Then type your answer as a message. Our favourite entry wins.
Entries close: 5pm, September 12.
More Sydney Fringe 2011