Musicals on the Menu
Image: John Frost. Photographer: Peter Rae.
Leading theatre producer John Frost has sold his company to US juggernaut Crossroads Live. But the impresario is not retiring. In an exclusive interview with David Spicer, he revealed the musicals - and a play - that he will produce across Australia.
When the pandemic hit, producer John Frost had no less than five major musicals on the go and he told me that he expected to stay on the sidelines until the middle of this year.
Yet just six months later he surprised the industry with the announcement that a new production of Pippin would be staged in Sydney. True to form, he created waves with the casting.
A Broadway star was imported as the Leading Player – upsetting some local creatives - and conservative TV personality Kerri-Anne Kennerley was given a cameo role, as the character Berthe, which required her to swing upside down on a trapeze. Sadly, the 67-year-old fell and broke her collarbone.
John Frost is not about to change his style. He wants the whole cast back "including our import" in a future national tour of Pippin. Whether Kerri-Anne Kennerley is game to get back on the swing is unknown – perhaps with a safety line next time.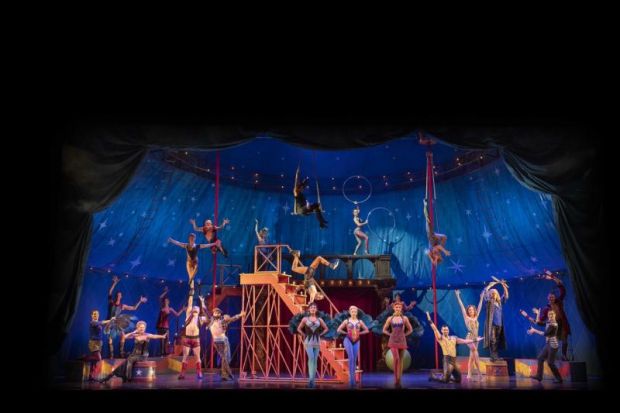 Image: The Australian cast of Pippin. Photographer: Brian Geach.
A future tour of Pippin is only part of the plans for the prolific producer, known around the traps as "Frosty the Showman", who commenced his career at the age of 16 as a dresser with the JC Williamson production of Mame.
"I am optimistic about the future of the industry. People are scared to go out (but) the vaccines will instil confidence."
The impact on live entertainment caused by state lockdowns has been severe. Pippin was just a few weeks into its Sydney run when the northern beaches lockdown forced it to close for a week.
"The minute the north shore lockdown happened it took the wind out of every show in town.
"It's hard to claw back momentum. It's a slow crawl back. Pippin was always going to close in late January so by the time we got back to doing cracker business it was time to close."
A similar fate affected the GFO production of Shrek in Brisbane.
"We were just in previews when Annastacia Palaszczuk pulled the plug. It sent ticket sales down to 300 a day - later it bounced back to 1000 or 1500 a day. This thing of closing down states because of one person is madness."
Image: Ben Mingay Shrek The Musical. Photographer: Brian Geach.
In Melbourne, the five-day lockdown knocked the stuffing out of theatre's slow comeback in Victoria. Performances of Come from Away were postponed and the outbreak threatened the much-delayed resumption of Harry Potter and the Cursed Child, scheduled to re-open on February 25, after a 49 week hiatus.
The big news for John Frost personally is the sale of his business to US entertainment company Crossroads Live, which also acquired UK based David Ian Productions. It was a big step for a company that has dominated the commercial theatre scene in Australia for decades.
At first blush it sounded like John was stepping back from the industry, but it's quite the opposite. He will stay as Managing Director of GFO and run the show for five years, then he can retire or "haunt people when I am 80".
"I suppose I do (now) have a boss, but nothing seems to have changed," he said.
The merged entity now has more resources to produce shows and GFO will have first access to productions that other divisions stage. Every fortnight, producers in Los Angeles, London and Sydney join for a video hook-up to plot their next step.
One of the projects in development by Crossroads Live is a musical adaptation of the film Mrs Doubtfire. It was in preview on Broadway when Covid-19 closed the industry. Crossroads Live is also producing a musical adaptation of Almost Famous.
John Frost says he has big plans for the next few years. At one end of the entertainment spectrum is Magic Mike Live, a risqué male dance extravaganza which opened in Sydney and will tour around Australia. The production is staged in its own bespoke tent which features a fancy bar that sells cocktails to the mainly female clientele.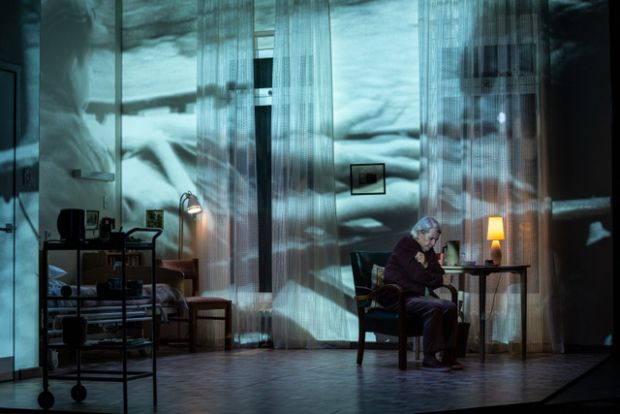 Image: A German Life. Photographer: Andrew Beveridge.
At the other end of the cultural spectrum, GFO is producing a one woman play about Nazi Germany which stars Robyn Nevin and is directed by Neil Armfield, both darlings of the subsidised theatre world.
"People really don't know me," said John, when I expressed my surprise at this choice of production.
The play, A German Life, opened at the Adelaide Festival. It's based on the life of Brunhilde Pomsel, who emerged from the rubble near Hitler's bunker waving a white pillowcase to the approaching Russian troops in April 1945. She was a secretary to Nazi propaganda chief Joseph Goebbels.
"She lived to 106 and was interviewed (for a documentary) when she was 103. I'd like to think we could tour this play," he said.
Another new production waiting in the wings is Rodgers and Hammerstein's Cinderella, which GFO will produce with Opera Australia when the time is right.
"I was just playing the music in the car. This score is so beautiful and fun. It is a glossy looking production. I think the time is right. It has an adult slant to it, with a brand-new script that was on Broadway and did two US tours."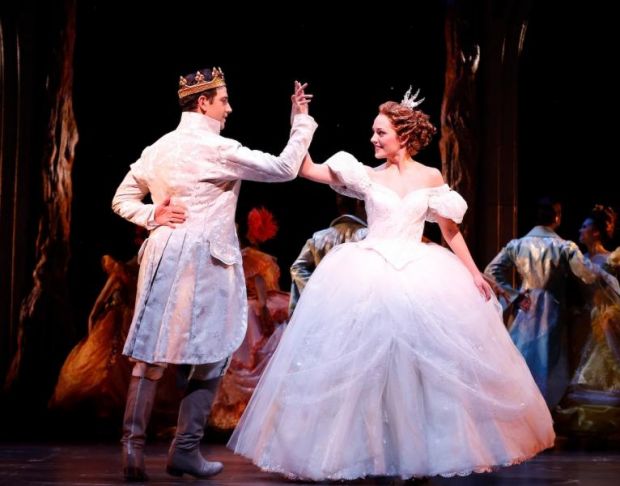 Image: Santino Fontana and Laura Osnes in the original Broadway production of Cinderella. Photographer: (c) Carol Rosegg.
Also on the menu for GFO is completing national tours of Charlie and the Chocolate Factory, Shrek and Chicago, which means they could be seen in cities which missed out the first time.
Of the productions cancelled due to Covid-19, John Frost said he "definitely" plans to bring back The Secret Garden – which was to star Anthony Warlow. He'd just got off the phone to Anthony when I spoke to him and teased the star about how much theatre he had seen lately.
The musical production of Dolly Parton's Nine-to-Five the Musical is also likely to get back to work. John also told me how much he enjoyed the workshop of the new Australian musical The Dismissal – which is rumoured to be opening late this year.
However, Fiddler on the Roof in Yiddish - that was scheduled for Sydney and Melbourne last year -appears to be off the schedule.
And in news that is sure to stir up the "Twitterverse" when it is confirmed, GFO plans to bring back old favourites Grease and Annie, but not for at least two years.
"I will just give the sets a lick of paint."
John Frost noted that bringing back old favourites never upsets the public or "my back pocket".