Musicals in 2021 and Beyond
Major musicals will roar back into life in 2021, once theatre-goers have had injections of both confidence and a vaccine.
The elimination of community transmission of COVID-19 in most of Australia has given large scale Performing Arts a shot in the arm. WA opened up first. Next came NSW with 75% to 85% of tickets available for sale. Queensland is allowing 100% capacity from January.
Image from Hamilton - US Nagional tour. Photogapher: Joan Marcus.
Hamilton
The Tony and Pulitzer Award winning musical about US founding Father Alexander Hamilton - blending hip-hop, jazz, R&B and Broadway - opens at the Sydney Lyric on March 27.
With debate raging about diversity on our stages, the Australian producer and US creatives of Hamilton scored a standing ovation from the industry for their casting choices.
In the title role is Jason Arrow, handpicked by Lin-Manuel Miranda. The South African born Western Australia lad's previous career highlights were minor roles in Beautiful and Aladdin.
When told he had the part, Arrow says, "I think I was speechless for about 10 minutes. In many ways I am still completely speechless."
The other male lead, the villainous Aaron Burr, is played by another up-and-comer - Lyndon Watts.
Chloé Zuel, most recently seen in Six the Musical, will play Elizabeth Hamilton. The juiciest (always Anglo) comedic role is the part of King George, which has been scored by Brent Hill, recently the star of School of Rock.
COVID-19 permitting, this musical is set to be the hottest ticket of the year.
Read more about the Hamilton cast
Moulin Rouge!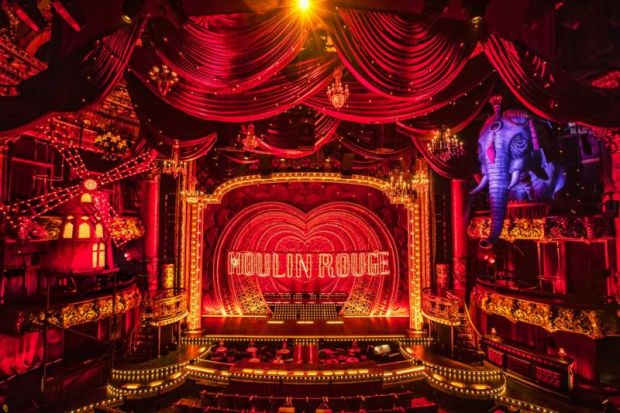 Aussie producer Global Creatures had finally staged a rolled gold international blockbuster when the wrecking ball of COVID-19 cruelly halted their Broadway season, and postponed plans for Melbourne.
Recently nominated for 14 Tony awards, this musical is scheduled to resume on Broadway, and open at the Regent Theatre, from the middle of 2021.
Based on the 2001 20th Century Fox motion picture by Baz Luhrmann, the musical is a kaleidoscope of colour and song confectionary.
The production zooms the jukebox musical into another era. Short phrases of favourite songs from David Bowie to Dolly Parton are seamlessly blended.
The scenic effects are utterly breathtaking.
This will be just the antidote for Victorians looking for an escape from a grim period.
Photographer: Matthew Murphy
Come From Away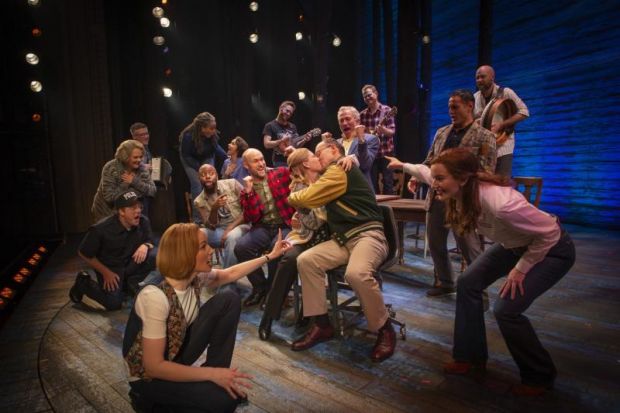 The first big musical to open in Melbourne was a short return season of Come from Away in January, before if flies to QPAC on March 28, and then lands Sydney's Capitol Theatre in June.
The musical, based on the true story of passengers stranded in the remote Canadian town of Gander in the wake of the September 11, features twelve performers, and seven musicians who play a variety of instruments with a celtic influence.
Stage Whispers reviewer Alex Armstrong said, "Watching the town characters swing deftly and determinedly into action was one of the pleasures in this musical; and then seeing them also pull seamless double-duty as bewildered, angry and frightened passengers and flight crew was another."
She described fellow theatre-goers "wiping away tears throughout the performance. At the conclusion of the final chorus the audience roared to life and was on its feet in the space of a minute."
Read our interview with Come From Away creaators Irene Sankoff and David Hein
Read more about the Melbourne Encore season, and tour.
Read our review of the Melbourne Encore season by Michael Brindleyhttps://www.stagewhispers.com.au/reviews/come-away-0
Photo by Jeff Busby
Fangirls.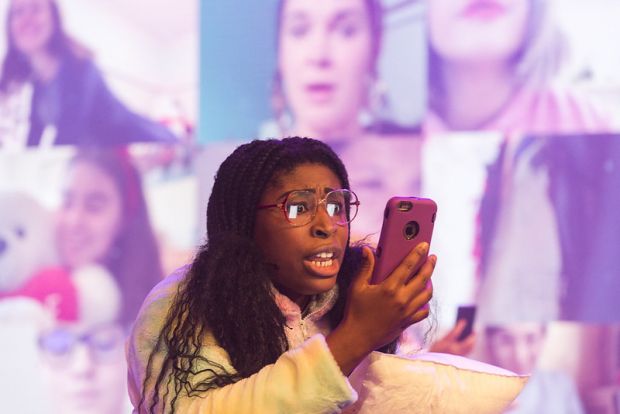 Yve Blake's sensational debut musical is back for a return Company B season in Sydney from January 30 – February 20 at the Seymour Centre, ahead of Adelaide and other destinations to be announced soon.
This musical is for everyone who has ever had an uncontrollable teenage crush. The leading lady is 14 and head over heels in love with boyband member Harry. She has a talent for creative writing and dreams up vivid teenage-like pulp fiction for the two.
Things get out of hand when her imagination is taken over by reality.
Sitting next to Stage Whispers David Spicer at the original Sydney season was the mother of a recent teenager, squealing with recognition. OMG!
"After seeing this show I immediately bought a ticket for my teenage daughter.
"The music is catchy, and it has the giddy atmosphere of being at a rock concert. Daggy parents like myself struggled to find the torch 'ap' on our iPhones to wave when commanded by the Boyband.
"Screamingly good."
Image from original production of Fangirls. Photographer: Brett Boardman.
Fun Home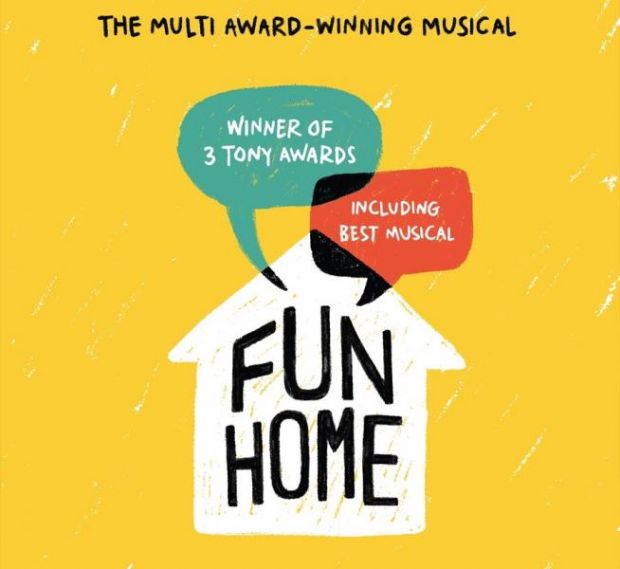 Co-produced by the Sydney Theatre Company and Melbourne Theatre Company, Fun Home is a gritty drama which won the 2014 Tony Award for Best Musical.
Based on a graphic novel by Alison Bechdel, it's described as "a heartfelt story about coming out and coming of age."
After the unexpected death of her father, Alison is forced to confront his secrets. Shifting between past and present, we meet present-day Alison, a successful graphic novelist; college-age Alison on the cusp of self-discovery; and precocious child Alison, who plays in coffins instead of sandboxes in the family's Bechdel Funeral Home.
Maggie McKenna, the original (musical) Muriel, plays medium Alison, alongside Lucy Maunder as mature Alison.
The cast also features Marina Prior, Ryan Gonzalez and Adam Murphy.
Fun Home is scheduled to open in Sydney in April at the Ros Packer Theatre, with the Melbourne dates yet to be confirmed.
Read more about the STC's Act 1 2021 season
Frozen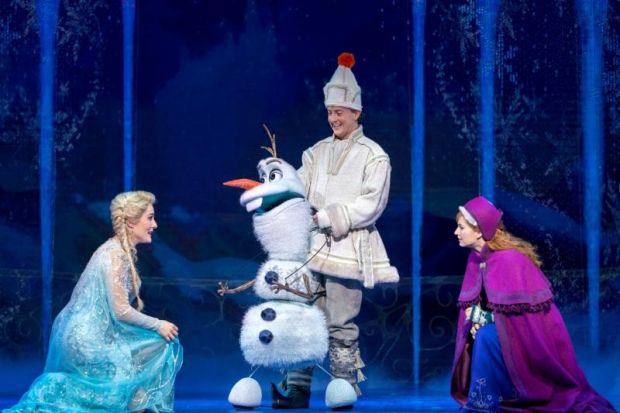 Disney Theatrical's musical Frozen opened its Australian season at Sydney's Capitol Theatre in December, only three years after its Broadway premiere.
Based on the classic fable of the Snow Queen, Frozen was the highest grossing animated movie of all time, with eye popping imagery and that ear worm song "Let it Go".
A dozen songs were added by the original composers, plus a mountain of scenic effects, to turn it into a Broadway musical.
The New York Times raved about the "masterly" first twenty minutes but noted that children were looking on the sleepy side during the second act.
The Guardian wrote, "With its music, its dance, its flurry of likable leads, and snowball after snowball of son and lumière, some of it newfangled, some of it stretching back to 19th-century melodrama, it offers most of the pleasures that we count on Broadway musicals to provide."
Certain to tour to other capitals during 2021/2022.
Image: Jemma Rix, Matt Lee and Courtney Monsma in Frozen - Photo by Lisa Tomasetti
Jim Steinman's Bat Out Of Hell – The Rock Musical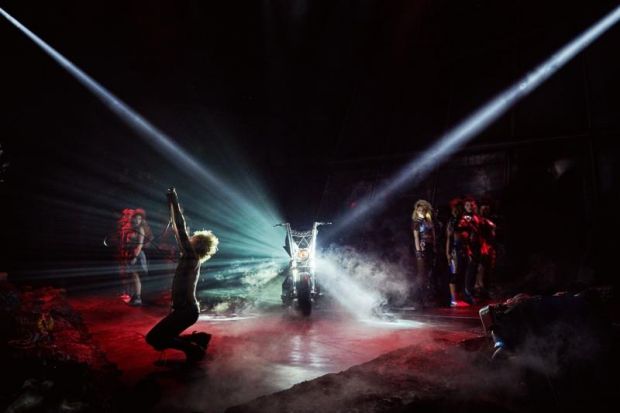 The rafters of arenas in Perth, Adelaide, Melbourne, Brisbane and Sydney are set to be rattled during May with the arrival of the thrashing rock musical Bat Out of Hell.
It's based on songs from the three Bat Out Of Hell albums, which sold 100 million records, including the "You Took The Words Right Out of My Mouth" and "Bat Out Of Hell".
A groupie (reviewer) from The New York Times said, "When's the last time it felt as if an entire theater were about to levitate? That experience — electrifying and giddy and guaranteed to tap into every playgoer's inner rock god — can be had at the Jim Steinman musical Bat Out of Hell, which is all but blasting an adoring audience out of their seats."
Photo credit: Specular.
Margaret Fulton the Musical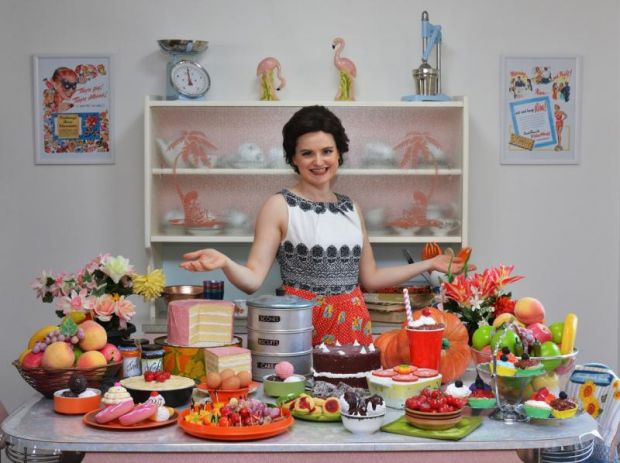 Jally Productions is taking this scrumptious musical homage to cooking legend Margaret Fulton on a national tour in 2021.
Margaret Fulton was famous for her cookbook, which encouraged Australian housewives to experiment with more interesting ingredients, straying from the old tradition of meat and three veg.
What is not so well known are the difficulties she faced behind the scenes as a single mother.
This musical romp follows her journey from humble beginnings to super-stardom.
At least 80 performances are scheduled across regional and capital cities in Queensland, NSW, South Australia and Victoria.
Image: Copyright © 2020 Jally Entertainment. Photographer – Andrew Seymour
Friends! The Musical Parody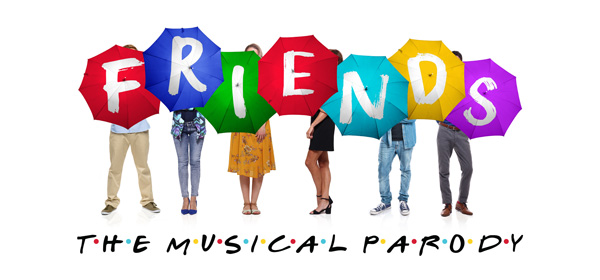 The Australian Premiere of Friends! The Musical Parody will take place at The Star Gold Coast on 11 February 2021, with seasons in Melbourne, Brisbane, Sydney, Adelaide and Perth following.
Join your six favourite friends at their favourite café for a night of unstoppable laughs with a new musical that lovingly lampoons the beloved NBC sitcom. Friends! The Musical Parody celebrates the misadventures of our favourite group of 20-something pals as they navigate the pitfalls of work, life and love in 1990s Manhattan.
Once The Musical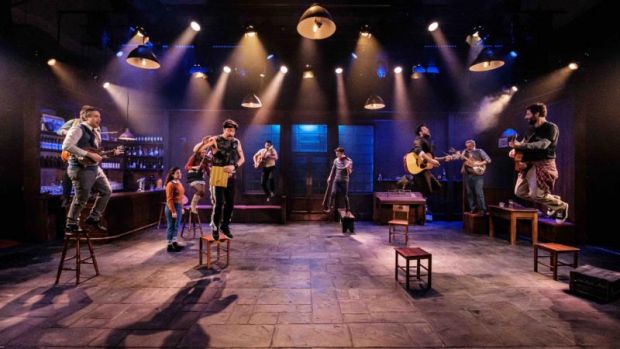 Sydney's Darlinghurst Theatre Company has been given a grant to tour its production Once around Australia.
As I David Spicer said in his in my review of the original Darlo season, "Once is a big hearted juicy musical.
"It begins with a romantic chance meeting between a Guy (Tony Francis) and a Girl (Stefanie Caccamo). He is busking a beautiful tune which she likes and together they go on a journey to heal themselves of fractured relationships.
"Performances famously invite members of the audience on stage, into the pub that is the beating heart of the drama.
"Toby and Stefanie were well suited to their roles, displaying a high level of musicianship on the guitar and piano, and most importantly having a warm on-stage chemistry."
Image: The original 2019 cast of Once. Photographer: Robert Catto.
A Chorus Line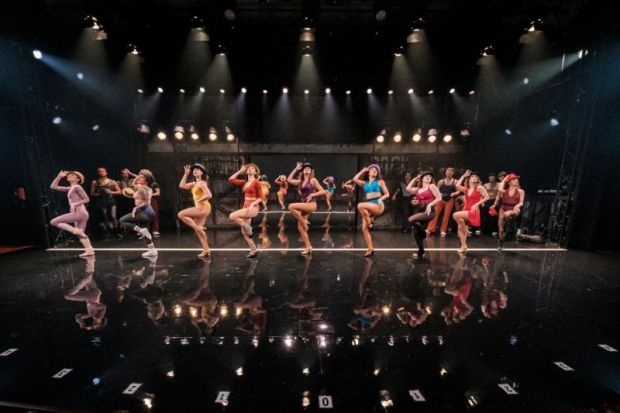 Amy Campbell's new production of the legendary musical A Chorus Line will finally open for an extended season at Dalinghurst Theatre Co on 27 August. Playing four sold-out previews in March last year, the production was postponed on the day of its premiere due to the pandemic.
Image: 2020 cast of A Chorus Line. Phoographer: Robert Catto
Read more about Darlo Theatre's 2021 season
American Psycho - The Musical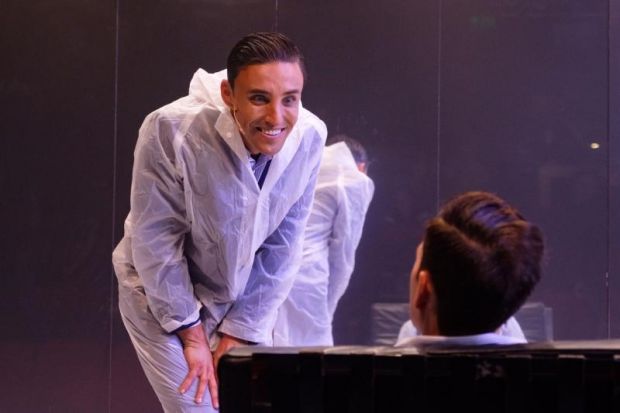 Sexy, dark and disturbing, American Psycho - The Musical will be presented in the Sydney Opera House's Playhouse from 3 - 27 June, 2021. Based on Bret Easton Ellis' 1991 novel American Psycho and the 2000 film of the same name, American Psycho – The Musical is a chilling yet comedic insight into a society driven by capitalism, self-image and wealth. The production returns after a successful season at the Hayes Theatre Co. in 2019 that earned the musical nine Sydney Theatre Awards.
Shrek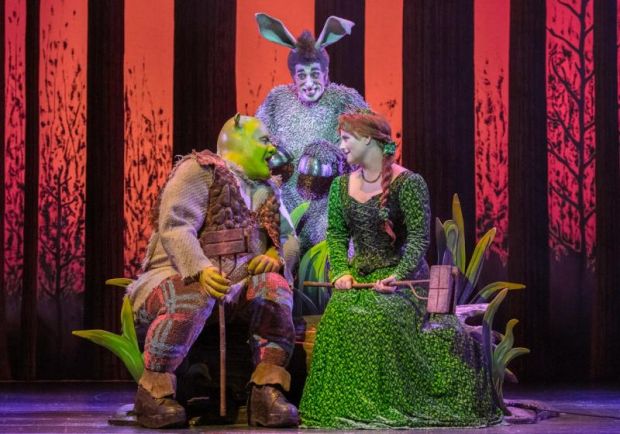 Shrek, Fiona and Donkey are headed for the Queensland Performing Arts Centre (QPAC) in the first major musical to open to a 100% capacity audience in Australia since the onset of COVID-19.
Queensland Minister for the Arts Leeanne Enoch said, "The arts sector has been severely impacted by the pandemic, so to be the first state in Australia to host the first major musical performance at 100% capacity, without a special exemption, is really rewarding."
Shrek opened at QPAC in January 2021.
Image: Ben Mingay, Nat Jobe and Lucy Durack. Photographer: Brian Geach.
The Boy From Oz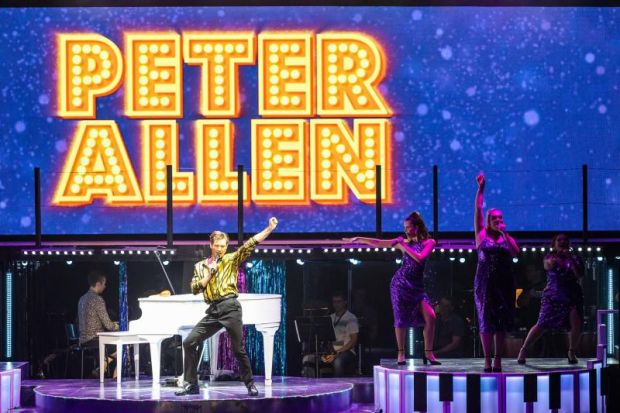 Following its sold out season of We Will Rock You, Pro-am company Platinum Entertainment will stage four musicals in Perth's Crown Theatre during 2021, kicking off with The Boy From Oz from January 23.
In the lead role of Peter Allen is recent WAAPA graduate Ethan Jones.
"This is the opportunity of a lifetime," says Ethan. "I've dreamed about playing Peter Allen for years and am absolutely thrilled - and a little daunted - to be following in the footsteps of such luminaries of the stage."
Todd McKenney, the original Boy from Oz, sent the following message.
"Congratulations Ethan, on landing one of the best roles in Australian musical theatre. You not only get to tell Peter's amazing personal story through brilliant songs and amazing dance routines but you also get to talk directly to the audience - which provides some of the most moving moments."
Platinum Entertainment is also staging Hot Shoe Shuffle, Priscilla Queen of the Desert and Spamalot at the Perth Crown.
Sweeney Todd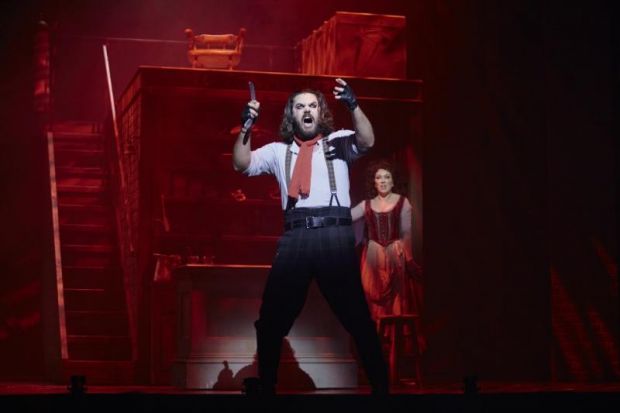 The State Opera of South Australia is sharpening its blades for a season of Stephen Sondheim's musical about love, greed, revenge and pies.
Postponed from 2020, the production will star Ben Mingay as the demon barber of Fleet Street for six performances in May at the recently restored Her Majesty's Theatre.
Artistic Director Stuart Maunder said, "From the first words 'attend the tale of Sweeney Todd' we know we are in for a 'fright night'. This is a period piece, an allegory, a legend, a 'tale' that has oft been told across the generations, an urban myth, a cautionary tale ... and it's deliciously scary, dark, sinister... and thrilling."
Image from the West Australian Opera production of Sweeney Todd. Photographer: James Rogers.
Young Frankenstein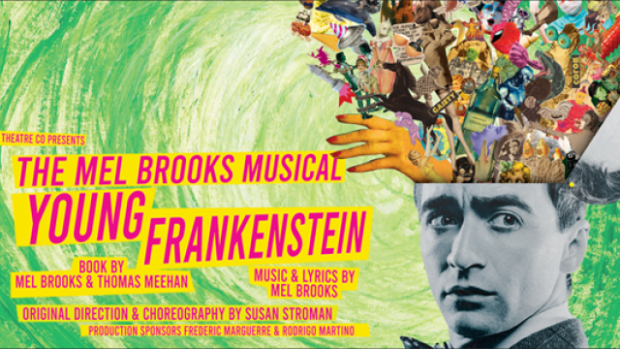 Sydney's Hayes Theatre Co has been severely affected by COVID-19 as its venue is so cosy.
The company will return to the stage in 2021 with a new production of Young Frankenstein, the musical by Mel Brooks, adapted from his own film parodying the horror movie genre.
Chair of Hayes Theatre Co, Lisa Campbell, said, "We're overjoyed to be reopening with a musical as spectacular and entertaining as Young Frankenstein. We can't wait to lift the curtain on what will be an incredible year of musicals and cabaret at Hayes."
Well-Behaved Women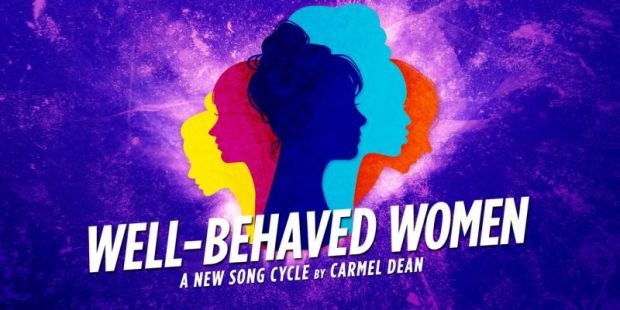 What would Cleopatra, Cathy Freeman, Frida Kahlo, Billy Jean King, Malala Yousafzai, Mary Magdalene, Maya Angelou and Virginia Wolf sound like if you heard them sing?
Well-Behaved Women is a song cycle by Carmel Dean, where these women and more are brought to life through songs that celebrate the ways in which their bad-ass behaviour helped them make history.
Playing at the Hayes Theatre Co from March 24 - 27.
Half Time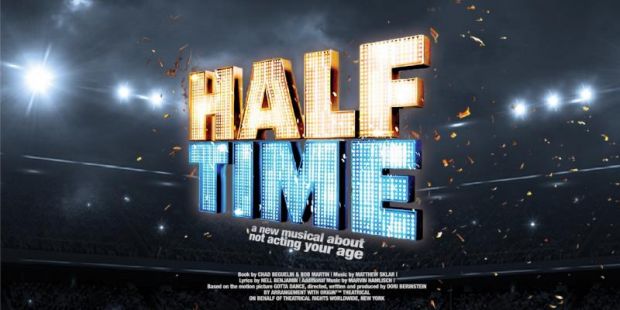 The true story of ten ordinary seniors with extraordinary dreams who audition to dance at halftime for a major basketball team. Only after making the cut do they learn they won't be dancing tap, salsa, or swing–instead, they will bring down the house with a style that is entirely new to them: hip-hop. Take the uplifting journey with these dreamers–and the young coaches who inspire them along the way–as they battle self-doubt, stereotypes, and even each other for a chance to bust a move at center court in front of the 20,000 screaming fans.
Book by Chad Beguelin and Bob Martin. Music by Matthew Sklar. Lyrics by Nell Benjamin. Additional Music by Marvin Hamlisch. Based on the motion picture Gotta Dance, directed, written and produced by Dori Bernstein.
Helen Dallimore directs Gabrielle Chan, Dolores Dunbar, Jaime Hadwen, Chaska Halliday, Nancye Hayes, Stefanie Jones, Donna Lee, Joy Miller, Coby Njoroge and Wendy-Lee Purdy.
Playing at the Hayes Theatre Co from April 1.
Rent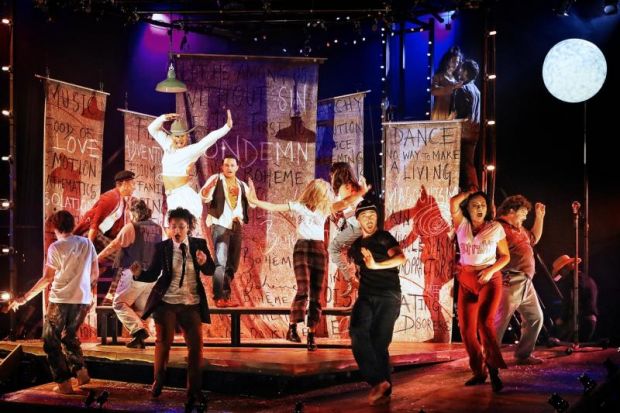 One of the most successful recent productions at the Hayes Theatre is being revived by the Sydney Opera House during January.
Celebrating its 25th anniversary, Jonathan Larson's multiple Tony Award and Pulitzer Prize-winning musical RENT will play at the Drama Theatre, Sydney Opera House from December 27, 2020 to January 31, 2021. It will again star Kinky Boots alumnus Callum Francis and Seann Miley Moore.
Photographer: Prudence Upton
The Wedding Singer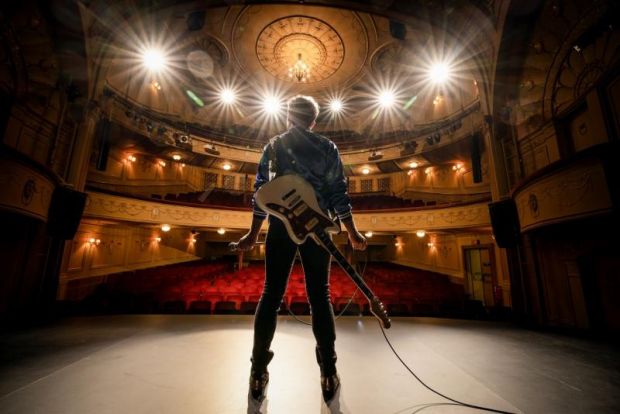 It had a respectable run of almost a year on Broadway but The Wedding Singer never made it to the professional stages of Australia …until now.
David Venn Enterprises is bringing the musical to Melbourne, the Gold Coast and Sydney from April.
Based on the movie of the same title, the musical takes you back to 1985. Hair is huge, collars are up, and a wedding singer might just be the coolest guy in the room.
Producer David Venn says "it's such a joyful, nostalgic romp of pure rom-com fun, and hopefully just what the doctor ordered. I can't wait to see audiences dress in their 80s finest and join the party of the year!"
An Australian cast and creative team will be announced in the new year.
Tim Finn's New Mystery Musical
A sneak peak of a new musical by the team behind Ladies in Black. The Melbourne Theatre Company presents a staged reading of the latest (mystery titled) work of Carolyn Burns, Tim Finn and Simon Phillips. The performance on February 5 and 6 will feature Alison Bell, Simon Gleeson and Chris Ryan.
Read more about the MTC's Act 1, 2021 program
Annoucements Pending
A national tour of the cult musical Everyone Loves Jamie was abandoned due to the pandemic and will most certainly be revived when the time is right.
Six the Musical got off to a huge start in Sydney and is also likely to re-staged.
Watch out too for new Australian musical The Dismissal, based on the events of 1975 which got rave audience feedback at a try-out and will open before too long.
Dates are yet to be announced for the rescheduled production of 9 to 5 The Musical.
Musical Concerts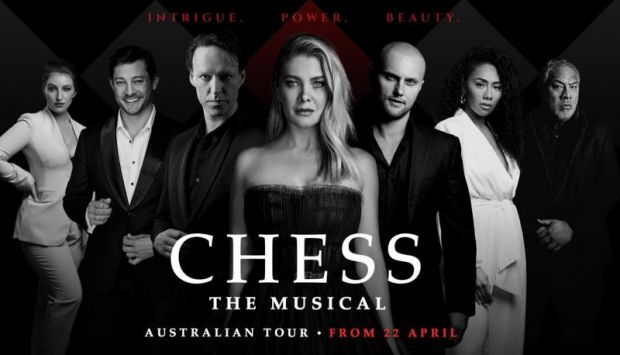 Chess The Musical
Featuring the music of Benny Andersson & Björn Ulvaeus (ABBA), and book by Tim Rice, the cold war themed musical Chess will play at Melbourne's Regent Theatre in two performances on Saturday 24 April, followed by performances in Perth on June 5, in conjunction with Perth Symphony Orchestra.
Carousel
Ben Mingay stars for State Opera of South Australia as troubled carousel barker Billy Bigelow, whose romance with millworker Julie Jordan comes at a terrible price. The Rodgers and Hammerstein classic will play at the Festival Theatre, Adelaide on March 26 and 27.