Come From Away
Book, Music & Lyrics by Irene Sankoff & David Hein. Junkyard Dog Productions & NewTheatricals. The Comedy Theatre, Melbourne. 26 January – 28 February 2021, then Brisbane and Sydney.
There are two clear and outstanding reasons to see (or to see again) Come From Away: the amazing 'true story', and the dazzling, funny, moving production.
First the story: how, on what we now know as '9/11', United States airspace was closed, and 38 passenger planes were diverted to a semi-mothballed airfield on Newfoundland, an island off the east coast of Canada, known to the locals as 'The Rock'. Suddenly, the town of Gander, population 9,651, was host to 6,597 stranded and bewildered passengers, the folks who had 'come from away'. It's the story of what Gander (and some other neighbouring small towns) did about it, and it's the story of how those passengers experienced Gander and maybe had their lives changed. The immediate generosity and hospitality of the town were astonishing: a bus strike went on hold, and almost at once the schoolhouse became a refuge, the supermarket manager said take whatever you need, and everybody was making sandwiches, cooking and offering sympathy, booze, showers and accommodation. As for the passengers, at first, they couldn't believe all this, but by the time the planes were cleared to fly, many didn't want to leave.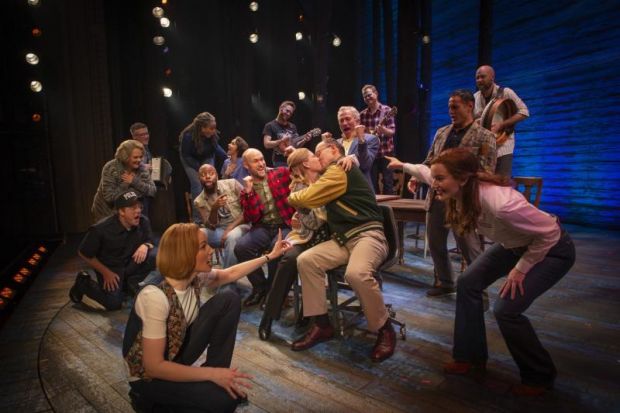 The effect this story has on audiences is a phenomenon in itself. It is highly emotional, and it is very funny – and often both at the same time. You find yourself laughing with a lump in your throat. It's a story that could so easily slide into sentimentality, but it doesn't. The humour of culture clashes and the unforced warmth of the townsfolk on the one hand, and the developing characters of those who have come from away seems to hold and indeed fascinate audiences - perhaps because what they're seeing is what we'd all love to believe about our fellow humans and ourselves – that we can be kind, generous, welcoming - and it's possible because this story is also true – it really happened. As filmmaker Paul Schrader said, 'Don't give 'em what they want, give 'em what they need.' Come From Away seems to do that.
The second reason is the way this story is delivered. Irene Sankoff and David Hein, in early collaboration with director Christopher Ashley and choreographer Kelly Devine, refined and honed myriad 'true stories' down to a tight 100-minute show. Story strands alternate, merge and overlap, segueing seamlessly into each other. Character development is skilfully economic and never interrupts narrative flow. There are scenes and there are moments. An unlikely couple falls in love. (On opening night, Angela Kennedy stood in for Katrina Retallick and she was great.) Another couple, Kevin T (Douglas Hansell) and Kevin J (Joseph Naim) breaks up. A determined woman (Kellie Rode) rescues all the animals, including a pregnant Bonobo, off the stranded planes. Local trainee journalist (Sarah Morrison) is suddenly on camera on her first day on the job.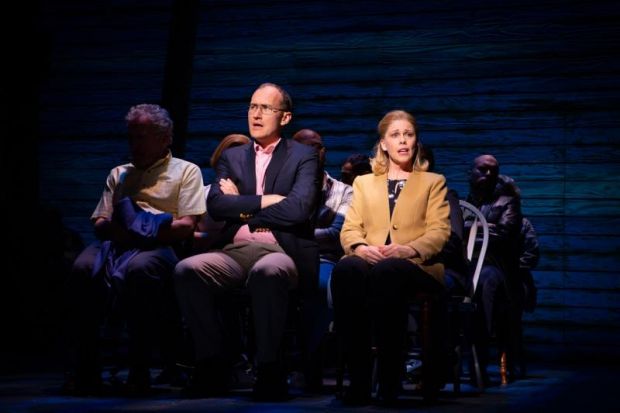 But it's not all 'sweetness and light'. An Egyptian passenger (another of the three very different characters played so well by Joseph Naim) is regarded with hostility and suspicion. A New York woman (Sharriese Hamilton with her beautiful voice) is close to frantic when her firefighter son in New York doesn't pick up. An African American guy (Kolby Kindle) can't believe these white folks are being so nice and wonders where to hide his wallet. All the cast play at least two if not three characters – clearly delineated, no confusion, via a change of accent, posture and a hat or jacket. If you've seen the show before, there are some cast changes, but what we get is still a tight, energetic and co-ordinated ensemble and lovely Zoe Gertz is still there as Flight Captain Beverly Bass with her big number, 'Me and the Sky'.
(I showed a New York friend a clip of Ms Gertz doing this number. Our friend said, 'Hmm – she's Broadway ready.')
The stagecraft is bold and it's flawless. A cast of just twelve, using just three tables and twelve hardback chairs, create a multitude of characters – townsfolk and passengers - and locations: the airfield, the inside of a plane, the inside of a school bus, the schoolhouse, the town bar/café, homes, streets and backyards. The scene changes, all swiftly done the cast themselves, are so smooth they're scarcely noticed since something else is always happening while the changes happen.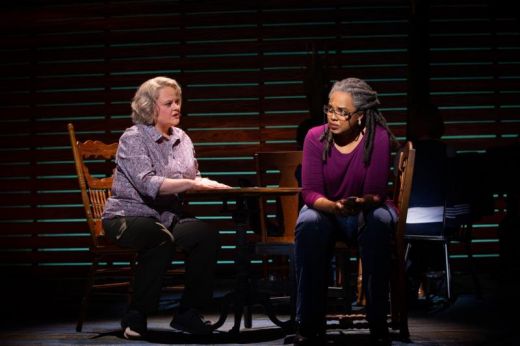 The show is a 'musical' or maybe music theatre, but it's escaped being a 'Broadway musical' with all that implies, good and bad. There, another early collaborator was music supervisor Ian Eisendrath. The music is, has to be, that of Newfoundland, Celtic/Folk/Rock, played by an onstage band of eight. But of the fifteen songs, nine are by the Company and of the rest the Company joins in on all but one. Correctly, because it's an ensemble kind of show and that indeed is the point.
If the above reads like gush written by a publicist, I apologise, but these are my responses on a second visit. For The Companion, a third. On the final blackout, the audience rises as one for a standing ovation. I'm told this happens at just about every performance. There must be people who go away dissatisfied, but I've yet to meet or speak to anyone like that. With some trepidation I recommended the show to a very curmudgeonly friend – who came from interstate to see it – and loved it.
Michael Brindley
P.S. If you are interested in the development of Come From Away - the adaptation of many true stories to wildly successful music theatre, see my Stage Whispers piece from July 2019, Come From Away – the musical that began with 16,000 true stories
More reading - Musicals in 2021 and Beyond.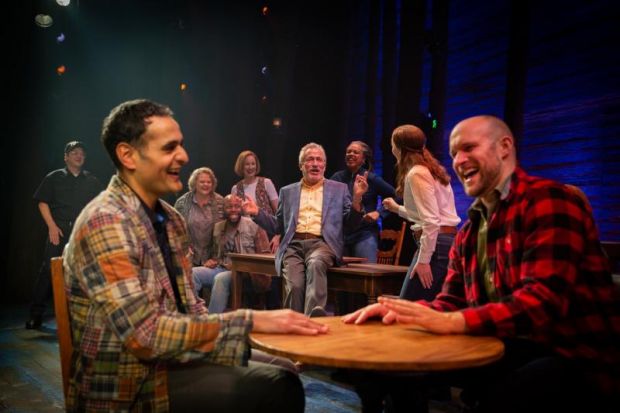 Photographer: Jeff Busby.