Rodney Rigby
Mr. Jersey Boys Wants to Keep Rock Musicals Going for Ages.
From Prop Boy to Jukebox Musical King. Frank Hatherley chats with Rodney Rigby, the new force in commercial musicals.
He's younger and trimmer than his main competition, the high profile, avuncular John Frost (Phantom, Wicked, Doctor Zhivago, etc). Rodney is pulling great audience numbers for, Jersey Boys, now playing Sydney's Theatre Royal. And he's bursting with enthusiasm for latest venture – the massively successful Broadway jukebox musical Rock of Ages, which opened at Melbourne's Comedy Theatre in April.
We meet on a stinking hot day in the very cool inner-Sydney offices of newtheatricals, the production company he founded in 2004 after some time with both The Gordon/Frost Organisation and the now sadly diminished Jacobsen Corporation. His end room looks directly at that grand 19th century icon, the Queen Victoria Building. Clearly proclaiming the 21st century online age, the company's name has no capital letters, nor any space between the words.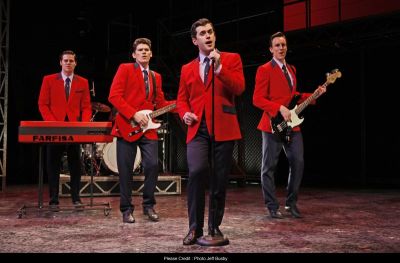 He doesn't look your traditional 'big-time producer'. Tall and slim, in jeans and an open, blue-check shirt, he sports a spiky modern haircut with plenty of grey on display. His darting blue eyes are bright. He's unstoppable when he talks about his work, noticeably reticent when I try more personal questions. It seems unlikely that he will tell me his age.
How did he get involved with Rock of Ages?
"I came across the show in 2008," he says, "when one of the New York producers asked me if I wanted to get involved in the off-Broadway production, but we were down to securing our last chunk of money for Jersey Boys. I kept in contact with the guys, as I always do, and it opened off-Broadway to the most incredible reviews. There was an immediate bidding war and the film rights were sold [due in 2012 and rumoured to star Tom Cruise, Alec Baldwin, Gwyneth Paltrow, etc.].
"I went across to the Broadway opening in April 2009. Not quite sure what to expect, I walked into the back of the stalls and everybody was standing and chatting, drinking. I thought 'this is like a nightclub'. And then a guitarist walked on stage and started doing a riff, the audience sat down and the whole evening just exploded."
Rock of Agesis set in an 80s Los Angeles rock club, and features over two dozen high-energy "rock anthems", the kind of heavy-rotation radio tracks you've heard and hummed along to maybe ten thousand times each.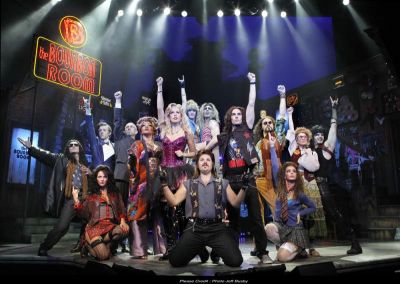 "You may not think you know them, but you do. You know High Enough, you know Don't Stop Believin', you know Here I Go Again. You just KNOW all these wonderful numbers."
So who had the idea of stitching them into a musical?
"Carl Levin and Matt Weaver, the two operatives of the Broadway producing group, had the idea for the show," says Rigby. "They were driving down Sunset Strip in Hollywood when Don't Stop Believin' [the 1981 hit by Journey] came on the radio. They start singing along to it, and they say 'wouldn't it be a great idea to get all these great rock anthems and create a musical'. And that's exactly what they did over the next five years. Matt's a film producer, Carl was a merchant banker, and they did this on the side. It was their 'garage project'. They thought that maybe an off-Broadway production would be the end product and they could then get on with their lives, but, no, it clicked the switch and now it's rolling out around the world. It just shows you that a great idea for a musical can come from anywhere.
"For me Rock of Ages is a sort of a male bookend to Mamma Mia! The original tracks were very masculine material. I think the really smart thing the original producers did was to engage Kristin Hanggi to direct and Kelly Devine to choreograph. You've got two women driving the show artistically so there is no danger that the sexual balance goes in the wrong direction. If guys had got hold of it, it could have been a different sort of show altogether and that certainly would not have interested me. It's a very sexy show, the girls are really hot – boy, do they dance!"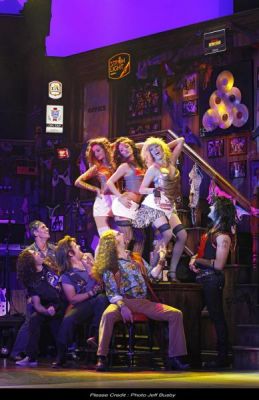 How does he feel about doing another jukebox musical?
He smiles ruefully. "We spent four years telling the world that Jersey Boys was NOT a jukebox musical. But Rock of Ages IS a jukebox musical and we're very proud of the fact. It just reinforces the incredible diversity of theatre that you can have Rock of Ages sit right next to Memphis or Phantom or Wicked and they compliment each other."
Would he like to do a more traditional musical next?
"I'm completely open. I'm producing for what I think the market wants to see. From a personal perspective, I've got to seriously care about the project. Am I entertained by it? Do I respect the writing, the story-telling, and all the various creatives involved. If a show's going to cost 5 million or 12 million dollars, [the Australian Rock of Ages is rumoured to cost $6 million] you're either going to have the faith, trust and respect of your partnerships or you're not. And if you're not, you're better off doing something else."
When I ask how he feels to be compared with the ever-busy John Frost, he becomes immediately less fluent. "That's commentary best dealt with by others rather than by me," is all he will say.
I ask a little about his background: there is zero information available via Google, an unusual state of affairs for a figure growing in national theatre importance.
"I'm from Melbourne originally," he says, "but I've been living in Sydney really since my mid-20s.
"The very first musical I saw was Harry M. Miller's production of Jesus Christ Superstar at the Palais Theatre, St. Kilda. It was revolutionary under Jim Sharman's direction and Brian Thomson's design. Reg Livermore was playing Herod. That was fascinating, going there as a school kid, seeing the impact on the audience."
I check later. That was around 1973. Which puts the former 'schoolkid' now in his late 40s. Did he ever want to be a performer?
He shakes his head; it's almost a shiver. "I was a hopeless actor. My first professional job was pushing props backstage. I was a misfit at college – I didn't understand what I was there for. I studied drama, on the campus of Melbourne University.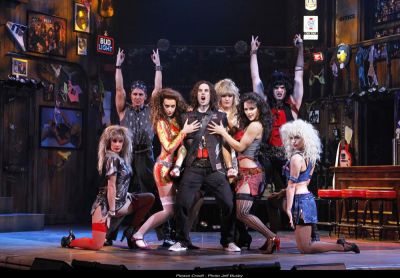 "I annoyed the daylights out of this prop hire guy for six months until I drove him insane and he gave me a job. And as soon as I got the job I left college. I didn't miss it and no one missed me.
"From there I moved to stage management, then company management and administration – I worked my way up through the backstage part of the business here and in London. That gave me a very solid basis in the physical elements of what makes a show come together."
Yes, I see immediately that Rodney Rigby would have been a brilliant stage and company manager. I've met and marvelled at some of the best of them. They have a very special blend of firmness, understanding and rock-solid reliability. It makes Rigby a different, new kind of producer.
And he's a great ambassador for Australian theatre. "The theatre skill base here in Australia is as equal across all its endeavours as anywhere else in the world," he says. "There's just no issue about that at all. Our artists are fantastic; they are in some respects stronger in the musical theatre world than, say, some of the British people. I think our dancers are stronger; we have a different attitude to dance. And the quality of our technical people is fantastic."
It's a long way from the prop hire shop to the top of the musical theatre business, but Rodney appears quite comfortable in his new stratosphere and intends to stay there.
Other links
Read our feature on young Rock of Ages star Amy Lehpamer - Link
Our Review - Link
To keep up with the latest news and reviews, like Stage Whispers on Facebook, or follow us on Twitter
Images: Top - Rodney Rigby with the Broadway cast of Rock of Ages (Photographer: Bruce Glikas)
Jersey Boys - Australian Cast (Photographer: Jeff Busby)
Rock of Ages - Australian Cast (Photographer: Jeff Busby)
Originally published in the March / April 2011 print edition of Stage Whispers.