Snowmen
The male leads play second fiddle in the Disney musical Frozen – which centres on the relationship between two sisters – but they don't mind at all. David Spicer spoke to the men playing Olaf, Hans and Kristoff at the beginning of what is expected to be a national tour.
Matt Lee is a Disney veteran, having toured the world as Bert in Mary Poppins. In this production he's swapping soot for snow as the hot Snowman Olaf.
David Spicer: When you started rehearsals did you think it was a dicey whether you'd actually get here, because of the way the world is?
Matt Lee: We were supposed to start June/July. It was great that we were delayed, but not cancelled. It was quite surreal going back to work because it has been so long, but I think it is something that our community was crying out for, in terms of being able to just reconnect with each other.
DS: How has the rehearsal process been different?
ML: Disney looked after us very well. We had sanitisation stations - everyone was in masks unless on the floor performing material. Our chairs were 1.5 metres apart, everyone was diligent to do it correctly and we all get tested once a week.
DS: And now you are performing?
ML: We don't socially distance on stage, but all the backstage change areas are spread out. We have our masks on in the wings and everywhere we warm up, following all the guidelines to a T.
DS: Are you in a bubble like the footballers?
ML: No, but as adults in the supermarket or on public transport we are all very diligent about wearing masks.
DS: Tell us about your role.
ML: I get to play the character of Olaf the Snowman, which Elsa creates whilst she is honing her powers. Elsa and Anna build this snowman as a companion for them, but as the story progresses they drift apart. He is so brilliant and has no filter. He says things as he sees it. It is just an honest, joyous character to play.
DS: Is it a bit odd to be playing a character made of snow in the middle of Summer?
ML: The irony of the character is that he is obsessed with Summer. He does not realise that putting a snowman in Summer means he is going to melt. (But Olaf) dreams big and won't let any obstacles get in his way. So, it is quite fitting that we are opening Frozen in Summer.
DS: It must be pretty hot on stage under the lights. Could you describe your costume?
ML: He has a nice big fluffy hat, an extravagant overcoat with fur and amazing laced up hiking boots. It is very cool.
DS: It is cool, but it is hot?
ML: Every show I have done I have been hot in the theatre. This is no different.
DS: Do you lose weight?
ML: Any time you're in a musical theatre show, being physical eight times a week, you get show fit and your body adapts. I always love being in a show and getting a bit of definition in places, which I embrace.
DS: Where do you get that definition?
ML: I am talking about my upper body and my upper arms. The puppet sits in front of me. I take all the weight of the puppet on my upper back, so my shoulders get a little broader.
DS: None of which we will see, because you are on stage covered in fur, with the puppet in front of you. Is this a bit like Avenue Q, where the puppet is central?
ML: It is more like the puppet character of Timon in The Lion King. So many of the younger members of the audience don't see me, just the puppet. Other characters react to the puppet; I also react to the puppet.
DS: You are his shadow?
ML: Yes. I am moving him around the stage.
DS: You have seen Frozen up close - what are the most special scenic effects?
ML: I can guarantee there's some snow in the show and the proscenium gets frozen over. Elsa's transformation at the end of the first act is spectacular.
DS: What is your highlight?
ML: When Olaf sings "In Summer" - it transforms into summer.
DS: How much stuff is backstage?
ML: There are props, and sets left, right and centre. Some of it is hanging overhead for Act 2 and that gets switched at interval.
DS: With Frozen, the story – based on Hans Christian Andersen's fable The Snow Queen - is centred on a relationship between two sisters. How appropriate is this for the times?
ML: I think it is refreshing and absolutely needed as we have come through the #MeToo movement. We are in 2020. This tells a story not about the love of a man and woman, but about love between two sisters, which carries just as much weight as a romantic relationship. It won't surprise anyone to hear that this show is led by two stupidly talented women (Jemma Rix and Courtney Monsma).
DS: Why do you think this musical, at this time, is going to be a little different for audiences?
ML: This is a story about isolation. It is a story about a girl who feels isolated because she does not understand her powers. We have all been isolated and kept away from our family. Anna feels the same way. Being a story about family, this a very heart-warming story for the time.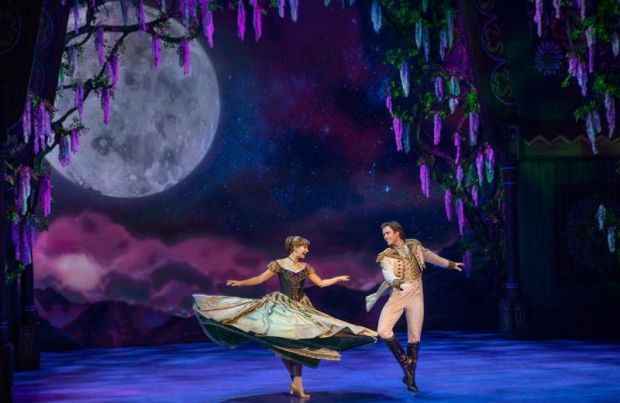 Thomas McGuane is fulfilling a childhood fantasy to play the Disney Prince, Hans.
DS: Were you much of a Disney geek as a kid?
TM: Yep. I was the kid who was singing Disney songs until early hours of the morning and then again all the way through the day. I was obsessed with "Go The Distance" from Hercules. We actually did Disney Trivia the other night and, needless to say, I got all the of the questions right!
DS: Did you ever think you would be a handsome Prince in a Disney musical?
TM: I've always dreamt of being in a Disney musical. The fact that I'm a Disney Prince is an extra bonus on top of the fact that I'm doing this show at all, plain and simple. It's pretty fun playing such a well-known character.
DS: How have you found the process of rehearsing during 2020?
TM: This is my first time doing a Disney musical so it's quite huge for me in many ways – there are so many technical aspects to the show that we learn in rehearsals and obviously this year has had other challenges. However, even with all of that going on, it's been such a wonderful experience getting back into work and rehearsing.
DS: How has it been different to other productions you have been in?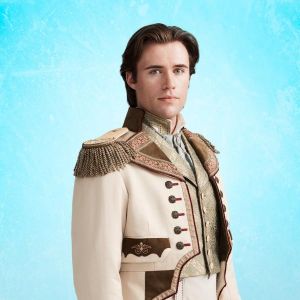 TM: The technical aspects to this show are phenomenal – you have to be so specific. It's elating and scary but exciting all at the same time. I've never witnessed being in a rehearsal room where there are 'ice strikes' happening and such dynamic lighting and an amazing orchestra.
DS: What is the most fun you have in the show?
TM: Probably the number "Love Is an Open Door". From the get-go, learning that choreography was really fun and special, while also being the most physically demanding part of the show for me.
DS: Is there a scene that you've seen that makes your jaw drop?
TM: I don't want to give it away but there is one scene in the show that makes my jaw drop. As an actor and as a character, it blows my mind. The intensity of it, the sound effects, the smoke, the lighting coming at you - It makes my jaw drop every single time. It's incredible, but if you want to know more you'll have to come and see the show.
DS: In the musical your character is left in charge of the kingdom when the Queen leaves town. How would you describe the way your character runs the place?
TM: Hans is a character who has never had much responsibility in life; he's never had to take care of a kingdom - he's 13th in line. Then suddenly he's thrust into taking care of the entire kingdom. I think he's trying to do everything by the book. He's trying to do it with humility and grace and as much leadership as he can muster. I don't want to give away the story, but he does also have some interesting twists and turns in his plotline – I can sometimes hear the gasps from the stage from people in the audience.
DS: Is playing a villain more satisfying than portraying a hero?
TM: I don't think it's more satisfying necessarily – I think I'd have fun playing either to be honest.
DS: Would the world be a better place if there were more Ice Queens than Ice Kings?
TM: Yes! I think men have taken it upon ourselves for too long to feel like we should be in charge of too many things. If I take that back to Hans, when he is the 13th in line of all brothers, it is hard to justify his decision, when he suddenly sees an opportunity to grab power and take over an entire kingdom. As a character it's quite juicy to play, but if it was real life, Hans is morally reprehensible.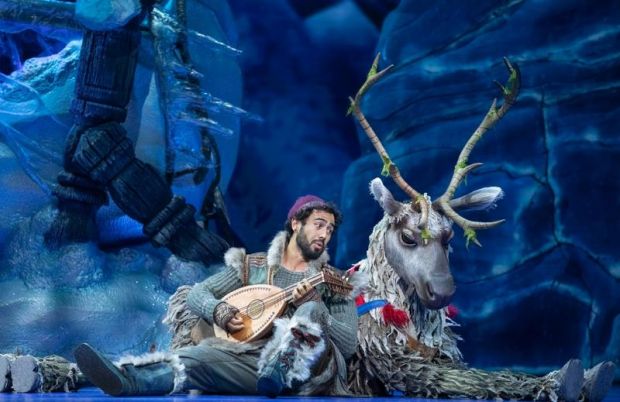 Sean Sinclair has scored the role of Kristoff, an iceman who lives together with his furry side-kick Sven.
DS: Kristoff is an ice harvester with a reindeer. Is that a profession which is hard to get your head around - particularly during a Sydney summer?
SS: I grew up with a pet dog, and I've found having a reindeer is very similar to that. I also once wore a beanie all summer long because of 'fashion', so you could say I'm used to living on the edge like Kristoff does.
DS: Can I ask, is the reindeer an actor in a suit?
SS: You know I can't give anything away! But what I can say is that our reindeer trainers are very professional and some of the best in the world. Other than that, you'll need to come and see the show for yourself.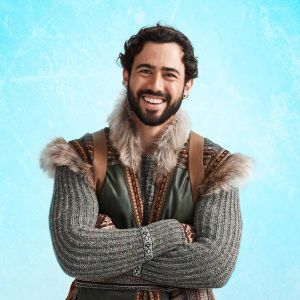 DS: According to one review I read, the reindeer steals the show – do you agree?
SS: He is absolutely the quiet achiever of the show. It's pretty hard to take it away from Jemma or Courtney, who are such amazing performers, but certainly the reindeer holds a special place in people's hearts and the audience reaction has been great to hear.
DS: Is it fair to characterise this musical as one where the women are the leading characters and the men are ornaments or provide comic relief?
SS: Everything about Frozen is geared towards empowering women. It's an incredible story – there should be more stories like this!
DS: How does the fact that women dominate the story influence your approach to the musical?
SS: For me, personally, not at all. I love the book - it's so well written. I'm just along for the ride, trying my best to make sure the story is done justice.
DS: How much fun are you having?
SS: I am having TOO much fun. You won't find anyone else having more fun than me on that stage. My favourite part is the number "Fixer-Upper" in Act Two. Everyone's on stage - everyone's having fun. You'll see it – it's a party! It's exactly what we all need at the end of 2020.
Frozen is playing at Sydney's Capitol Theatre. Other city dates are expected to be announced soon.
Production photos (from top): Jemma Rix, Matt Lee and Courtney Monsma; Courtney Monsma and Thomas McGuane; & Sean Sinclair and Lochie McIntyre. Photographer: Lisa Tomasetti.
Click here to read more about Musicals in 2021 and Beyond