STAGE WHISPERS MAGAZINE: JULY / AUGUST 2021 EDITION OUT NOW!!!
IN THIS EDITION
Stars of Moulin Rouge
Des Flanagan, Alinta Chidzey and Simon Burke chat with David Spicer
Musicals: The Reel Deal
The marriage of screen and stage musicals ramps up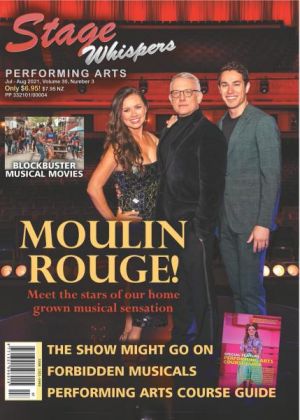 The Show Might Go On
Theatre's bumpy Covid comeback
Back To A Chorus Line
After closing in previews in 2021, the hit musical is back
Forbidden Musicals
Musicals that haven't survived #MeToo and Black Lives Matter
I Want To Be A Young Producer
Debora Krizak chats with some of our youngest entrepreneurs
The Art & History of Puppetry
Puppet treasures from the S,B&W archives
The National Apology Centre
A script excerpt by Hilary Bell
Performing Arts Course Guide
Training for a career in the Performing Arts
PLUS all our regular features
Buy individual copies online at
or at your newsagent.
Subscribe to Stage Whispers print edition for two years or more and receive a free CD, DVD, Blu-ray or book.