Strictly Ballroom The Musical
Latest News - Full Cast Announced.
Baz Luhrmann's Strictly Ballroom The Musical will have its World Premiere season at Sydney's Lyric Theatre in 2014, previewing from March 25, with Opening Night on April 12.
The stage musical based on the much-loved Australian film, to be co-produced by Global Creatures and Bazmark, was launched to the media at Sydney Town Hall today (August 5, 2013) by NSW Premier Barry O'Farrell, Baz Luhrmann and Global Creatures' Carmen Pavlovic.
Strictly Ballroom The Musical is set to tango, sashay and bogo pogo its way onto the stage thanks to the original creative team behind the 1992 film, including director and co-writer Baz Luhrmann, set and costume designer Catherine Martin, choreographer John "Cha Cha" O'Connell and co-writer Craig Pearce.
No casting news at this stage, though an announcement has been promised in the near futute.
Preview at the Media Call Ahead of Opening Night.
According to Baz Luhrmann, "From a small student play to my first motion picture and now a full-blown theatrical stage musical, Strictly Ballroom has been an almost thirty year journey for me. I have often marvelled at how this story, born so long ago, has been in my life for so many years and has managed to touch, move, entertain and uplift so many different people from so many different backgrounds. I think the simple truth is that, despite all the sequins, outrageous hairdos and classic Hollywood musical plotting, the simple message that there isn't only one way to cha cha cha, and that within us all we have the true potential to dance through life with our own steps is something that appeals to all of us. The message that life doesn't have to be strictly ballroom is something I hope to have our audiences carry with them as they dance down the aisles."
"This is the largest press turnout I've seen for the launch of a theatrical show, and I think it speaks obviously to the very great affection that Strictly Ballroom holds in the Australian psyche, and certainly the anticipation, after all this time, of seeing it return to the stage," Carmen Pavlovic, CEO, Global Creaturestold the assembled media
"Global Creatures creates productions at home to take to the world. There isn't a more perfect realisation of our ideals than to develop the world premiere season of Strictly Ballroom The Musical here in Sydney with the creative juggernaut that is Bazmark. Our company is underpinned by an ethos of innovation and whether its dinosaurs, dragons, gorillas or ballroom dancers the aim is always the same – to tell great stories in genre busting ways. I have no doubt that Baz Luhrmann will preserve all of the heart and universality that Strictly Ballroom is famous for whilst delivering to audiences something that has never been experienced before. It's a proud and thrilling collaboration for our company to be in partnership with Baz Luhrmann and Catherine Martin. We believe that Sydney is the rightful beginning for Strictly Ballroom's journey back to the stage and to ensure the international success and recognition it deserves."
NSW Premier Barry O'Farrell told the gathering there are many reasons he was delighted to be at Sydney Town Hall talking about the World Premiere of Strictly Ballroom The Musical.
"Firstly because Strictly Ballroom is clearly identified with this city and this state. 21 years ago the movie was premiered to the world, with takings of $80 million, highlighting scenes from around our city and our state. That's well known.
"What's less well known is that it owes its genesis to a student play at NIDA, in this city, 30 years ago. That's where Baz Luhrmann started with the idea.
"The second reason is that Strictly Ballroom the movie launched onto an unsuspecting world the talent of Baz Luhrmann, and this is a city, this is a state, and indeed this is a country, in which there is enormous creative talent. And that's another reason that it's terrific to be here today, because whether it's Baz Luhrmann and his team, whether it's Carmen Pavlovic, Gerry Ryan and Global Creatures, this is an opportunity to showcase the great and world-class talent in the city.
"Thirdly, of course, we estimate that the World Premiere of this musical in this city will generate something over $20 million during its run, bringing interstate and international visitors to this city, creating jobs, supporting jobs, but importantly, providing opportunities for the great creative talents that exist across NSW. It's terrific to have beaten places like New York and London to have the World Premiere of Strictly Ballroom The Musical here in Sydney, but above all it's great to again showcase Sydney as an global city, but importantly on this occasion to be able to showcase the great and creative talents that exist among us."
Strictly Ballroom The Musical is the story of a championship ballroom dancer who defies all the rules to follow his heart, which originated as a stage play that Baz Luhrmann devised with a group of students at the National Institute of Dramatic Art (NIDA) back in 1984.
Following the first performances, Baz Luhrmann was invited to re-stage the play for the Czechoslovakian World Youth Drama Festival in Bratislava in 1986 where it won best production and Luhrmann best director. Then, after a preview season at the Brisbane Expo in 1988, the play opened at the Wharf Studios in Sydney.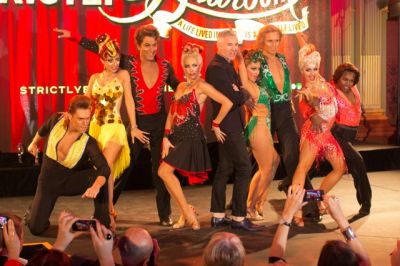 Strictly Ballroom went on to become one of the most successful Australian films of all time, earning more than $80 million at the box office. Discovered at the Cannes Film Festival, it was winner of the Prix de Jeunnesse and runner up for the Palme D'Or. When released in Australia, Strictly Ballroom swept the field at the 1992 Australian Film Institute (AFI) Awards, gaining 13 nominations and winning in eight major categories. It was also a major success at the 1993 BAFTA awards, where it garnered eight nominations and won three awards for Best Costume Design, Best Original Film Score and Best Production Design. Other accolades included a 1994 Golden Globe nomination for Best Picture, Newcomer of the Year at the 1993 London Critics Circle Film Awards, the People's Choice at the 1992 Toronto International Film Festival and Most Popular Film at the Vancouver International Film Festival. With the success of the film, its closing song, a remake of the John Paul Young song Love is in the Air, re-entered the Australian charts and became a Top 5 hit in October 1992.
In a brand new theatrical production, Strictly Ballroom The Musical will bring this iconic story to life on stage. It will feature break-into-song numbers created from original classics from the film, Love is in the Air, Perhaps Perhaps Perhaps, and Time After Time as well as newly composed songs.
Strictly Ballroom The Musical will be produced in Australia by Global Creatures and Bazmark together with the support of Destination NSW, the NSW Government's tourism and major events agency and the City of Sydney.
www.strictlyballroomthemusical.com
On Sale: Tickets on Sale at 9am on Monday 12 August
Venue: Sydney Lyric, The Star
Dates: Previews from Tuesday 25 March, 2014. Opening Night Saturday 12 April
Bookings:
Ticketmaster.com.au or 1300 795 267
Groups 20+ and School Groups 20+ call 02 8420 2290
Premium Tickets, VIP and Hotel Packages – call 1300 4 SHOWS or showbiz.com.au/strictlyballroom