Telling Their Tales at Adelaide Fringe
Our SA correspondent Mark Wickett talks to Bella Green and Jon Bennett about their forthcoming shows at the Adelaide Fringe in 2021.
Bella and Jon are storytellers, drawing drama from their lives – often intimately – to share with their audiences and make them laugh. Their acts are not just stand-up, they peel back secrets, they dare their audience to think about them, and they poke fun at the revelations. Audiences are hungry to escape the negative in 2020, desperate for something to laugh at, as well as think about – and Bella and Jon bring acts to the Adelaide Fringe that satisfy these demands.
Bella Green is Charging For It is a revelation of the adult industry, winning Best Comedy at Adelaide Fringe in 2020 and Bella is delighted to be back in 2021. Her audiences are diverse, with a mixture of ages and backgrounds, from those with just intrigue but no experience of her world, to clients of these industries ("you can tell which group they're in by the jokes they laugh at"), and the sex-workers themselves, who have been very receptive of her act:
"By us, for us", says Bella, proud to poke fun at her work and her clients. She is one of only 120 acts from outside South Australia, a number much reduced because of Covid-19 restrictions, but for both Jon and her, the pandemic will not be part of their storytelling in 2021.
"There must be a lot of corona-inspired shows in development," says Bella, and Jon agrees, saying that with people still living this, their audiences need to listen to other stories.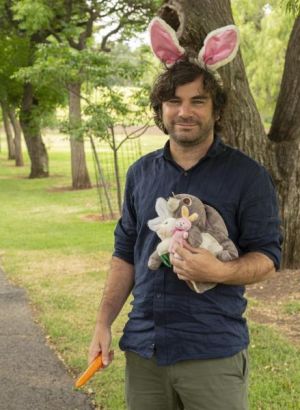 All of Jon's shows have strong narratives: whilst on the surface, they could be pigeon-holed as stand-up comedy, his stories are central to his shows silly and serious.
Pretending Things Are A Cock started life as a black-and-white photograph of a carefully placed toothbrush, evolved to an art exhibition, and is now a successful show looking at how everyday objects (and people) can be transformed into images of the male appendage.
IT'S RABBIT NIGHT!!! is about rabbits. With free carrots. It's not a show where you can turn up and sit back: you're going to be a part of it; what you do, how you respond, will steer Jon's stories. He says that the show can evolve through the season and can get very surreal – it's an act not easily categorised and definitely word-of-mouth.
Jon Bennett vs Jason Donovan is a show where the audience and comedians play a 1990s board game with strange questions about the titular soap and pop star (Jason, not Jon!).
But we do get to know a lot more about Jon's early life: in Jon Bennett: Playing with Men, he shares his stories of manhood, of growing up as a footy-playing boy in the country, being told what's okay and what isn't, and having it all challenged by a community tragedy.
"I try to deconstruct a lot of that toxic masculinity," says Jon, "and encourage men to go and talk to other men about their feelings."
The Aussie male archetype is prominent in Bella's stories too:
"I see a lot of male vulnerability," she admits, "and I actually like men a lot more than you might expect from someone in my line of work."
In both Bella Green is Charging For It and Jon Bennett: Playing With Men, Bella and Jon use laughter – often from dark humour – to demystify men: whether it is those who engage a companion, or those who dare not cry on a footy field.
If you want to forget about the pandemic for a while, or you're just eager for intelligent comedy and insight, Bella and Jon are going to put tears in your eyes: from laughing or crying – maybe both at the same time.
Bella Green is Charging For It – The Lark, Gluttony, from 19 February 2021
Jon Bennett: Playing with Men – The Piglet, Gluttony, from 3 March 2021
Pretending Things Are A Cock – The Piglet, Gluttony, from 19 February 2021
IT'S RABBIT NIGHT!!! – The Piglet, Gluttony, from 19 February 2021
Jon Bennett vs Jason Donovan – Main Stage at ARTHUR ARTBAR, from 21 February 2021