Times Are A-Changin' for McCune and Dylan
Image: Lisa McCune.
Lisa McCune talks to Coral Drouyn about her role in Girl From The North Country, life and theatre at 25 and 50, and plans for the future.
Our home grown darling of stage and screen was not even born when the iconic Bob Dylan became part of the human psyche through his folk and protest songs. She was barely aware of his name when he went electric, shocking some stalwart fans. And by 1987, when 16-year-old Lisa was accepted into what is now WAAPA – their youngest student ever to study musical theatre - Dylan had been forgotten by all but his most avid supporters, and the rest of the world didn't care that much.
'He was never really on my radar, to be honest,' Lisa tells me candidly. 'It's not that I thought he was good or bad; he didn't even warrant an opinion I'm ashamed to say. I was totally besotted with Musical Theatre. Stephen Sondheim was my idol and every song of his was a revelation that I wanted to sing. Besides, I wasn't old enough to have anything to protest,' she adds with a chuckle.
The truth is that Lisa's incandescent star was rising just as Dylan's nebulous talent was seemingly burning out, and the fairy story of the Stage Princess and the White Dwarf with the folk guitar was still years away from being written. In the ensuing twenty years, Lisa became a Superstar in Australia. Along with Blue Heelers, which brought her four Gold Logies, there was a slew of other TV series in which she starred, plus some of best-known female roles in Musical Theatre. Maggie Doyle may have died, but Lisa breathed new life into Maria in The Sound of Music, Sally Bowles in Cabaret, Nellie in South Pacific and Mrs Anna in The King and I. Then she returned to television and turned her hand to comedy. She's driven by the work. She loves it, and it loves her in return. That's how Superstars are born. But in Dylan's case the opposite was true. 20+ years of endless touring without hits only served to make him over-familiar to the fans who loved him, and irrelevant to those who didn't care. The work was driving him into becoming a footnote in the history of music.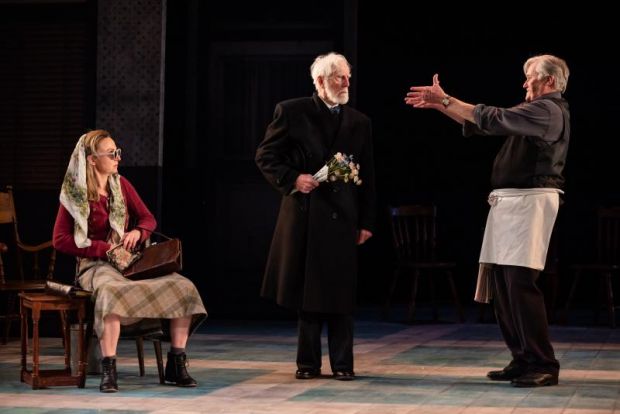 Image: Lisa McCune, Peter Carroll and Peter Kowitz.
Two very different talents, who never crossed paths. I am reminded of one of my favourite lyrics from the fifties, when Tommy Edwards sang, "She lived on the morning side of the mountain, and he lived on the twilight side of the hill." Lisa and Bob - so far apart. It takes a third character to bring them together.
Enter Conor McPherson, a brilliantly talented Irish playwright, who like Lisa (both were born in the same year) found stardom early. His play The Weir was a highly praised success and, like Lisa, he wasn't content to stay in one medium - writing became integrated with directing. But McPherson was surprised when he was asked if he could write a play and integrate it with Dylan's music, which is hardly the stuff of Musical Theatre. But once the seed had been planted, McPherson had to at least check to see how it might grow. He discovered that Dylan (always a great songwriter) had created a portfolio of great story songs and, almost against his will, the cogs started to turn in his mind.
It wouldn't be true to say that Conor McPherson's play with music would inevitably bring Dylan and McCune into the same orbit. The truth is that all three artists are consummate storytellers, and storytellers gravitate towards each other. From Dylan's songs McPherson was inspired to create a play about the depression and a group of struggling ordinary people trying to deal with life. Almost every line from a Dylan song could inspire a scene, and almost every character could find relevance in the same Dylan song. After all, all the best stories are universal. And so, Girl from The North Country, a deceptively simple song from Dylan's early years became a musical in the loosest sense of the word. McPherson tapped the emotional gold in Dylan's emotional mine and directed his "musical" with truth and poignancy that leaves audiences uplifted and inspired, and that's not an easy thing to do. Covid brought the Broadway production to its knees before it barely had time to stand on its feet, but everyone who saw it was touched by the magic. Dylan himself saw it and was moved almost to tears. So absorbed was he by the drama that he says he completely forgot they were his songs.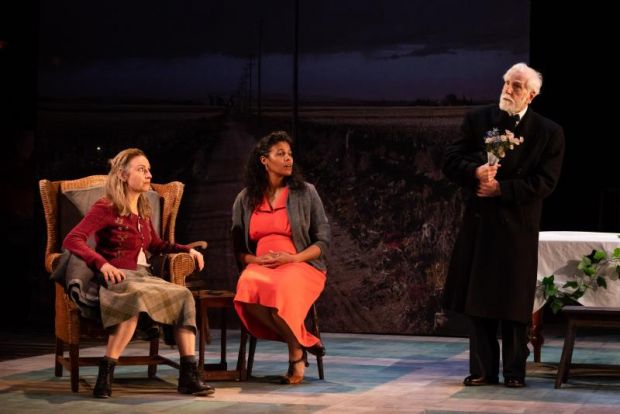 Image: Lisa McCune, Zahra Newman and Peter Carroll.
Once it was confirmed that GWB Entertainment had secured the musical for Australia, its managing director Rob Brookman (of Adelaide Festival fame) contacted Lisa to say she had to see the show as there was a part in it that was perfect for her. Lisa and Rob had worked together many times before and they were friends, so she didn't need much coaxing. Lisa saw the show and fell in love with it. I was surprised to learn that she auditioned long distance for the writer/director, but Lisa insisted on it.
'After all, he didn't know my work at all. I would never ask anyone to take a chance like that. I'd much rather audition than let my CV 'sell' me,' Lisa explained. 'And it's also important to me to know if we share the same vision - want and expect the same things from a show. That's always been a big part of my work - connecting all the pieces and knowing that the end-result will produce the same vision we all shared.'
Lisa and Conor spent two hours online and a deep connection was made between them.
'He was just lovely,' Lisa tells me. 'He kept saying, "she is YOUR Elizabeth, not mine. You will find a different truth to her." That alone made me want to work with him, and suddenly, after a few years away from the stage, I knew I had to get back to my roots and I truly wanted the part.'
I ask Lisa if stage is her main love and if it's easier to build a performance chronologically from beginning to end rather than piecemeal for the camera.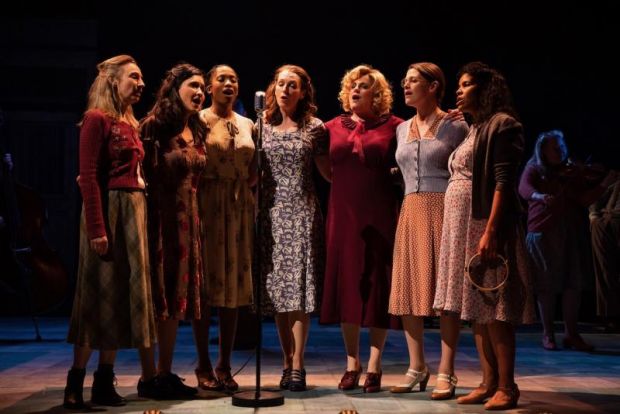 Image: Girl From The North Country Ensemble
'You know what,' Lisa says, 'I honestly love them both equally. I have an emotional filing system for on-screen which keeps me on track when shooting out of sequence. I'm able to switch back and forth from stage to screen without much stress, even though they require such different techniques. That's why I love this job, career, art, whatever, so much. There is so much variety. In another life I want to be Hugo Weaving.'
I laugh at the image, but Lisa is serious. 'Look at his body of work. It is astounding,' she says earnestly. 'There isn't anything he doesn't do brilliantly. All of it. Comedy, tragedy, even comic book characters. He elevates every role he plays, and you just can't pigeon-hole his work, ever. So, I want to be Hugo Weaving!' she ends decisively.
I point out that Hugo Weaving couldn't take his bra off, like Lisa did in Rake, but she's not convinced. 'Ah, but he'd make you believe that he could, and that's the essence of great acting - finding the truth that the audience can believe. I think, I hope, that I can do that some of the time, though I strive for it every time,' she explains. 'I'm certainly better at it than I was 25 years ago. I'm a grown up now. Well, mostly. Let's face it, I'm old enough to play a grandmother. Actually I'm old enough to BE a grandmother, but I still call them "the kids" and there's more time to enjoy them now as young adults.'
Since Lisa gets to sing the anthem "Like a Rolling Stone" in Girl from the North Country, I can't resist asking her
"How does it feel, to be on your own….?"
'It feels wonderful,' she replies without hesitation. 'And I actually feel in many ways much freer than I did when "stardom" - however you define it - struck at 22. I can be more spontaneous; I don't have to hold back anything because of expectations. It's marvellous to have that freedom, especially coming out of this long lockdown of The Arts. Hopefully we can build a new and better world of entertainment.'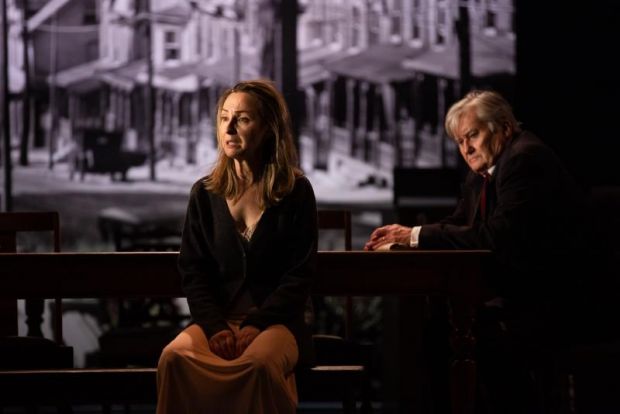 Image: Lisa McCune and Peter Kowitz.
And what would that world look like for her, I ask?
'Hmmm … probably it would mean me alternating projects, and mediums,' she responds. 'So, a stage show, followed by a series, or a film, then another show. That would be perfect, because I'm so much more interested now in how everything works - each tiny little piece of action. I've always been that way with scripts but now it's the technical side as well. But even now, with this wonderful script of Conor's, I find myself thinking – "what lyric of Dylan's inspired that line" and I just have to explore that. It just makes the whole experience so much richer.' She pauses for a moment, thoughtfully. 'When you're a young actor you absorb everything. You're like a sponge. Usually, mid-career, you tend to outgrow your sponge-like phase. Somehow, I never did and now I want to absorb every aspect more than ever. I want it all.'
Does that mean moving to directing, I ask?
'Maybe … probably," she concedes, "but not before I get to do one big epic on screen and wear stunning gowns and wigs - like Tilda Swinton in Narnia. I haven't given up wanting ultimate glamour … just to see what it feels like.'
And, knowing Lisa, it will feel amazing - for her and for us.
Girl from the North Country opened at Sydney's Theatre Royal as part of the Sydney Festival on January 5th, 2022, moving on to the Adelaide Festival, followed by Melbourne. Other states are waiting with bated breath.
Images from the Australian production of Girl From The North Country by Daniel Bour.
READ OUR REVIEW.