TONY SHELDON'S AMAZING TRIFECTA
On the eve of the Broadway opening of Priscilla Queen of the Desert – The Musical, Peter Pinne had a Q&A with star Tony Sheldon about the show, the role of Bernadette, and his historic theatrical achievement, which appeared as the cover story in our May / June print edition.
Peter Pinne: Tony, you have made history, becoming the first Australian performer to star in an Australian musical in Australia, London and New York. How does it feel?
TS: It's a dream come true. As far back as The Venetian Twins in 1979 I'd hoped to come overseas with an Australian musical, but the arrangements always fell through at the last minute. Consequently, whenever it was suggested that I might travel with Priscilla I resolutely refused to get my hopes up because I didn't want to be disappointed. But thanks to our director Simon Phillips and producer Garry McQuin having so much faith in me, this has been a life-changing experience.
PP: The show has been enormously successful. Are you surprised by it?
Tony Sheldon: I had an inkling that we were on to something special during that first ten-day workshop in 2006. The film's construction lent itself very well to the stage and when we went into production every decision by the production team seemed to be particularly inspired, so I never lost confidence in the project.
PP: Why do you think audiences enjoy it so much?
TS: What's not to love? Apart from the extraordinarily witty costumes, the hit songs that everyone remembers from the original movie, and the fabulous bus itself, the story of three misfits forming their own dysfunctional family strikes a chord with a huge cross-section of the audience. People seem to be quite overwhelmed by the show when they see it and frequently go straight out to buy tickets for the next performance.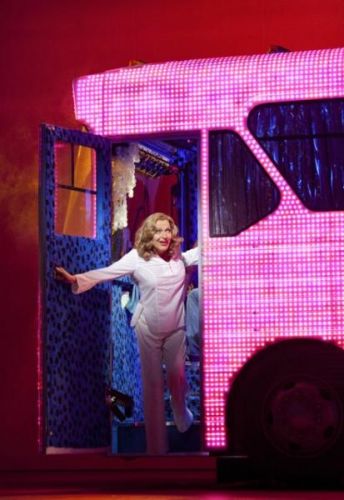 PP: Is the Broadway version different to the London one?
TS: The first fifteen minutes have been extensively retooled, several numbers have been edited and tightened, the last scene has been cut and two or three songs have been replaced.
PP: Has the book been rewritten for Broadway?
TS: Not completely, not in the way that The Boy From Oz was taken over by a completely new production team for Broadway. We've basically changed references that wouldn't mean anything over here. Expressions like "he shot through" just confuse people. They think you've actually shot someone. And I can't tell you how difficult it has been to find a suitable replacement for the Monte Carlo biscuit gag!
PP: Is the show still profanity laden and deliciously vulgar or have they cleaned it up for Broadway?
TS: It's still pretty raw, but not quite as relentless. Surprisingly, Bette Midler was the one who had the most objections to the vulgarities in the script, and, as one of our leading producers, her opinion counts!
PP: Are there any new songs in the Broadway version?
TS: All the Kylie material has gone, replaced by Madonna songs. "It's Raining Men" has replaced both "Downtown" and "I've Never Been To Me." "True Colours" has replaced "Both Sides Now."
PP: Early marketing ads seem to pitch the show as a feel-good musical and play down that it's actually about three drag queens. Is this the case?
TS: A great deal of thought goes into marketing. If they think that's the best way to get bums on seats then so be it. As far as I can tell they've never found a way to market this piece to everyone's satisfaction anywhere in the world. Someone always finds something to complain about.
PP: You've lived with the character of Bernadette for almost five years. How do you keep it fresh?
TS: She's a pretty well rounded character, so there are lots of facets to play. And the only way to get stale is to repeat a performance automatically, which I could never do. You should always strive to improve on the previous night's show. Besides, I'm always listening to the audience, I have wonderful actors to play off, I'm never offstage, always singing and dancing or changing costume, so there's no time to be bored or to get into a rut.
PP: Sustaining a character over a long run is very hard work. How do you keep yourself fit?
TS: Sleep, exercise, healthy eating, no late nights or smoking and drinking. You have to live like an athlete. I would never have been able to sustain this role ten years ago; my lifestyle was too unhealthy, but the universe decided to drop it in my lap at exactly the right time.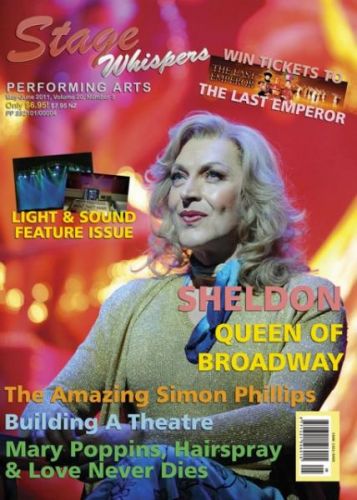 PP: Apart from the obvious, lots of theatre, what are some of the other joys of living in New York?
TS: Well, I'm biased because I've always considered New York the greatest city in the world for a performer. The people are incredibly welcoming and friendly, the buildings are a constant source of wonder, the public transport is easy to negotiate, the museums and art galleries are unique, there is good food to be had everywhere, there are street fairs every weekend when the weather is fine. And some of the best shows in town aren't on Broadway; they're in warehouses, churches, brownstone houses, and all sorts of exciting places.
PP: Do fans wait outside the theatre after a performance for your autograph?
TS: Heaps of them. It's all very well organized, with minders who meet you as you leave the stage door with a choice of felt pens; then you make your way along a barricade signing everyone's programmes and posters and posing for pictures. Another minder waits at the end to collect your pen when you've finished.
PP: What's the difference between audiences in Australia, London and New York?
TS: I can only speak for Priscilla's audiences and I'd have to say no difference whatsoever.
PP: I'm told the NY Times said you were indispensable to the show? Is that correct?
TS: They reviewed the show in Sydney and London and always said nice things about me. I've been interviewed or profiled in the New York press more often in the past few weeks than in the Australian mainstream papers over the past forty years. This is a city that really values and supports its actors and theatre.
PP: I'm told that when the show opened in London and became a hit that some Broadway producers crossed the pond to see it. One of them said, "Well, the first thing that has to go is the bus." Is this true?
TS: Yes, one producer had seventeen pages of notes and the last item said, "Ditch the bus." Another one said that we couldn't have the stuffed koalas and kangaroos that the bus runs over because Americans wouldn't tolerate roadkill onstage. They should see what's going on over at The Book of Mormon; that show makes us look like Romper Room.
PP: Were you always going to play it on Broadway or did you have to fight for the role?
TS: I'm told no-one else was even considered. I still can't believe how loyal everyone has been to me.
PP: Word was that you were not happy in the London production? Are you able to illuminate why?
TS: It's a long story. I was desperately unhappy with a lot of unprofessional behavior, which led me to behave unprofessionally, and when my contract expired after a year I chose not to renew. I thought that would put an end to my chances of playing Broadway, but as it turned out I was wrong. It was all so unfortunate because I adored London, I made some very dear friends there and I'd go back like a shot.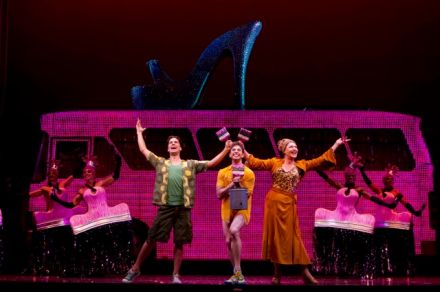 PP: You were nominated for an Olivier Award. That's a great honor. Were you thrilled?
TS: I have to be honest, I'm not a great fan of awards. I think they might be useful for the marketing people to sell the show, but personally I find the entire situation rather embarrassing and stressful. I never believed for one second that I had a chance of winning the Olivier because the previous two winners had been Michael Ball in Hairspray and Douglas Hodge in La Cage, so they weren't about to give it to the guy in the dress three years running.
PP: Were you in London for the ceremony?
TS: I was at the ceremony very much against my will. All the big musicals had their own tables and everyone sat glaring resentfully across the room at each other. I wasn't introduced to a single person apart from the Priscilla team and as my category drew nearer I realized with horror that most people at my table actually thought I could win. The disappointment on their faces when I didn't was devastating. I felt personally responsible and couldn't get out of there fast enough.
PP: Did the Canadian audiences love the show when you tried it out there just prior to Broadway?
TS: They adored it with a passion, the same as everywhere. The audiences just go nuts.
PP: The reviews were excellent?
TS: Our reviews are always mixed. It's the curse of the "jukebox musical". Usually we get slammed by the first couple, then the next wave are progressively more enthusiastic. When the first reviews came out in London they were so dismissive I thought we were going to be deported. And now the West End production is in its third year.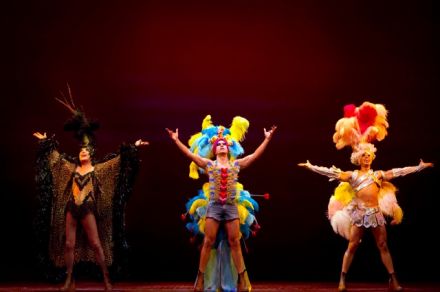 PP: Do you think the Broadway critics will mirror those of Toronto and London?
TS: I have no idea. I expect so. At least they don't all come on opening night. They see the show through the final week of previews.
PP: Let's hope they're raves and let's hope a Tony Award is in the offering. In the meantime enjoy your deserved success and good luck for the opening. May it be brilliant!
TS: Please, let's not get started on the Tony Awards. But I would be very happy with Priscilla becoming a permanent New York tourist attraction!
Priscilla Queen of the Desert – The Musical opened at the Palace Theatre, New York, 22 February 2011, to 7 raves, 3 favorable, and 2 mixed reviews. Tony Sheldon was highly praised by all reviewers and subsequently received a Tony Award nomination (the Tony Awards Ceremony takes place on June 12, and will be broadcast live on Bio [Foxtel and Ausstar] from 10am [EST] on Monday, June 13 - Queen's Birthday holiday).
Tony has already been honoured with a Theatre World Award.
The show looks set for a long run with a weekly regularly around the 1 million dollar mark.
This story was originally published in the May / June 2011 print edition of Stage Whispers. For more on the print edition, click here.
Photographer: Joan Marcus.
To keep up with the latest news and reviews at Stage Whispers, click here to like us on Facebook, or follow us on Twitter.
See Tony Sheldon interviewed about his Tony nomination by Show People.