What a Way to Make a Living!
Coral Drouyn looks at the bad old days in the workplace and the musical they inspired, which is in its last week in Sydney before transfering to Brisbane and Melbourne.
Do you remember 9 to 5? No, I'm not talking about the Dolly Parton song, or the 1980 film it inspired. I'm talking about the good old/bad old days - just two or three years ago, before we started wearing tracky-dacks to our Zoom business meetings, and we shared coffee in a real workplace and gossiped around the water cooler about how much we hated our boss … and we LOVED to hate him or her. Will those days just fade from our memories in a post pandemic world? That's rhetorical … no answers necessary.
Okay, all kidding aside … I really AM talking about the song, and the film, and the water cooler, and the boss, and the return of live theatre, and the homage to Girl Power (and doesn't Dolly Parton personify that?) and the wonderful satire and broad comedy of the movie. The feminist movie (when female employees kidnap their boss because they can run the business far more efficiently, what else could you call it?) became a Broadway Musical that has taken 14 years to reach our shores in a full professional production, and we need its humour and broad aspirational message now more than ever.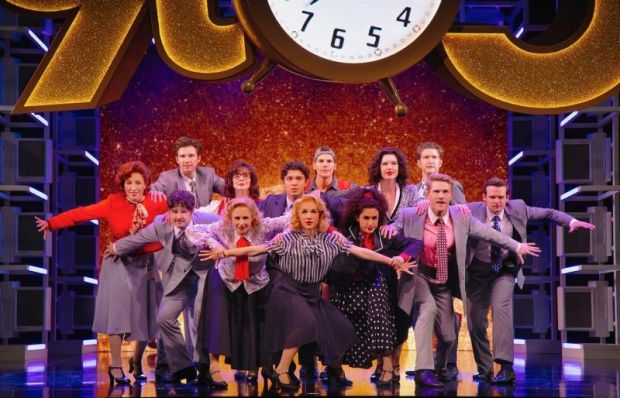 But don't be fooled into thinking this is just a rehash of the film with a few Dolly songs thrown in. It would be easy to cynically imagine that a hit song led to a money-making movie, which in turn was capitalised on as a Broadway show. 9 to 5 is far more than that. It DOES have things to say to (and about) women. The show gained enough acclaim to earn it 15 Drama Desk and 4 Tony Award nominations. Though it wasn't a success with New York critics initially, director Jeff Calhoun revamped the show in 2010 and completely re-imagined it for the West End production of 2019, working closely with composer/lyricist Dolly herself.
"This isn't a juke box musical," he tells me. "Dolly was completely immersed in the whole art of writing a musical. There was no pulling old songs out of a bottom drawer. She understood that songs in a musical have specific functions and she committed whole-heartedly to writing the best songs for the show. She was an absolute joy to collaborate with," Calhoun explains with real affection.
Calhoun is no slouch himself. He started his career as a dancer, specialising in tap, and was discovered by the great Tommy Tune and offered a national tour of The Best Little Whorehouse in Texas, which Tune had directed on Broadway. And here's where the six degrees of separation start. As he was touring in the show, Dolly Parton was filming "Whorehouse", her follow-up to 9-5, and both films were directed by Colin Higgins. Neither Jeff nor Dolly could have guessed at the time that nearly 35 years later there would be zero degrees of separation between their careers.
Jeff Calhoun is part of a tradition on Broadway where dancers who become choreographers go on to become successful directors. Thinking of Fosse, Michael Bennett, Rob Marshall, Jerome Robbins, Susan Stroman and even Tommy Tune himself, I asked Jeff if it was inevitable that choreographers would move on to directing.
"Well, choreography is direction of movement. All direction is spatial, so while it isn't inevitable, there's a pretty good chance of it happening," Jeff tells me.
And that "pretty good chance" has led him to a slew of awards and nominations, including an amazing collaboration with Deaf West Theatre which resulted in an acclaimed Broadway production of Big River, as well as such Broadway shows as Newsies. It's a career that has spanned nearly forty years now, yet, strangely enough, this is the first time he has worked with Australian performers.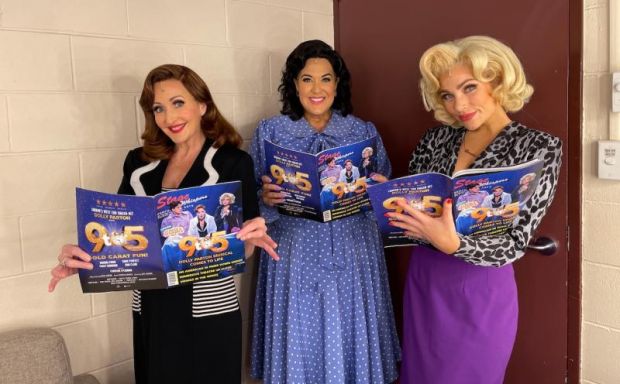 "I knew of them, of course," he says. "Caroline O'Connor is a star on both sides of the world. I love her. She brings back memories of the legends like Ethel Merman, Angela Lansbury and Carol Channing - powerful performers who can own an audience. Musical Theatre is changing, so thank heavens we still have performers like Caroline to keep the tradition alive. And Eddie Perfect - the guy is insanely talented and so darn nice with it."
I question the idea of someone as 'perfect' as Eddie playing the role of the bullying boss Franklin Hart Jnr, the role which made us hate Dabney Coleman in the movie. Jeff laughs.
"Let's say we're playing a little more subtle in the show," he explains. "You don't cast a bully to play a bully - far too obvious. Eddie's Franklin has looks, and charm on the surface, but underneath … well you'll just have to see for yourself."
Jeff sings the praises of his other stars - Marina Prior, Casey Donovan and Erin Clare - and the 18 strong ensemble. "This truly is a remarkable cast," he says. "You have such a wealth of talent here. Triple threats everywhere. I promise you, this cast is exceptional."
I hadn't thought of 9 to 5 as a dance show, but Jeff sets me straight.
"C'mon," he chides. "How can you not dance to the title song? It's a given. Even the set dances!"
I'm not sure if he's kidding or not.
But if Jeff Calhoun is a huge fan of his cast, what do they think of him and the show? I caught up with Casey Donovan at the beginning of rehearsals. Casey, for those who have forgotten (or maybe never knew) burst onto the scene at the tender age of 16 when she won Australian Idol. No-one was more surprised than Casey herself.
"I thought I would maybe be the flavour of the month for a little while, then struggle a little bit to stay in the business," Casey tells me. "But everything changed when my then-manager suggested I audition for a tour of The Sapphires. It's an indigenous musical, so I guess that made it easier for me. But I had no experience in Musical Theatre or playing a character. Once I did, I was hooked."
She went on to play the Killer Queen in We Will Rock You and Matron "Mama" Morton in Chicago. It was during the latter that she first heard 9 to 5 being touted.
"A lot of the kids were planning to audition – this was in 2019 – but then Covid hit the world and the production was postponed indefinitely, so it wasn't really on my radar then. But the timing changed everything, and I'm really grateful for that," Casey says.
Casey brings a unique energy to every stage she steps on, but she does occasionally have doubts.
"I'm very aware that I don't have any formal training," she tells me. "I didn't go to Performing Arts school, or graduate from WAAPA, so I don't have the same skill set. A lot of the time I rely on instinct, and it doesn't often let me down."
And talent, I remind her. That's something that can be honed but not taught. Casey agrees, but she has another explanation.
"The upside is I am working alongside people like Marina and Caroline - artists who have been there and done that. Experience is always the greatest teacher, and they are brilliant tutors, so I watch and I learn … not how to do it like them, but how to find ME in the character I'm playing. With Judy in this show, she is so unlike me in every way that I wasn't sure I could do it," she confides. "But then we had the first wardrobe call. I put on the costume and there was Judy staring back at me in the mirror. And I stopped worrying."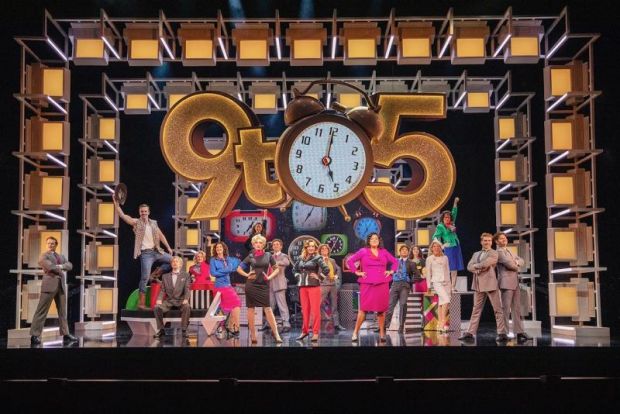 Casey couldn't pass up the chance to work with Jeff on music written by Dolly.
"Dolly Parton isn't just a country singer. She's just a great musician and fabulous songwriter, full stop," Casey passionately explains. "And Jeff is the real deal. He's been there and done that to perfection, so I'm just soaking up every note he gives. How often does a girl get a chance like this? It's an absolute joy and I'm loving being a part of it."
Jeff promises that the audience will also love being a part of it.
"It isn't the kind of show where you sit back cynically and say 'Okay…entertain me'," he gushes. "It's an immersive, laugh out loud, dance-in-your-seat celebration. You can sit at home on your butt waiting for the world to end, or you can get out and have fun and tell the world, 'Hey, I'm alive!' And there's no better place to do it than in a theatre."
I know which I'd rather do. It's a no-brainer, but first I have to
Tumble from my bed and stumble to the kitchen …
9 to 5 opened in Sydney on Feb 16, 2022, playing to May 8. A Brisbane season follows from May 22 at QPAC, ahead of playing at Arts Centre Melbourne from July 10, followed by the Festival Theatre, Adelaide from October 8.
Images of the Australian production by David Hooley.
Click here to read more about musicals across Australia in 2022